ImPerfect & Expansions
You can now get ImPerfect along with all expansion packs, giving you ImPerfect with a big amount of brand new additional presets, in one unique package.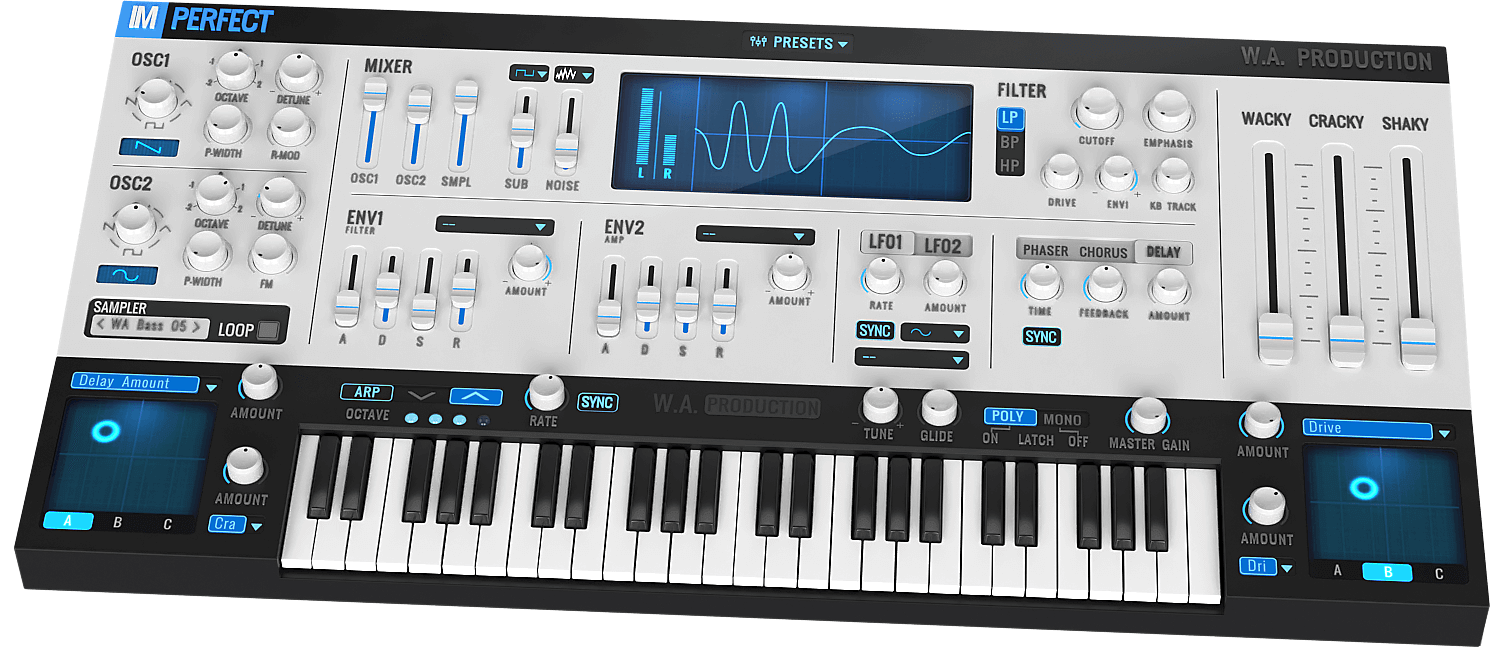 Most digital synths out there offer easily accessible functions, pristine digital quality and precisely tuned tones. "Imperfect" aims to break that trend with wavering detuned oscillators, modulating effects and a whole host of other functions designed to put the analog fun back into synth programming.
The architecture behind Imperfect will be familiar to anyone who's used a soft-synth before, with 5 powerful oscillators, envelopes, filters, LFOs and an arpeggiator. Where things start to get interesting is with the 3 special modulation sliders. Named "Wacky", "Cracky" and "Shaky", these functions introduce modulated effects, saturated harmonics and tuning inconsistencies. Make your pads sound authentically analog and keep your arpeggios moving by adjusting these sliders to create all sorts of circuit-bending scenarios. The modulations  don't stop there; almost any of Imperfect's parameters can be assigned to the constantly shifting dual X/Y pads and played live or programmed with MIDI automation.
Features:
Fully functioning synth with analog-style imperfections
5 Oscillator modules
3 Unique transformation parameters
Hundreds of factory presets
260 Preset Waveforms & load your own samples
Dual X/Y pads
Filters & Effects
Real-time waveform display
Dual Envelopes & LFOs
Full PDF Manual & Tutorial video
System Requirements:
Windows 8 and later (32 / 64 bit)
macOS 10.15 and later

AAX - ProTools 11 or higher
Learn more about ImPerfect
Looking for more reasons as to why Imperfect is so perfect? Then check out our latest addition, What About: Vocals for ImPerfect. ImPerfect gladly accepts the imperfection in sounds. Why not use those imperfections and shape them into something totally unique? Rather than work against you, they can work for you.
Product details:
Learn more about Vocals For ImPerfect
What About: Ambient for ImPerfect is the ultimate preset pack that will unleash all of the capabilities of ImPerfect. Having been designed to make imperfections shine, what better way to get your hands and ears on those unique sounds than with What About: Ambient for Imperfect from W. A. Production.
Product details:
Learn more about Ambient For ImPerfect
... and more! (See what all is included in the "Included in bundle" section)