Vocal Splitter
Clear & Wide
For decades, audio engineers have used a certain processing trick on vocals to help lacklustre mono vocals leap from stereo speakers. Now you can replicate that secret technique with one simple plugin. Vocal Splitter is a handy one-stop unit for turning mono vocals into thick, modern-sounding stereo. When we developed this plugin we went one stage further, including frequency and drive parameters to help your vocal performances stand out from the crowd. Of course, you can also this plugin on audio other than vocals... download the demo and give it a try.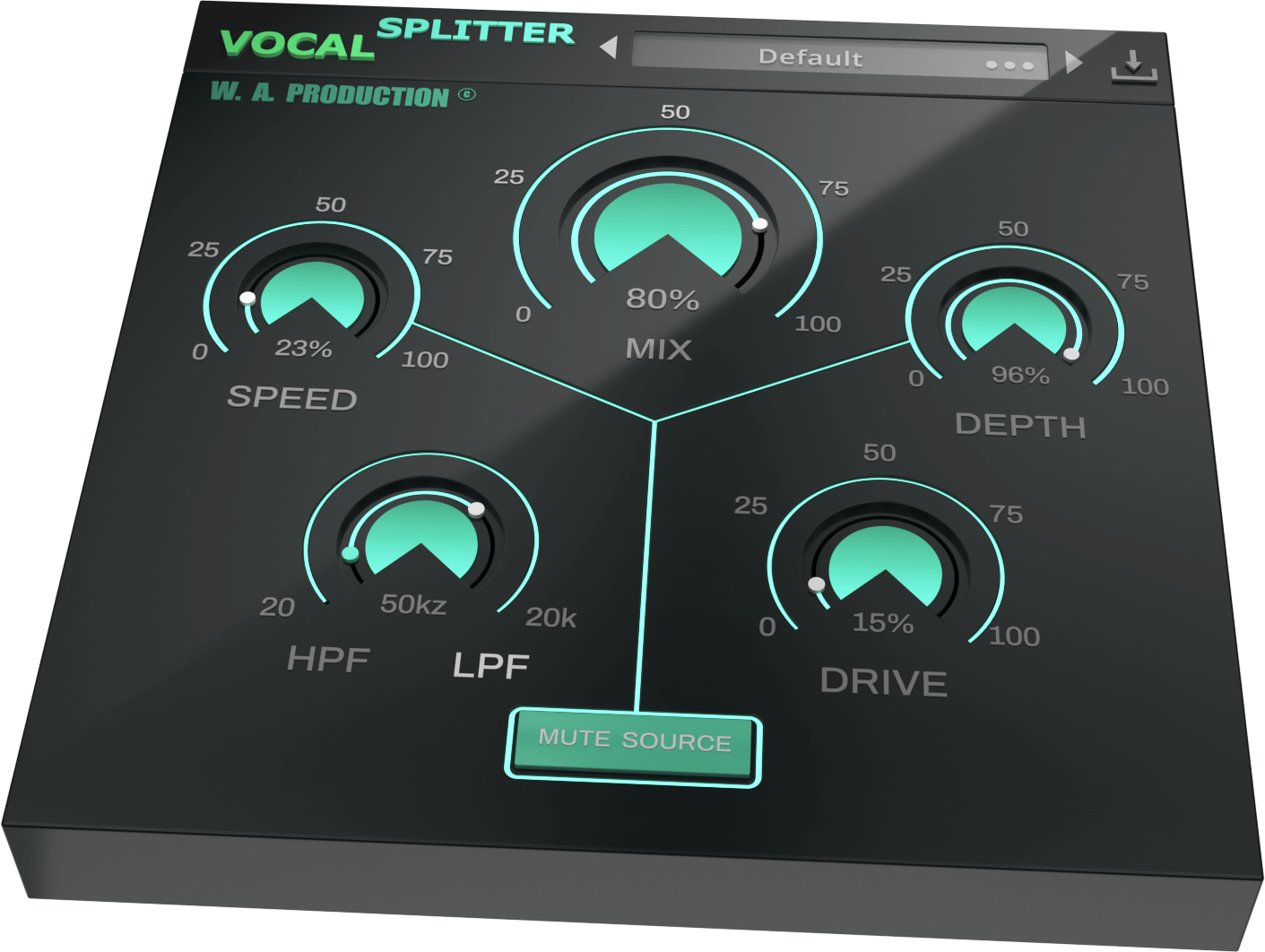 Under The Hood
Feel free to skip this part if you like, but here's what is going on under the hood: Vocal Splitter uses a combination of a phase-offset vibrato effect (that splits the left and right channel by asymmetrically detuning the channels)  and an asymmetrical rectification of the left and right signal (creating a better defined stereo image). Combining these two effects in one plugin is an especially effective way to create a defined stereo split vocal signal with minimal phasing.
Mix
The central mix dial sets the dry / wet ratio of the original source signal and added stereo signal. If you want to listen to the added stereo signal in solo mode or use the plugin on an effects bus, just press the Mute Source button, muting the source signal so that you only hear Vocal Splitter's processed audio.
Speed & Depth
These dials work together to control the behaviour of the phase-offset vibrato effect that splits the left and right channels. The channels are asymmetrically detuned and these dials adjust that effect so that you can achieve any intensity of processing, from subtle thickening to full-on doubling.
Drive
The drive feature lets you control the intensity of the asymmetrical rectification of the left and right signal, creating a better defined stereo image. If that sounds technical, don't worry. All you need to know is that pushed hard it provides a saturation-like effect and brings the stereo image back in towards the centre.
Filters
The high pass and low pass filters allow you to filter the added stereo signal, especially important if you want the effect to only apply to a specific frequency range and avoid unwanted phasing in the low end.
Bypass
The Vocal Splitter logo acts as a bypass control for the whole plugin, and is smoothed to be click and pop free for unhindered A/B testing.
W. A. Production are real-life producers making creative plugins to help you achieve studio quality processing quickly and easily. Enjoy!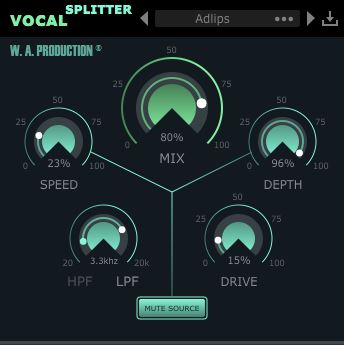 Features:
Create wide and modern vocals from a mono source
Presets for one-click transformations
Speed & Depth set the power of effect
Drive dial to add grit and increase definition
Mute Source button for using effect as a send
Click-free bypass
Minimal phasing
Full PDF Manual & Tutorial video
New Features in version 2.1.0:
Resizability
Updated presets manager
Updated license management
Bug fixes

FAQ
Windows 8 and later (32 / 64 bit)
macOS 10.13 and later

AAX - ProTools 11 or higher

The plugin likely will not work properly on older OS versions. If the demo appears to work on your older system, this does not guarantee that the full version will work properly. If you are unsure whether or not the plugin will work on your system, please email info@waproduction.com.

Important notice for M1/ARM Mac users: Before purchasing, please review the current compatibility status of this plugin on your system here.

v 2.1.0 - Update 21st June 2020
Also available in these bundles