Cryostasis
Cryostasis is a spectral inertia effect that can progressively smear your audio until infinitely frozen in time. It features spectral FX and controls to shape the character of the frozen tail. All are controlled by a continuously variable freeze knob or an auto switch that can be timed in milliseconds or musical measures (double-click).
Freeze Designer
You can use various controls to change the sound of the freeze effect. For example, the Size parameter will change the time length of the spectral window, which completely changes the sonic character. Lower values sound unnatural and robotic, while higher values sound smooth and atmospheric.
Slow Motion
When the freeze effect is coupled with the built-in pitch shifter, it creates a tape-stop style effect, where the sound appears to slow down over time until it becomes completely frozen - forever. Or use the frequency shifter for dissonant risers and downshifters.
Ambient Dreams
The Wash control diffuses the freeze effect into a lush and smooth modulated reverb tail. Easily create spaced-out ambience and soundscapes that dissolve into the either. It can even be used as a sound design tool to create frozen vocal loops to load into your favourite sampler.
LoFi Glitch
Use the built-in Bit and Rate reducers to add some LoFi magic to the sound. Couple that with lower Size values, and you can create dirty robotic glitches to washed-out dusty soundscapes.
Filter Transitions
Cryostasis is great for transitioning between musical sections and for creative intros and outros. The built-in high-pass and low-pass filters can help to sweep the effect in & out and up & down. Imagine your sound diffusing into thin air or blurring into the darkness.
Progressive Freezing
Cryostasis can freeze audio using the switch, but unlike most other freeze plugins, it also has a continuously variable freeze. You can smoothly transition between freeze states or even partially freeze to create time-smearing effects.
Hassle-Free Software Protection
No iLok, no dongle or internet access is required for activation. United Plugins software uses licence files to activate your software. You can freely use the purchased software on all your computers as long as you are the user.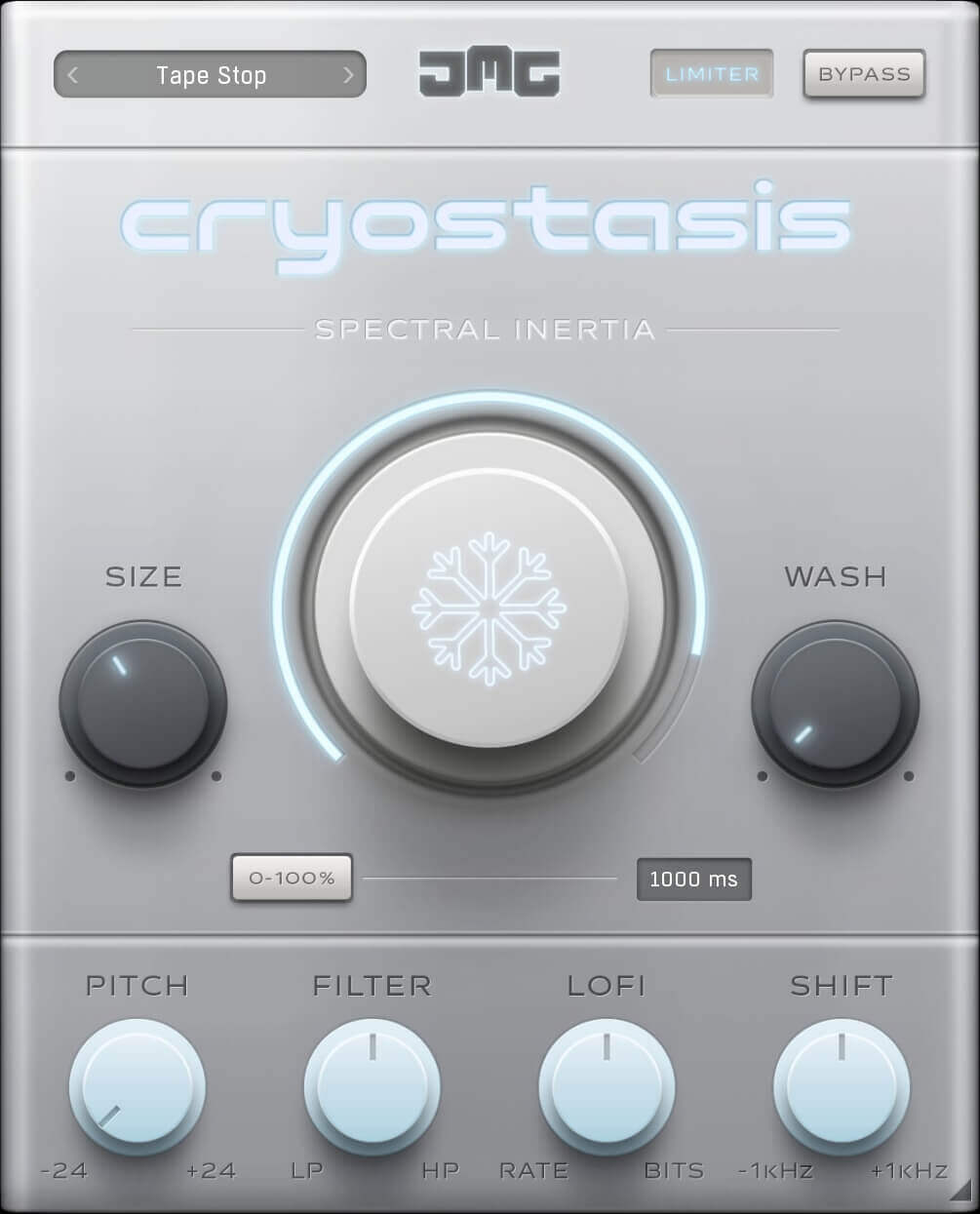 Realistic 3D Yet Flexible GUI
The photorealistic graphic user interface of the plugin gives you the feeling you are touching the real hardware. But it easily adapts to your needs. You can always drag the arrow in the bottom right corner to change its size - make it smaller to save valuable screen space, or enlarge it to make it easier to use.
15-Days Unlimited Trial Version for FREE
All the descriptions are nothing compared to putting your hands on the plugin. No saving limits. No noises. No boundaries. Engage the plugin in your project for real and fully exploit its powers for two weeks.
64-bit Audio Quality at ANY Sample Rate
The plugin provides the maximum audio quality you can get. It uses internal 64-bit audio processing and can handle any sampling rate. 192 kHz or even higher.
Smart Bypass
The intelligent way United Plugins manage bypassing ensures that you don't get any clicks or harmful noises when automating the parameter. It also compensates for latency ensuring that the bypass states are perfectly in sync with each other.
Intelligent Sleep On Silence
This plugin intelligently detects whether it makes sense to perform processing at all. And if not, it temporarily turns on sleep mode. In such a state, it requires virtually no CPU at all to save the computing sources for other processes.
Free-for-Life Updates
United Plugins software never gets obsolete. United Plugins keep track of the current operating systems and DAWs. And you may always update to the most recent version for free. Without paying a cent, a penny, or whatever currency you prefer.
FAQ
Windows 8 or higher (64 bit)
macOS 10.10 or higher (64 bit)
AAX - ProTools 11 or higher