SphereQuad
SphereQuad – Semi Modular Multi Effect
Here at W. A. Production we're always looking for clever ways to add movement and excitement to our tracks. However, it's tiresome to keep loading up the same effects chains again and again. This is why we created SphereQuad as an easy and extremely flexible solution for bringing complex rhythmic movement, filter sweeps and stereo madness to your mixes.
The concept behind SphereQuad is a combination of stereo flanger, phaser and chorus effects fed into a stereo filter, combined with an onboard step sequencer that controls the filter. However, the execution of these effects is far more interesting as you can control the left and right filters independently to push sound around the stereo field. The flexible routing between the different modules can be quickly dialled in to create a huge variety of special effects.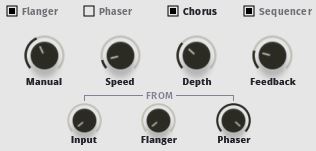 Each of the Flanger, Phaser and Chorus modules has multiple parameters for adjusting the main characteristics. The modules can be activated individually, or mixed and routed in various combinations to create a wall of unusual effects.
The 16 step sequencer controls the filter cutoff and can be synced to the BPM of your track or be set to flow completely independently. Feed the signal from the Flanger, Phaser and Chorus into this sequencer for ultimate rhythmic modulation.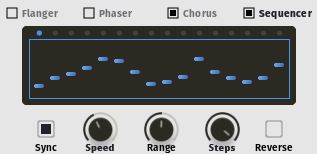 Independent left and right channel filter shapes, speeds, ranges and types can be programmed to make the filtered sound fly around the stereo field, creating some mind-bending sequences at the click of a button.
The real-time waveform display shows the effect of the filter cutoff, giving visual feedback on the stereo effect of SphereQuad. Meanwhile, the master output module provides a Dry / Wet control and Saturation dial for increasing the odd harmonics and the overall intensity of the output.
Over 60 presets act as perfect jumping-off points for your own creative ideas. They are logically named by instrument group and effect making it easy to find the descriptive definition of a particular effect.
We've been using SphereQuad for a while now and find it incredibly useful for everything from spacey synth leads to making bass lines wobble. We've even dialled it in on full mixes to create DJ-style breakdowns with massive filter sweeps and extreme flanging. There's no instrument we haven't tried to transformed with SphereQuad and the effect is impressively huge every time. W. A. Production are real-life producers making creative plugins to help you achieve studio effects quickly and easily. Enjoy!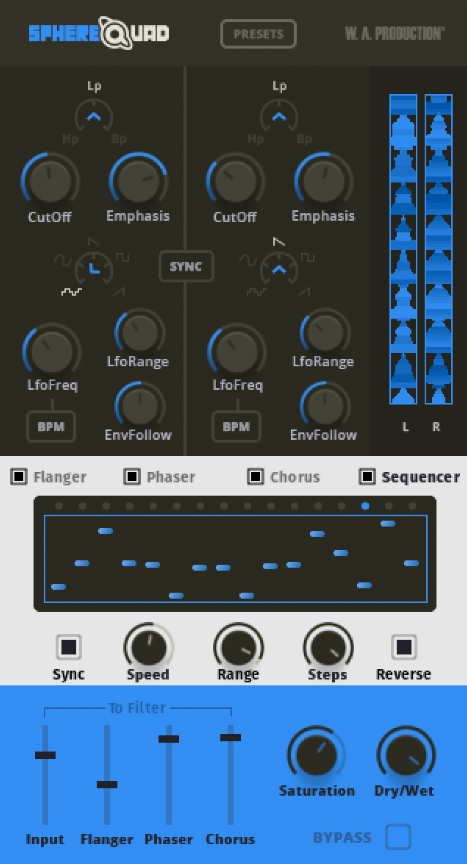 Features:
64 Creative Presets for one-click transformations
Stereo Flanger, Phaser & Chorus modules with multiple parameters- Mixer & Output controls with Saturation module
Flexible signal routing between all modules
16 Step Sequencer
Independent left and right filter modules for true stereo manipulation
Sync to BPM
Real-time waveform display corresponding to the filter cutoff
Full PDF Manual
New Features in version 1.5.0 (June 11th 2020):
Protection scheme included / License key request
Saturation algorithm updated
Enhanced colors
Improved performance
Improved stability
Improved memory management
Bug fixes
Only 64 bit support Mac & PC

FAQ
Windows 8 and later (32 / 64 bit)
macOS 10.13 and later

AAX - ProTools 11 or higher

The plugin likely will not work properly on older OS versions. If the demo appears to work on your older system, this does not guarantee that the full version will work properly. If you are unsure whether or not the plugin will work on your system, please email info@waproduction.com.

Important notice for M1/ARM Mac users: Before purchasing, please review the current compatibility status of this plugin on your system here.

v 1.5.0 - Update 11th June 2020

Also available in these bundles
Top Rated
Sphere Series
Top Rated
90%
Everything Bundle V1