SphereDelay
What is SphereDelay?
SphereDelay is an innovative Multimode Delay Effect Plugin. We developed this plugin for the producers around the world who want something more when it comes to effects. The basic plugins that give the same Delay presets that we all know and are familiar with, whether it be DAW stock Delay plugins or third party Delay plugins that just aren't enough. We wanted to add something new to the table. We believe that Beginner and Experienced producers will enjoy the sleek and easy workflow of SphereDelay as well as the pure customization of your Delay sound. We believe SphereDelay would give you a totally new depth experience, with a wide variety of customization features that makes the sounds it provides unique and limitless.
SphereDelay comes with a variety of different effect modules like:
Variable State Filter – (High-Pass, Low-Pass, Band-Pass) stereo linked 24db/oct self oscillating filter
Saturation – Analog Tape Style Saturation, to get the warm classic sound of a real Tape Delay
Delay Modes
Mono
Stereo
Ping-Pong
Ping-Pong Separate
Envelope Follower - to modulate the filter cutoff and the delay time
LFO – with variable waveforms to modulate the filter cutoff and the delay time
BPM Sync – The delay time and the LFO frequency can be synced to your project tempo to create rhythmic effects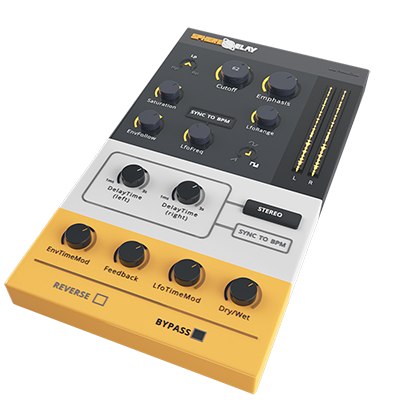 All of these effects tie together to create amazing Delay effects that will really spice up your instruments and will give new depth and dimensions to your mix. SphereDelay comes with an extremely sleek design with an interface that really pops out and makes navigation easy and fast. The idea behind SphereDelay was to allow users to really get into customizing their Delay effects. We understand Delay can be an important part of a track in certain parts, or in general as an effect. So, we felt like creating a Plugin like SphereDelay was a big move in the Effect Plugins world. Allowing for this amount of personal customization in an effect like Delay can allow its users to create a game changing track with a personalized and amazing sound.
We strived to make SphereDelay appeal to all levels of producers. We know how picky Professional Producers can be when it comes to finding plugins and sticking to them. A lot of the time you see Pros using the same things because it is a sound they know and their fans recognize and love. However, we know and have the confidence that we can change the minds of the Professionals and bring them to our side when they get their hands on SphereDelay. They will be in love with the fact that they can use the sound that they loved to begin with, as well as create amazing variations of that Delay and many other amazing effects.
4 Delay Modes
SphereDelay comes with 4 different Delay Modes that each have their own way of shaping and effecting the Delay signal. The 4 modes are; Mono, Stereo, Ping Pong and Ping Pong Separate. In Mono mode the delayed signal is sent to both output at the same level making it heard from the middle of the stereo image (right between your speakers). In Stereo mode the signal is split to left and right and each side have its own delay time knob (the Feedback of the left goes back to the left and the Feedback of the right goes back to the right).
In Ping-Pong mode the delayed signal is sent first to the left, delayed again (by same time interval) and goes to the right (the Feedback then goes back to the left and continue bouncing from side to side).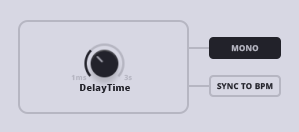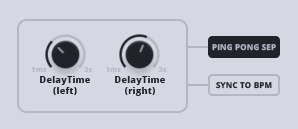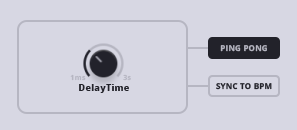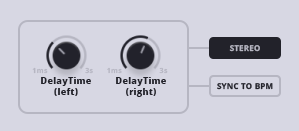 Ping-Pong Separate mode is similar to Ping-Pong mode only here there is separate time knob for the delay in each side (making it bounce from side to side with a time offset).
Delay Time Modulation

SphereDelay has Delay Time Modulation and in each delay mode, the delay time can be modulated with the LFO and the Envelope follower to create a variety of special effects. This tool is really great because it allows for even more customization to your delay effect. We believe this is an amazing step up to just regular Delay effects, the fact that you can literally change anything in the Delay spectrum and signal is a game changer.
Reverse

SphereDelay as we mentioned comes with MANY different features, another example of this is the Reverse feature. In each Delay mode, the input can be Reversed. The feedback signal however is NOT reversed in order to keep its state. This Reverse can be a great tool to user on certain instruments/ audio samples, or in certain areas of a track as some sort of effect technique. To sum it up in the simplest way, the Reverse tool reverses the entire Delay signal to bring a unique sound.
Stereo Filter
SphereDelay along with its many effect features comes with a Stereo Filter. A 24db/ OCT, variable state, stereo linked, self oscillating filter with Saturation, LFO and Envelope Follower modulation. With this, you can tweak little things in your delay effect signal to get the correct tone that suits whatever you need it for. As mentioned before, we wanted to implement a tone of features like this to allow you to customize your sound the fullest extent.
Presets
The presets of SphereDelay are really amazing. We know as a company that focuses on Sample Pack creation primarily that sometimes you guys don't know how to create crazy amazing effects, especially with a new plugin. So we have done that for you. We are providing presets like;
8-Bits
Birds
Bouncy
Stereo PA Horn
Rhythmic Bounce
Bubbling
Stereo Sync
Mono Slap
Ping Pong Triplets
Just to name a few. We have incorporated 30 amazing presets with SphereDelay that are all amazing and unique. So if you ever need a quick delay effect but don't know how to make it and or just don't feel like spending the time to create an awesome delay effect, then you can choose between 30 great presets.
Below are some FAQs, for convenience!
Q: How does Delay actually work?
A: We will try to put this as clear as we can. The Signals from the Left and the Right input channel goes into the delay unit, sits there and wait for the Delay Time to pass then continue their way through the filter and out back to your DAW. Some of the out put signal is Feedback to the delay unit to sit and wait again together with the new input signal.
Q: How can I see what the Value of the knobs are?
A: Easy, all you would need to do is click on the knob. The Value of whatever the knob is at will appear on the knob itself.
Q: If I accidentally mess with a knob and can't get it back to what it was on before, how can I reset the knob?
A: Another easy solution, all you need to do is double click said knob and it will reset back to its original position.
Q: What does the LFO effect of SphereDelay do exactly?
A: The LFO effect of SphereDelay adds a personal touch to the effect. The LFO (Low Frequency Oscillator) produces a low frequency waveform (Ramp, sin or square) that can Modulate (change automatically) the Filter Cutoff and the Delay Time, according to its shape, frequency and range.
Q: Why should I invest into SphereDelay? What makes it so special?
A: SphereDelay is an amazing step up in the world of plugin effects. Most if not all provided, paid or free, Delay plugins just supply some basic presets made in the plugin and the plugin allows you to adjust things like Ping Pong speed or Time etc. SphereDelay on the other hand allows you to go crazy in customizing your own Delay effect sound. We wanted this to be possible for everyone because we know how basic Delays these days' sound, and we can basically predict what the person did to get that sound. However, with SphereDelay you can literally create your own from the ground up, leaving listeners wondering "How in the world did they get that effect and where can I get it?", well to answer that future listeners, it was created by hand from the producer in SphereDelay. If you want that question we stated above, and to make yourself stand out in the EDM Scene with a really unique sound, SphereDelay is your first step in the right direction.
W. A. Production, the creators of SphereDelay, want to formally thank any and everyone who grabs a copy of this wonderful Delay effect plugin, even if it is just the Demo version to test it out. We as a company who strives to breech the needs of as many producers as possible are really humbled by the generosity of this community, thank you! you! You.
New Features in version 1.5.0:
Protection scheme included / License key request
Saturation algorithm updated
Added dotted delay sync time
Improved Waveform
Enhanced colors
Improved performance
Improved stability
Improved memory management
Bug fixes
Only 64 bit support Mac & PC
New Features in version 1.5.1:
"Dot" timing button fixed

FAQ
Windows 8 and later (32 / 64 bit)
macOS 10.13 and later

AAX - ProTools 11 or higher

The plugin likely will not work properly on older OS versions. If the demo appears to work on your older system, this does not guarantee that the full version will work properly. If you are unsure whether or not the plugin will work on your system, please email info@waproduction.com.

Important notice for M1/ARM Mac users: Before purchasing, please review the current compatibility status of this plugin on your system here.

v 1.5.0 - Update 11th June 2020
v 1.5.1 - Update 6th March 2021

Also available in these bundles
Top Rated
Sphere Series
Top Rated
87%
Everything Bundle