Screamo
Loud & Proud
Sometimes the wildest ideas are the best and Screamo is proof... a crazy concept that just works! We've taken distortion to the next level by wrapping up several familiar ideas within one plugin, resulting in a talk-box / screamer hybrid that can groove along with your track. Forget about complex audio routing and syncing up multiple LFOs. With Screamo that's handled for you as half of the plugin interface features a dedicated waveform shaper which can modulate resonant filters, distortion and gain to add life to any audio. Bring your bass lines out from the shadows with some subtle movement or make a synth line scream with in-your-face rhythmic overdrive - the choice is yours.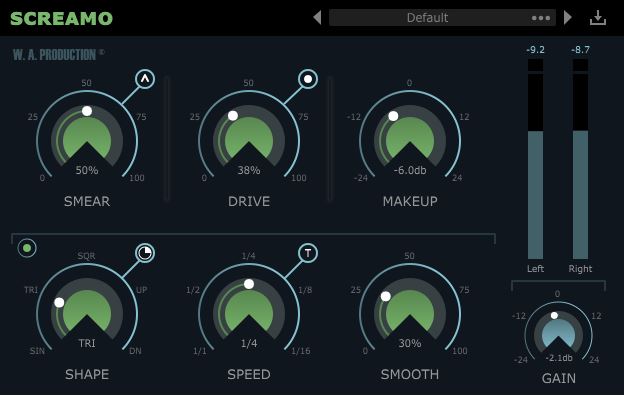 Smear
Two resonant shelving filters give a talk-box-like effect when used with restraint or full-on screamer when pushed hard. 3 different styles of smear effect can be switched: either upward, downward or two-way frequency modulation.
Drive
Use the Drive control to make your percussion loops crack or synths cut through the mix. Push your signal from subtle saturation to extreme overdrive. Soft, medium and hard style distortion modes can be activated.
Sync Everything
The Smear, Drive and Makeup controls are all synced together allowing you to create tempo-synced scream effects that would normally be very complex to achieve with normal plugin routing.
Use the bottom row of Shape, Speed and Smooth dials to design your waveform, controlling the 3 parameters on the top row. It's totally possible to create a slowly evolving talk-box effect, or crazy fluttering overdrive - and everything in between.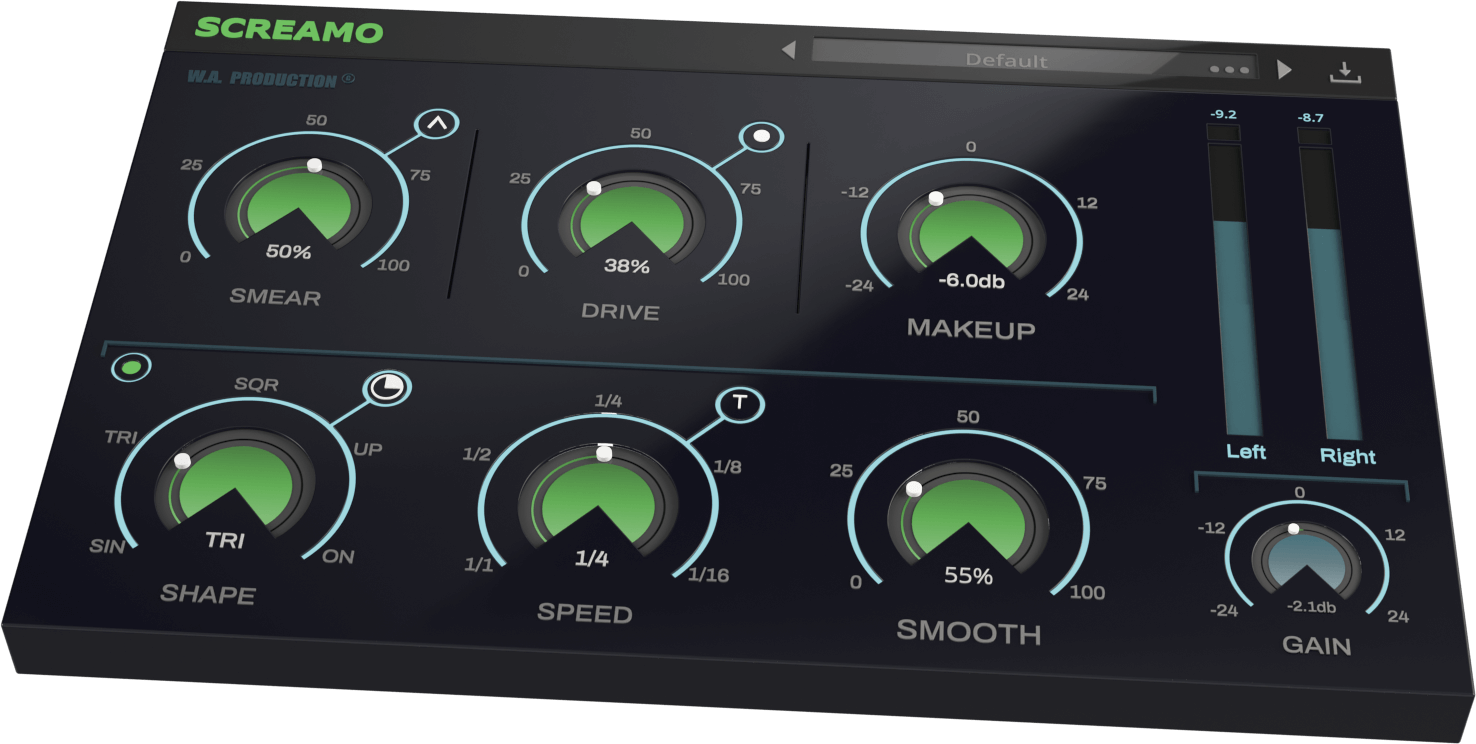 All in one
Use the simple controls to dial in your individual style or utilise the onboard presets for one-click transformations. The 25 factory presets are designed to get you up and running quickly, with settings that veer from subtle saturation to wild overdriven rhythms. These are all easily accessible from the plugin menu and of course, you can save your own settings as user presets too.
A real-time level monitor and gain control are essential for accurate A/Bing to check the results of Screamo's processing power.
W. A. Production are real-life producers making creative plugins to help you achieve studio quality processing quickly and easily. Enjoy!
Features:
25 Creative Presets for one-click transformations
3 Smear modes
3 Distortion types
5 Sync modulation wave shapes with adjustable start points
Sync speed control with straight, triplet and dotted rhythms
Real-time output level display and gain
Full PDF Manual & Tutorial video
New Features in version 2.1.0:
Resizability
Updated presets manager
Updated license management
Bug fixes

FAQ
Windows 8 and later (32 / 64 bit)
macOS 10.13 and later

AAX - ProTools 11 or higher

The plugin likely will not work properly on older OS versions. If the demo appears to work on your older system, this does not guarantee that the full version will work properly. If you are unsure whether or not the plugin will work on your system, please email info@waproduction.com.

Important notice for M1/ARM Mac users: Before purchasing, please review the current compatibility status of this plugin on your system here.

v 2.1.0 - Update 21st June 2020
Also available in these bundles