Puncher 2 Lite
Note: This is a Lite version of our Puncher 2 plugin. Advance features and presets are not included. You can get the full version here.
Without diving into the complexities of audio processing, sometimes you just want a quick and easy way to make your tracks sound better. With powerful compression and transient shaping, Puncher 2 Lite is here to help you hit your listeners right between the eyes. We've kept things simple and ultra-streamlined, stripping back the original controls of Puncher 2 and retaining only the most useful parts of the interface. Don't be fooled though... Puncher 2 Lite sounds just as powerful as it's bigger brother with controls to make audio leap from your monitors. Combine the power of a Transient Shaper, Multiband Compressor and Parallel Compressor to give you absolute tonal control of transient energy and clean, clear punch. Puncher 2 Lite will make your track stand out from the crowd without getting lost in the detail, leaving you free to do that thing you love... making music.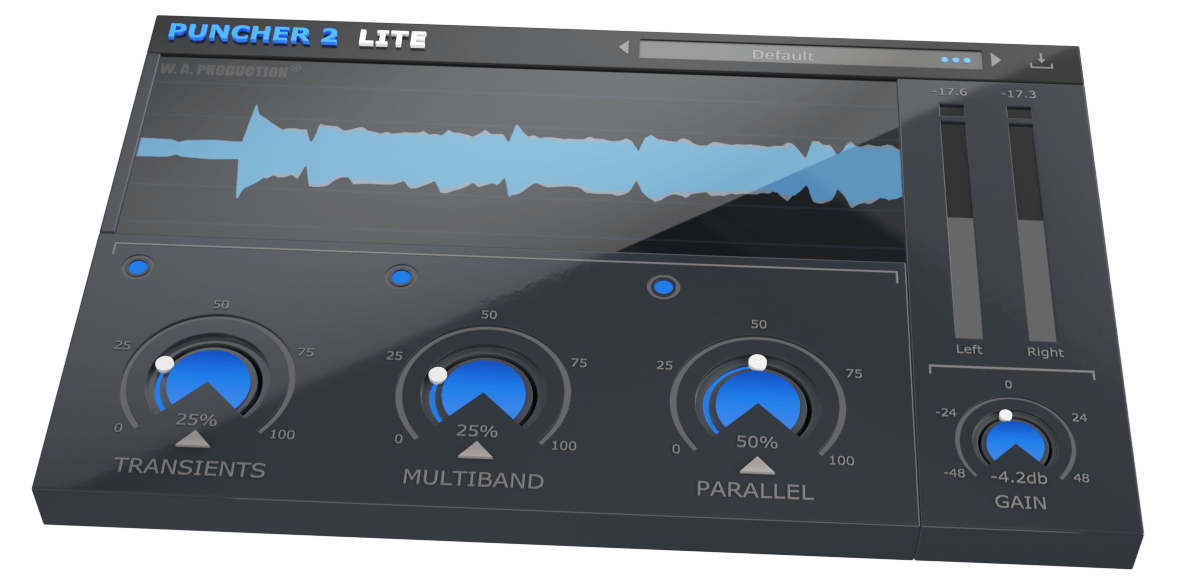 Transient Shaper
The main Transient mix dial allows you to set the intensity of the transient shaping effect, making your kicks kick harder and creating snappier snares. There are 5 different levels of the shaping effect, from no effect at all, to 100% processed, defining your transients to the max.
Multiband Compressor
The useful Multiband section divides audio into 4 bands with subtractive IIR filters, creating a real-time linear phase Multiband split. Every band has its own independent compressor that, when combined, produces a smooth analog-like effect.
Parallel Compressor
Apply smooth Parallel Compression with this dial, to even out the dynamics in your track in a very natural way. Pushed harder, a powerful compression effect can be heard, effective with more acoustic audio. Reduce the dynamic range of the effected signal and then set the dial from 0 to 100% in increments of 25% - nice and easy.
Bypass & Master Gain
The bypass control is smoothed to be as click and pop free as possible for unhindered A/B testing when combined with the Gain dial.
Visual Feedback
The live before and after waveforms at the centre of the interface show exactly what's happening to the signal as it travels through each module of Pumper 2 in real time. This allows for accurate monitoring at every step of the chain.
Preset System
Save and load your favourite settings with the onboard preset browser, making it easy to recall settings that you've used before.
W. A. Production are real-life producers making creative plugins to help you achieve studio quality processing quickly and easily. Enjoy!
Features
3-stage Punch Powerhouse
Transient Shaping
Multiband Compressor
Parallel Compressor
Real-time visual feedback
Pop & click free bypass
Responsive & CPU friendly
Preset system
Full PDF Manual & Tutorial video
FAQ
Windows 8 or higher (32 / 64 bit)
macOS 10.13 or higher (32 / 64 bit)
AAX - ProTools 11 or higher

Important notice for M1/ARM Mac users: Before purchasing, please review the current compatibility status of this plugin on your system here.