Loop Engine 2
The Future of MIDI Generation
W. A. Production and Liminal Sphere proudly unveils LOOP ENGINE 2, the trailblazing successor in our lineup of multi-voice loop tools, now even more potent with cutting-edge enhancements.
LOOP ENGINE 2 continues the evolution of MIDI generation, building upon the esteemed legacy of the CHORDS plugins while breaking new ground. Discard the constraints of static chord shapes and divisible segments; Loop Engine 2 propels riffs, arps, and melodies into uncharted territories with its advanced tonal and rhythmic capabilities. This plugin goes beyond the norm, enabling you to craft MIDI loops with unprecedented intuitive controls to sculpt the algorithms, ensuring a constant stream of inspiration and innovation for your tracks.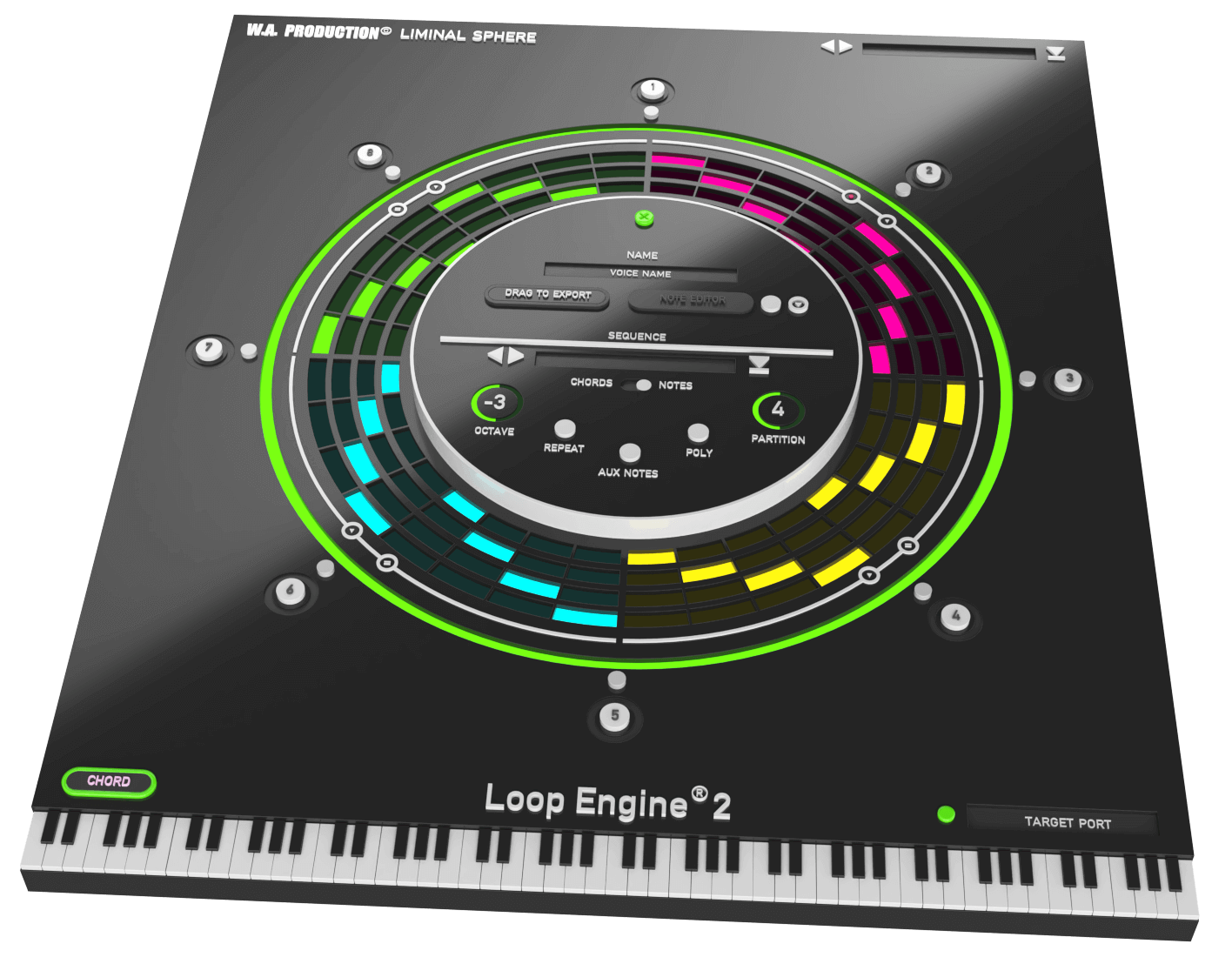 What's new in Loop Engine 2?
Note Editor: Delve into the realm of complex polyphony. Create elaborate melodies, basslines, arpeggios, and rhythms that extend beyond conventional chord notes. The Note Editor offers seamless note placement, intuitive content transfer, and a scrollable piano roll for ultimate creative control.
Poly (Revised): Craft intricate polyrhythmic patterns with the updated POLY feature, allowing segments to weave together in mesmerizing syncopation, highlighted during playback for an immersive composition experience.
AUX Notes: The innovative 'AI wizard' enhances your melodies and harmonies with tasteful passing notes, automatically inserted to enrich chord transitions. This live function adds another layer of sophistication to your music, with more enhancements planned for future updates.
Listener Update: The revamped Listener now provides three modes to manage AUX Notes output, ensuring seamless integration into your tracks.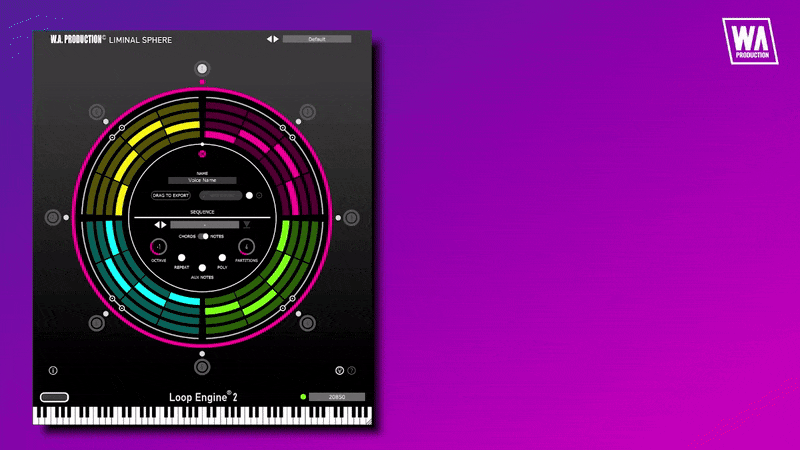 Core Features Retained from Loop Engine 1.1
Multi-track Manipulation: Loop Engine's advanced routing and playing options enable the seamless integration of up to 8 different MIDI parts into your DAW, fostering complex multi-track loops with the Loop Engine Listener.
Loop View: Globally adjust chord inversions, lengths, speeds, and keys. Fine-tune your entire riff or dive deeper with granular control over individual chord shapes, inversions, and velocity.
Chord Mode: Manipulate a broad spectrum of playback options for each chord with straightforward controls, transforming chord shapes and inversions for novel sonic textures.
Tensions & Extensions: Select from 21 chord types and apply Type and Tension using transformation buttons, bringing fresh sounds to Loop Engine's Advanced Mode.
Creation Station: Generate new chords with the "Create" button, leveraging 30 chord types and tensions for organic harmonic progressions.
Simple Segments & Partition Playback: Sketch out ideas with up to 8 chord segments, each with 16 partitions, and experiment with melody and rhythm creation.
Overlap Mode: Unleash self-generating melodies with the POLY button, creating patterns that interact dynamically with changing chord segments.
Export MIDI: Customize your chords and riffs further by dragging and dropping directly into your DAW for editing and integration into your projects.
Powerful Presets: Access a variety of categorized presets for chords, riffs, and arpeggios, providing a starting point for musical exploration.
Enhanced Features for Loop Engine 2
Retain all the beloved functionalities of Loop Engine, from multi-track routing to extensive chord selection and creative randomization.
Loop Engine Listener plugin continues to facilitate routing voices to multiple tracks, now with improved management options.
Enjoy a more streamlined interface with minor adjustments for simplicity and efficiency.
Export MIDI functionality has been refined, allowing you to bring the unique patterns you create directly into your DAW with ease.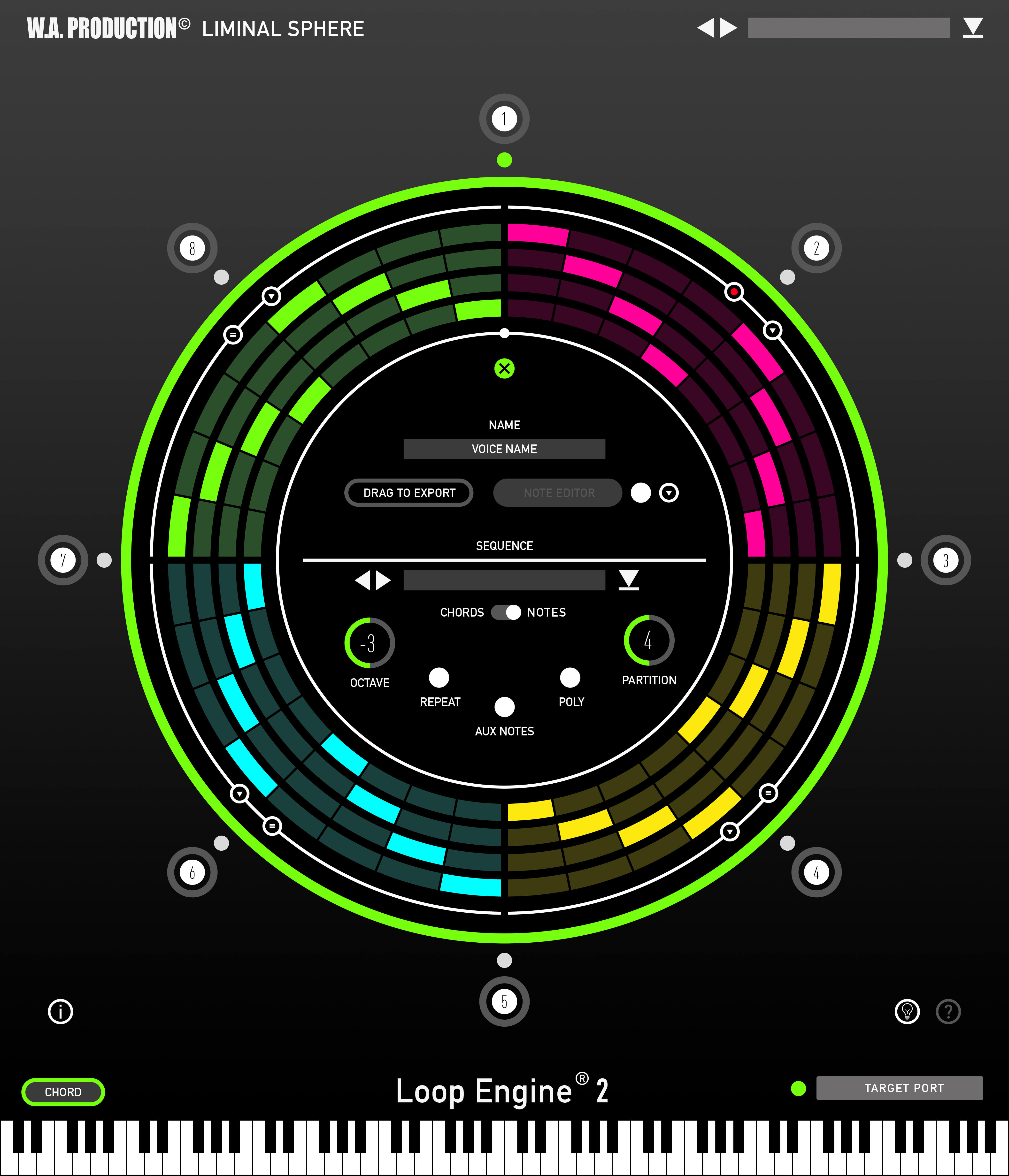 LOOP ENGINE 2, now with a more comprehensive preset manager and automation capabilities for essential controls, remains the ultimate tool for producers seeking innovation and quality. W. A. Production continues to empower creators with intuitive plugins that achieve studio-quality processing effortlessly.
Elevate your production with LOOP ENGINE 2 and let your creativity flow uninhibited.

FAQ
Windows 8 and later (64 bit)
macOS 10.13 and later (64 bit)
AAX - ProTools 11 or higher

The plugin likely will not work properly on older OS versions. If the demo appears to work on your older system, this does not guarantee that the full version will work properly. If you are unsure whether or not the plugin will work on your system, please email info@waproduction.com.

Loop Engine can be used on any software that supports VST or AAX plug-ins with MIDI routing or AU MIDI effect type. But to make sure it's compatible with yours please try the demo version before you buy (only major chords are allowed in trial version).

Here is how to route Loop Engine to multiple instruments in most DAWs.

Tested OK on:

Windows

FL Studio 12 (and newer)

Cubase 10 (and newer)
Studio One 5 (and newer)
Ableton Live 9  (and newer)

Pro Tools 11 (and newer)

Mac

FL Studio 12 (and newer)
Cubase 10 (and newer)
Studio One 5 (and newer)
Ableton Live 9 (and newer)

Logic Pro X (and newer)

Pro Tools 11 (and newer)

Global


Maschine 2 (Win / Mac) - No MIDI routing
Reason (Win / Mac) - No MIDI routing

v 2.0.1.b2 - Update 29th November 2023


Bug fixes
Performance optimization

v 2.0.2. - Update 5th December 2023


Bug fixes
Performance optimization