InstaChord 2
Humanized Chords
We believe that creative expression should be simple, intuitive, and inspiring. When you're making music, you need the right chords to set the tone and Instachord 2 delivers exactly what you called for... and fast!
We were so blown away with the reception to the original Instachord that we couldn't resist developing that concept into a fully-fledged chord creator and mini-sequencer. Simple enough to be used by anyone, but with the power to make professional music, this dynamic MIDI processing plugin is the chord creation and sequencer tool that will take your music to the next level.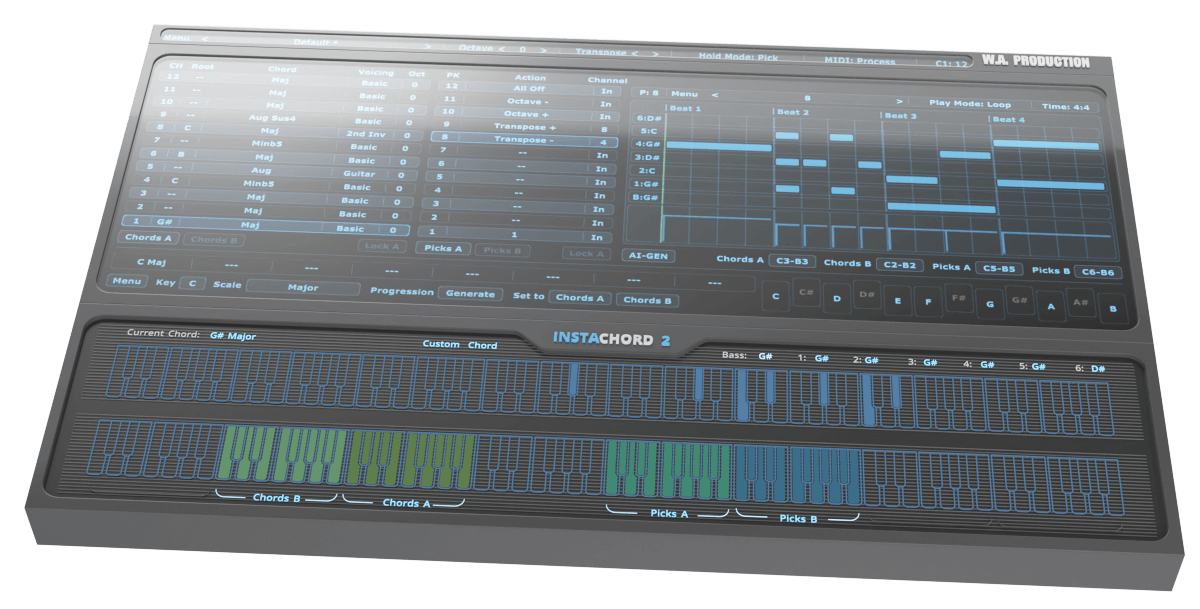 Whether you're a songwriter or producer, this ideas engine will help you speed up your workflow and creation process. Find the best progression and apply a single pattern to play all of them. Easily master some of the hardest chords, in any musical key and combination of notes and different voicings. Use this plugin to generate chord shapes, learn tricky harmonics and share your creations.
NEW Pattern Editor
After releasing Instachord, an oft-requested update was to gain more control over strums and chord playback. We took that note and ran with it, creating a brand new interface window, the Pattern Editor. Here you'll create your own patterns and sequences, dragging notes around in the same way as your DAW. Produce soaring synth arpeggios, pounding piano chords, or delicate guitar riffs. You get full management over time signature, play mode, and velocity with creative editing controls for strum programming.
NEW AI Generation
Adapted from our popular Instacomposer plugin, this generative button will take the existing scale and spawn brand-new riffs based on complex algorithms and a touch of randomization. Always musical and inspirational, these new ideas can be tweaked in the same way as your own patterns so that they fit perfectly into your song.
NEW Hold Modes
Compared to the original Instachord, this new version has many more playback options for fretting and picking notes. 5 in total, covering different behavior for holding notes and toggling chords. Whatever the instrument you're playing, there will be an authentic playback mode to suit.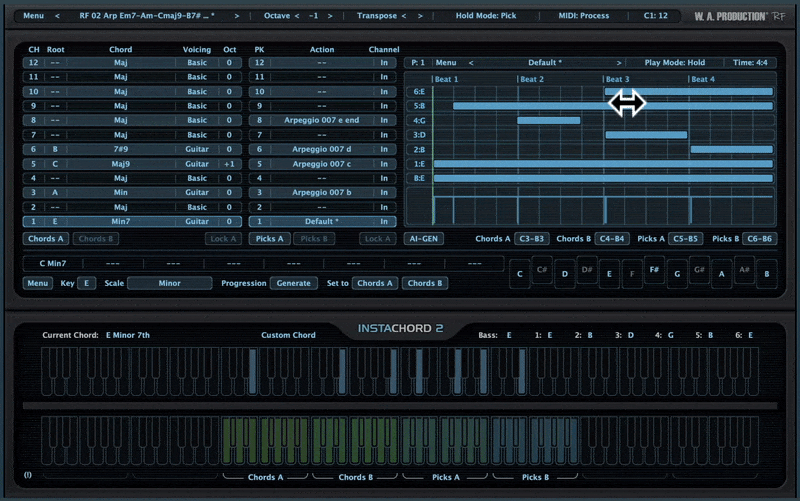 NEW Custom Chords
Edit existing chords or create your own by selecting intervals between notes to make custom chords. Alternatively, play in notes with your MIDI keyboard to help Instachord 2 learn your favorite chord shapes.
NEW MIDI Drag & Drop
Thanks to the latest update, you can now also drag and drop MIDI from the pattern editor right to your DAW.

So Many Chords
With over 60 chord shapes to choose from, you can explore inversions, voicings, augmentations, and extensions like never before, making your music sound more interesting and compelling. Choose your own chords from the extensive selection, or hit the Generator button to ask Instachord 2 for fascinating inspiration. Set up to 24 different chords and switch between them using the chord keys. Transpose the current chords to any other key you desire with a couple of clicks.
Playing chords & Picks
There are ways to play chords and picks than ever before, now all fully customizable in the Pattern Editor. For example, a key can be assigned to strum the top 3 notes of the chord and another to play a riff on the other 3 notes. You can also play individual notes of the chord separately. So it's possible to manually arpeggiate or strum chords.
Action Stations
Newly integrated into the main playback keys, action keys can be set to transpose by octave or semitone, providing an easy way to move chords away whilst playing live.
Flexibility
Instachord 2 is highly customizable and users can change many aspects to match their needs. Select your own UI size, type of playback, key configuration, and position. You can even lock the Chord and Action keys so that they don't change whilst you experiment with more presets and settings.
Factory Presets
Although Instachord 2 allows to program chords and riffs with simplicity, it's even easier to use the preset system to take care of things. You'll never be stuck for ideas with loads of carefully designed presets for both chord sequences and patterns. Suitable for keys, guitars, synths, and many other types of instruments, these presets make ideal jumping-off points for your next song.
W. A. Production are real-life producers making creative plugins to help you achieve studio quality processing quickly and easily. Enjoy!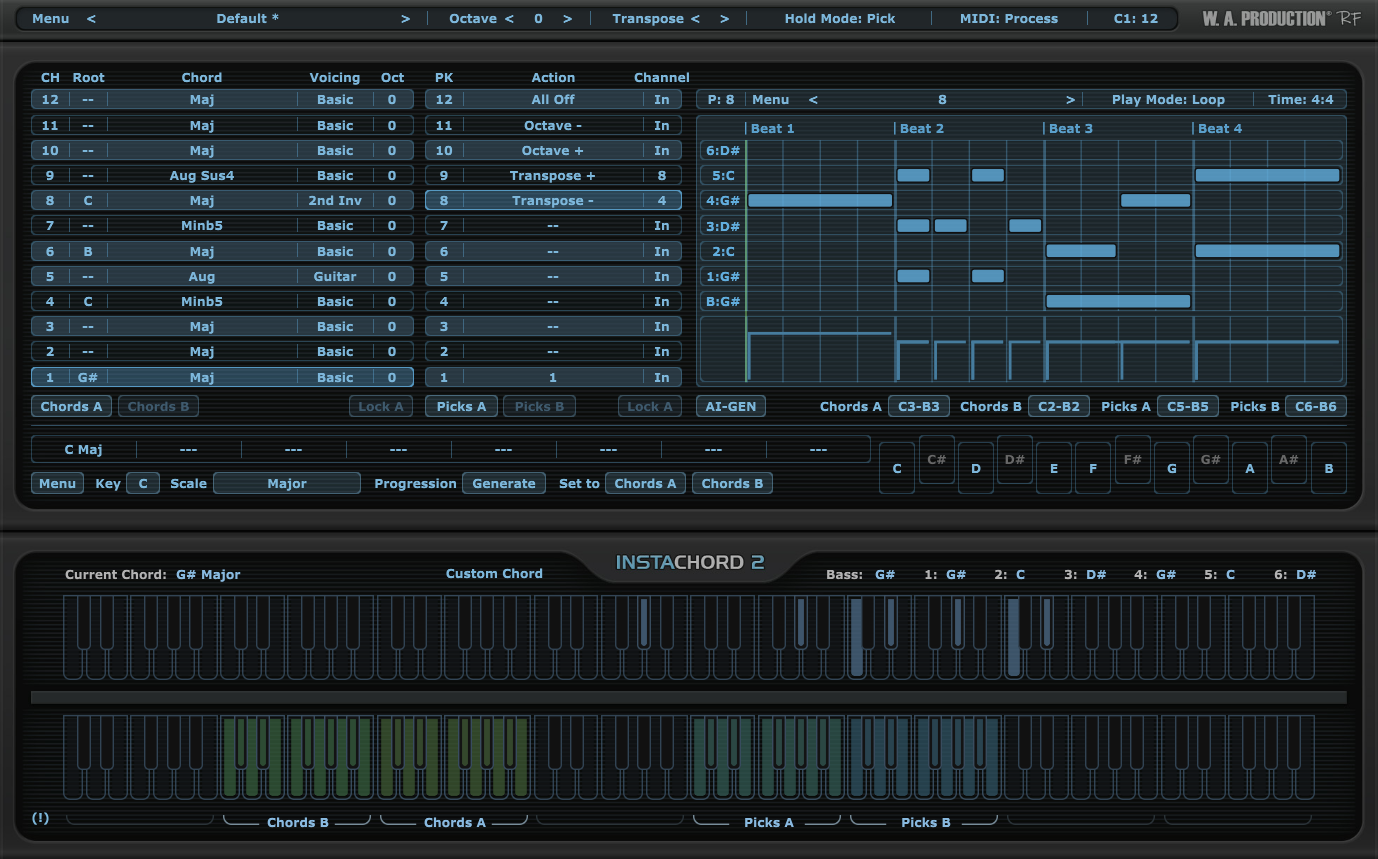 Features
Inspiring Chord, Strum & Pattern MIDI Processor
Connects to any sequencer
NEW Advanced pattern editor
NEW AI chord sequence & pattern generation
NEW Playback modes
NEW Edit & create custom chords
NEW MIDI Drag & Drop feature

60+ Chord shapes & multiple voicings
Resizable interface
Factory presets
PDF Manual & Tutorial video
Important: All InstaChord 1 Presets ARE compatible with InstaChord 2

FAQ
Windows

Windows 8 and later (32/64 bit)
VST

Mac

macOS 10.13 and later
VST, AU

The plugin likely will not work properly on older OS versions. If the demo appears to work on your older system, this does not guarantee that the full version will work properly. If you are unsure whether or not the plugin will work on your system, please email info@waproduction.com.


Instachord 2 can be used on any software that supports VST or AAX plug-ins with MIDI routing or AU MIDI effect type. But to make sure it's compatible with yours please try the demo version before you buy (only major chords are allowed in trial version).

Tested OK on:

Windows

FL Studio 12 (and newer)

Cubase 10 (and newer)
Studio One 5 (and newer)
Ableton Live 9  (and newer)

Pro Tools 11 (and newer)

Mac

FL Studio 12 (and newer)
Cubase 10 (and newer)
Studio One 5 (and newer)
Ableton Live 9 (and newer)

Logic Pro X (and newer)

Pro Tools 11 (and newer)

Global


Maschine 2 (Win / Mac) - No MIDI routing
Reason (Win / Mac) - No MIDI routing

v 2.0.3 - Update 1st August 2022


v 2.0.4 - Update 2nd September 2022


New: Lock mapping
New: Change default mapping

v 2.0.5 - Update 30th March 2023


Minor bug fixes and improvements
New Sharp/Flat notation toggle

Also available in these bundles