InstaChord
A MIDI Processing Plugin that helps you play chords and chord progressions faster and easier.
The foundation of a great song is based on its harmonic movements and chord changes which often is called chord progression. . A change in chord progression can have a drastic effect on the mood or direction of a song. Even those with a background in music theory can experience repetition and stagnation. Using richer chords and new chord progressions can take the song to a new level and make it sound more unique and professional.
Whether or not you are an experienced musician or just a beginner, with a vast chord bank and amazing playability, Instachord has something to offer to you.
If you're a song writer or a producer It will help you speed up the work flow and song creation process. Find the best progression and use a single midi pattern to play all of them.
If you're a player it allows you to play some of the hardest chords, in any musical key and combination of notes and different voicings, using just a few keys on your controller. Or jam and practice over them without spending much time creating a jam track.
If you're a student or a teacher you can use the plugin to learn and study the chords and use it as a reference and hear them in action.
Find the chords that work well together and build a perfect chord progression for your next song with just a few clicks. You can transpose all the chords to any other key you want using the 'transpose' button.
In addition to having access to chords and being able to set a progressions, one of the other great thing about Instachord is it's playability.
FEATURES
Chords with different voicing
We have Included almost all the common chords (maj, min, sus2, 6th, 7th, etc) in 5 different voicing (basic, 1st and 2nd inversions, guitar and wide). Each voicing mode has a unique sound due to the order of notes and might be a better choice to fit with the other chords in the song.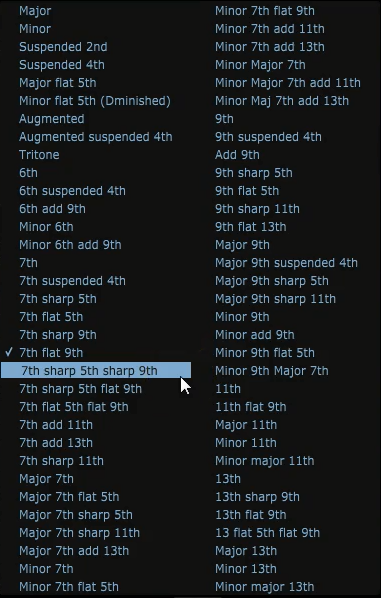 Playing chords
There are a lot of ways that you can play the chords. You can Hit or strum the chords with different combination of notes, speeds and directions. For example a key can be assigned to strum top 3 notes of the chord and another one to hit 2 middle notes.
You can also play individual notes of the chord separately. So it's possible to arpeggiate the chords or strum them manually as well.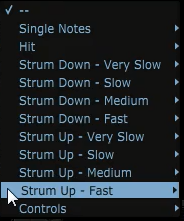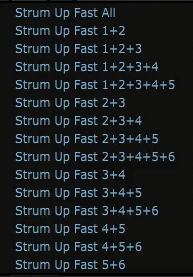 Hold mode
This feature allows the fretting hand (chord changer keys) to control the sustain. So as long as the chord key is held down any note you play will ring out, just like a guitar or using a sustain pedal

Chord Keys
Set up to 24 different chords and switch between them using the chord keys.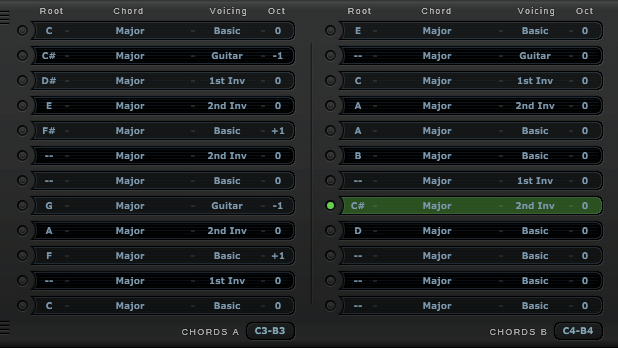 Action Keys
Set your own functions for the 24 action keys provided and tell them what you want them to do. Play a full strum, hit first two notes, transpose, etc.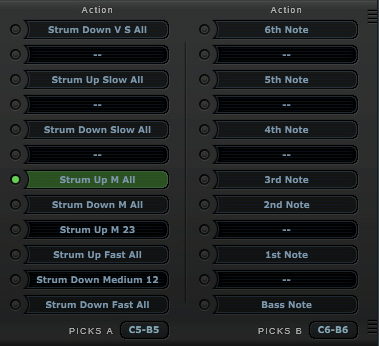 Transpose
Transpose the current chords to any other key you want with just a few click. This is also useful when playing live when the key of the song changes.

Flexibility
Endless possibility of customization for any kind of applications. Instachord is highly customizable and users can change things to match their needs.
Set your own favorite action key setup out of vast number of action options and lock it so it won't change when loading a new preset.
The position of the chord and action keys on your controller, each in two separate octaves can be moved up or down placed in a more comfortable position.
Factory Presets
40 carefully designed presets included with the plugin. These presets with professional chord progressions might come in handy starting you're new song.
Instachord is easy to install and use and has an a user friendly interface. But we wanted to make sure you get the most out of the plugin so we have made several tutorials that cover installing the plugin and setting it up on different operations systems and DAWs.

FAQ
Windows

Windows 8 and later (32/64 bit)
VST

Mac

macOS 10.13 and later
VST, AU

The plugin likely will not work properly on older OS versions. If the demo appears to work on your older system, this does not guarantee that the full version will work properly. If you are unsure whether or not the plugin will work on your system, please email info@waproduction.com.


Instachord can be used on any software that supports VST or AAX plug-ins with MIDI routing or AU MIDI effect type. But to make sure it's compatible with yours please try the demo version before you buy (only major chords are allowed in trial version).

Tested OK on:

Windows

FL Studio 12
Cubase 9.5
Studio One 3
Ableton Live 9
Pro Tools 11


Mac

Cubase 9.5
Studio One 3
Ableton Live 9
Logic Pro X
Pro Tools 11


Maschine 2 (Win / Mac) - No MIDI routing
Reason (Win / Mac) - No MIDI routing

v 1.0.1 - Update 25th March 2018

New Feature: Added a new preset manager.
Fixed: Automation issues.
Fixed: Few UI bugs.
Fixed: Minor 7th flat 5th chord.
Minimum requirements for OSX has moved up to 10.7 now

v 1.0.2 - Update 25th April 2018

Added a new voice mode: Wide.
Updated the guitar voicing modes for most of the chords and replaced them with better sounding or more realistic ones.
Updated some of the basic and inverted chords with a better arranged ones.
Renamed 11b5 to 11b9 which was the correct name for the chord.
Preset manager now scans for one layer of subfolders and lists them on the menu to help organizing the presets.
Added Lock buttons for each part so they won't be effected when loading a preset.
Octave, Hold Mode and C1 values will not be changed when loading a preset.
Fixed an issue with notes getting stuck in Logic Pro on some machines.
New option on the menu to copy preset files to Instachord's preset folder.

Full list of chords that their guitar voicing mode has been modified in this update:

6, Min6, 7, 7Sus4, 7#9 (updated all), 7b9 (+ 2nd inv fix),7#5#9, 7#5b9, 7b5b, 7add11 (+ inv fix), 7add11, 7add13 (updated all),7#11, Maj7 (+ 2nd inv fix), Maj7b5, Maj7#11 (+ inv fix), Maj7#11 (updated all), Majadd13 (+inv fix), Min7add11, minMaj7add11, 9 (+Inv fix), 9sus4 (+inv fix), add9 (+ inv fix),  9#5, 9#11,  9b5, Maj9#5, Maj9#11, Min9, Min9b5,Min9Maj7,11, 11b9 (name fixed), Maj11, Min11, MinMaj11, 13, 13#9, 13b9, 13b5b9,Maj13, Min13, MinMaj13.

v 1.0.3 - Update 11th June 2018

UI Scaling options: 100% / 200%

v 1.0.4 - Update 17th July 2018

Fix:  If the current preset were inside a sub-folder 'Save' wrongly saved it to the root preset folder.
Fix: < and > buttons didn't circle back when they got to first and last preset.
Fix:  When loading the project and trying < and > buttons, it started from the beginning instead of the right place in the list.
Fix: 'Save As..' now pops up in the right sub-folder by default.
Added: You can now press enter (return) on the rename text editor to save the preset without having to click save. And press Esc to cancel it.
Fix: Keyboard focus now only works on rename text editor. So you wont change anything by accidentally hitting a key.

v 1.0.5 - Update 13th September 2018

Added a new playing mode: Pick+. Its similar to the pick mode, but when changing a chord while a pick is being held down, it will trigger the notes associated to that pick and the new chord.
New preset delete option.
When renaming a preset, previous and next buttons will now find the right presets to load.

v 1.1.0 - Update 25th September 2018

New Feature: Users can now add, save and use their own chords.
Added a kill switch in case any note gets stuck.
Updated the manual to cover changes and explaining how user chords work.

v 1.2.0 - Update 10th October 2018

Chord Learn Option. Helps adding custom chords more easily.
New Strum mode. Velocity controls the speed of the strum.

v 1.2.1 - Update 13th March 2019

Fixed: Presets will be sorted alphabetically in newer versions of macOS
Minor bug fixes

v 1.3.0 - Update 13th November 2019

New: VST3 format
New: AAX format
New: Individual velocity control for chord notes.
New: Quick velocity ramp up or down options.
New: %75 UI scaling option and enhanced skin.
Minor bug fixes. Preset manager, parameters, etc.

v 1.3.2 - Update 16th February 2021

MacOS Big Sur support.
Built with latest libraries.
Also available in these bundles