InstaComposer & Expansions
Our InstaComposer plugin has changed the game for music composition and production. This AI-supported plugin makes it easy to generate new and interesting progressions and melodies that fit perfectly with one another and has won fans worldwide.
Over time, we have released several expansions for InstaComposer in a wide variety of genres and styles. But what if you don't own an InstaComposer license? Well, let's change that!
With the InstaComposer & Expansions bundle, you'll receive a lifetime license for the InstaComposer plugin, as well as all of our existing expansions. On top of that, your purchase will also give you access to all our future expansions for the plugin, meaning you'll keep getting new InstaComposer presets as time goes on without having to pay anything more. Sound good to you? Then go get it today!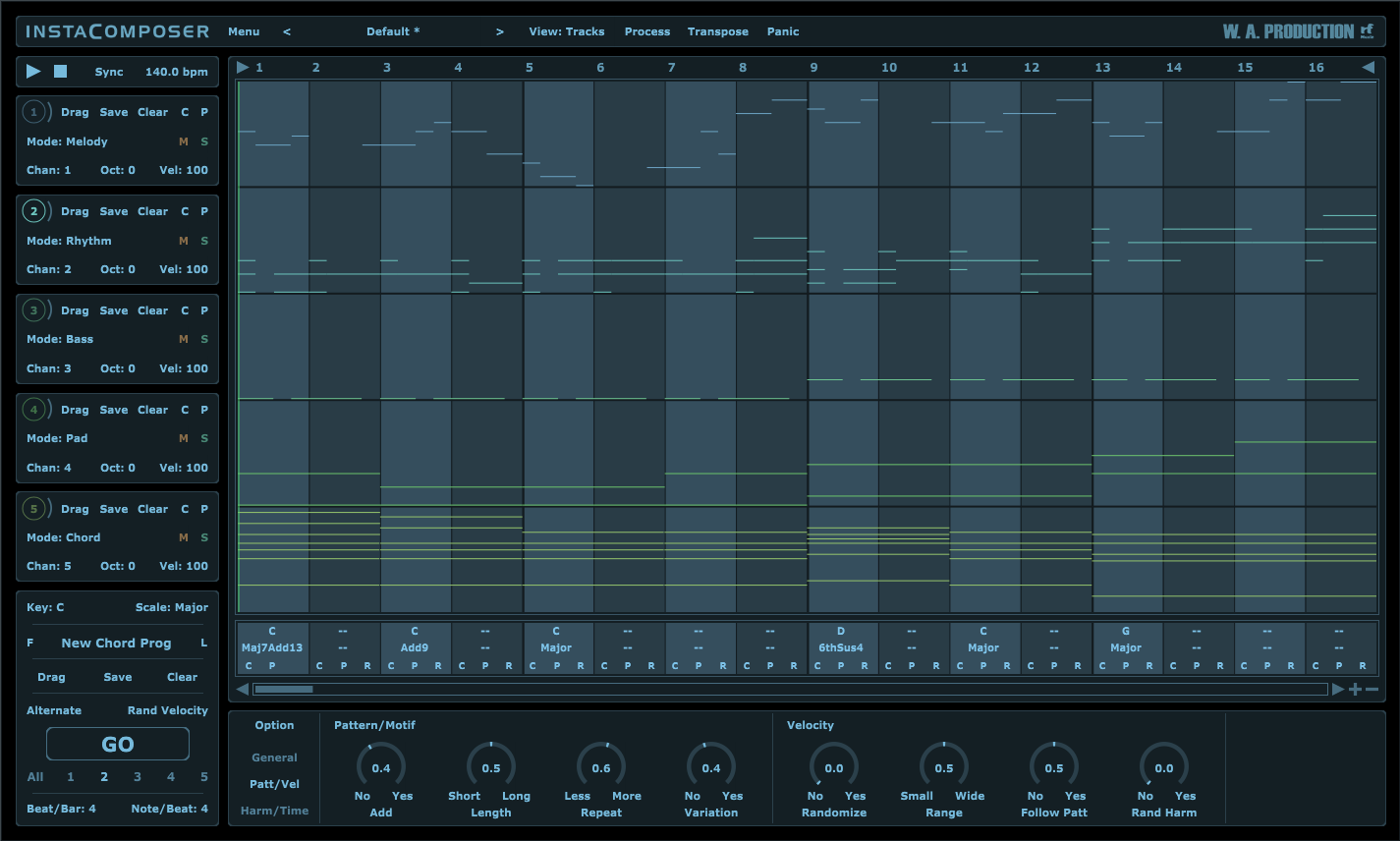 Sometimes inspiration comes at you thick and fast... but sometimes not. Instacomposer is your saviour when creativity runs dry, or when you just need your talent topped up. This MIDI generation plugin can conjure melody, rhythm, bass, pads and chords at the click of a button - all using artificial intelligence to create genuinely useful and musical riffs. This is the next step in automatic composition, using a complex algorithm to determine notes, harmonies and chords based on your personal preferences. With this much composing power at your fingertips, you'll never be stuck in a musical rut again.
Features
Intelligent MIDI Generation plugin
Create Melodies, Phrases, Riffs, Chords & more
Infinite ideas at the click of a button
Generate 5 tracks simultaneously
Multi-track and Multi-channel routing
Automatic harmonies and chord progression generation
Comprehensive MIDI editing
MIDI drag and drop
Multiple time signatures
Many controls for Probability, Complexity & Variation
Factory Presets
Full PDF Manual & Tutorial video
Learn more about InstaComposer
Oriental Melodies for InstaComposer
There's something infectious about the melodies found in different cultures, and Asian-style sounds are right up there with the most intriguing. We used these as inspiration to create our latest expansion: Oriental Melodies for InstaComposer!
Product details:
40 Presets
100% Royalty-Free
Learn more about Oriental Melodies for InstaComposer
Melodic Techno For InstaComposer
Melodic Techno can be incredibly soothing but it requires the use of the perfect sounds in combination with the ideal progressions and melodies. Here at W. A. Production, we have you covered! InstaComposer is an incredible tool for sparking inspiration, and Melodic Techno for InstaComposer is just what you need to create impactful Melodic Techno tracks.
Product details:
40 InstaComposer Presets
100% Royalty-Free
Learn more about Melodic Techno For InstaComposer
InstaComposer is an incredible composition tool that can be used in any genre, but with the right parameter settings, it can be tweaked to perform exceptionally well for specific styles of music. We've found that it can be incredibly useful to create cinematic soundscapes and instrument layers, so we've put together our favorite cinematic InstaComposer presets into one incredible package for you: Cinematic for InstaComposer!
Product details:
Learn more about Cinematic For InstaComposer
... and more! (See what all is included in the "Included in bundle" section)