Venom
Spectral Shifting
When reverb and delay just aren't enough, reach for Venom. This powerful spectral processing plug-in twists raw audio into many types of sounds from subtle granular movements to unrecognisable soundscapes. This makes Venom an incredibly versatile tool for sound designers, musicians, EDM producers and anyone who needs other-worldly transformations.
Explore the myriad of possibilities by using the included presets, then dive deeper with the hot-swappable effects chain, granular sizes and advanced tone shaping. Every experiment with Venom will yield sonic surprises; creating expansive reverbs, harmonic excitement, frozen spectral tones and completely unique ambiences.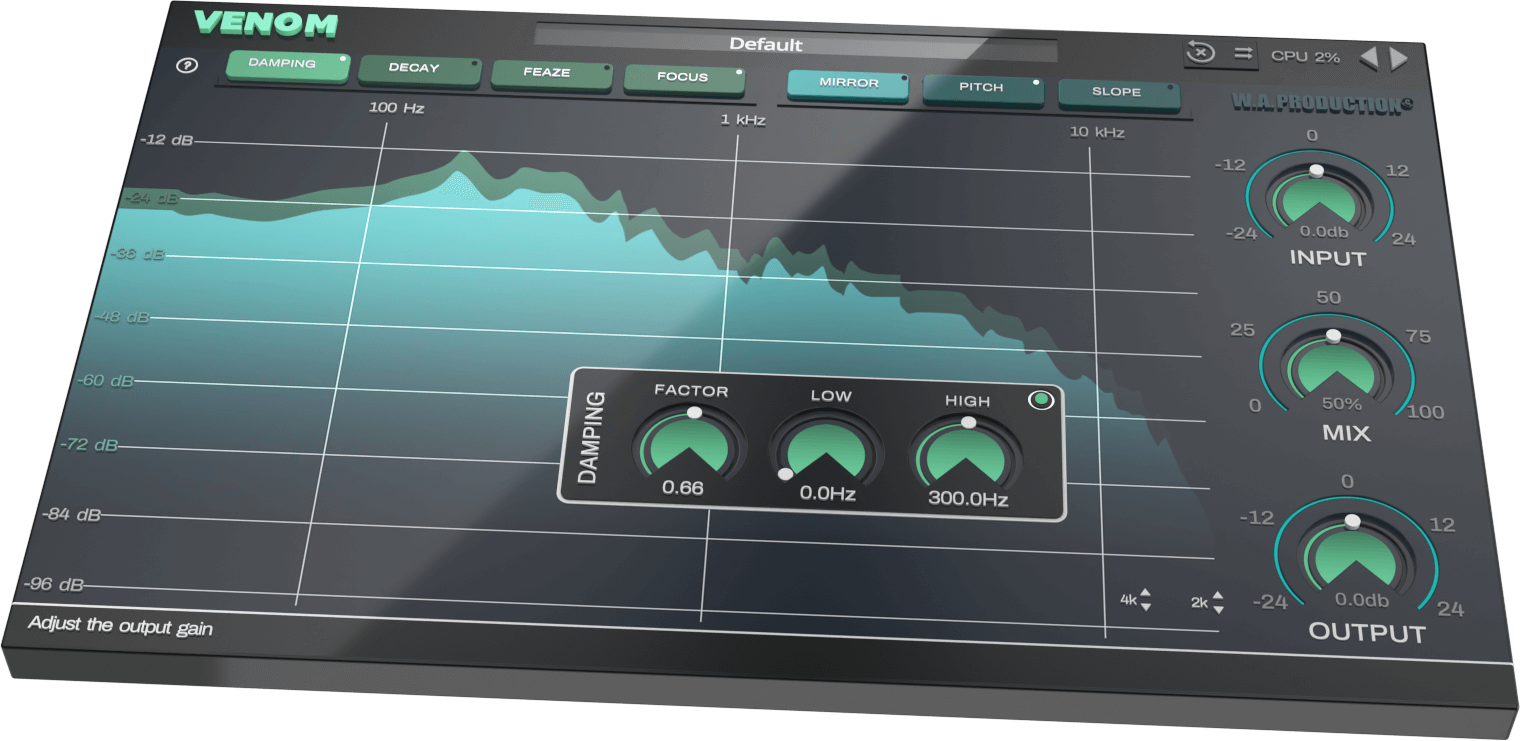 Two stage processing
Venom processes audio in two stages: Firstly a 'freeze' stage captures and accumulates a snapshot of the incoming sound, applying the audio effects to the continuously and creating feedback. This causes the output signal to change over time (like the reverb tail of an echo). The subsequent direct output stage applies a user-defined spectral operation to the signal.
Seven transformations
The 7 creative audio effects shape all sorts of spectral processing: Focus, Feaze, Decay & Damping for the creation of unusual, beautiful sounding ambiences. Mirror, Pitch & Slope to generate experimental spectral transformations. Any combination of these is possible for other unique soundscapes.
Hot-swappable FX
The user interface of Venom is completely modular: Drag an individual effect into the desired position in the processing chain to define the order of effects processing.
Live or Studio
Venom comes with multi-core support to prevent any glitches and audio dropouts. It also features user-controllable parameters for various aspects of spectral resolution that allow you to find the best settings for any environment; in the studio, on the road, or in a live setting.
Power
The Venom logo acts as a bypass control for the whole plugin, and is smoothed to be click and pop free for unhindered A/B testing. Use it to swap between your original audio and the Venom transformations.
Presets
A range of factory presets are designed to get you up and running quickly, with tailored settings for many types of special FX and spectral shaping. These are all easily accessible from the menu and of course, you can save your own settings as user presets too.
Let Venom inspire you to create unique sounds that you never thought possible - all with just a few clicks. W. A. Production are real-life producers making creative plugins to help you achieve studio quality processing quickly and easily. Enjoy!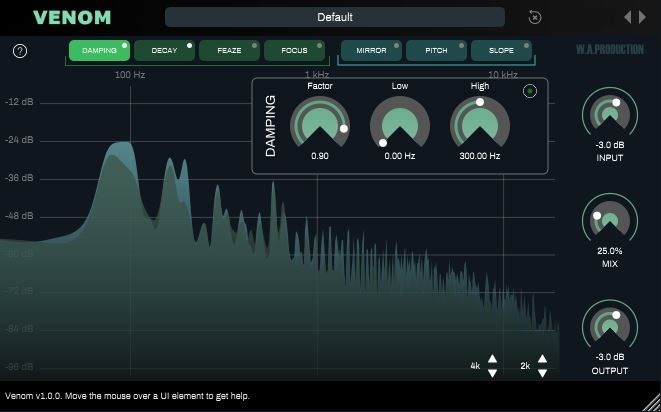 Features:
Spectral freeze and processing
Real-time frequency display
7 individual FX: Focus, Feaze, Decay, Damping, Mirror, Pitch & Slope
Hot-swappable FX chain
Creative Presets for special FX and spectral shaping
Click-free bypass control
Multicore support for glitch free performance
Input, Output level and Mix controls
Full PDF Manual & Tutorial video
. [Audio Previews by: Mazoulew]
FAQ
Windows

Windows 8 and later (64 bit only)
VST

Mac

macOS 10.13 and later
VST, AU

The plugin likely will not work properly on older OS versions. If the demo appears to work on your older system, this does not guarantee that the full version will work properly. If you are unsure whether or not the plugin will work on your system, please email info@waproduction.com.

Ableton Live 10 (and later)
Bitwig Studio 2
Cubase 10
FL Studio 20 (VST, not VST3)
Logic Pro X (Mac only)
Studio One 4

Maschine 2 (and later)
Reason
Reaper
Pro Tools 11 (and later)
Max/MSP

Important notice for M1/ARM Mac users: Before purchasing, please review the current compatibility status of this plugin on your system here.

v 1.0.0.b2 - Update 19th October 2021

Fxed: Multiple incompatibility issues

New protection scheme added

Plugins is again compatible with Ableton 11 (and later)

Bug fixes

Also available in these bundles
Top Rated
Production Hack Bundle
Top Rated
87%
Everything Bundle V1