The KING
The King is a Dynamically Enhanced Multi-Band Compression Plug-In designed for Mastering.
Feature Highlights Include:
5 Band Threshold knobs
5 Band Make Up Gain knobs
Input/ Output Gain
Upward Compression Knob, Downward Compression Knob
Release Time knob
Overall Plug-In Mix knob
Magic EQ with 3 different Shapes/ Curves and a built-in Limiter!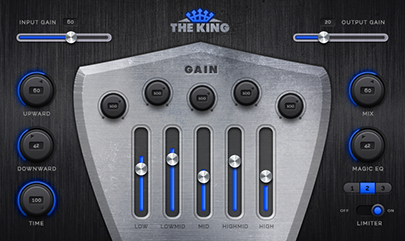 5 Band Compressor
We went above and beyond and rather than give you the standard 3 band EQ, we put 5 EQ controls at your fingertips. Now you have more control to master your mix. You can customize:
Low
Low Mid
Mid
Mid High
High
You are also able to adjust the amount of Threshold of each individual band as well as the Makeup gain of each individual band. This will give you an amazingly clear and professional sound that will please the ears of not only the producer but the listener.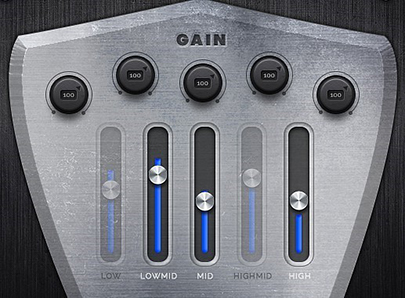 The Mix Knob, as a multi-use tool
You can use the Mix knob to toggle between hearing how much of the effect is being used and compare it to the dry mix. You can also use the Mix Knob as a parallel compressor by adding 30% of the effected sound to the mix.

Built-in Limiter
No need to use a third party limiter. Not only do we know what it's like to have a slew of different effects open consuming your CPU or you rack space, but we know the better the organization, the more productive you can be.
With a simple flick of a switch the limiter keeps the master track, individual audio file or MIDI instrument from exceeding the 0dB mark. The 0dB mark, also referred to as "Unity Gain", is the maximum peak anything in a song. Anything above that will result in the dreaded "clipping".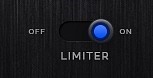 Upward and Downward Compression
These effects are two separate knobs on the interface of The King.
Adjusting either the Upward or Downward Compression knob will increase or decrease either compression. Both knobs default at 100 and are capable of dropping to 0 or being increased to 200.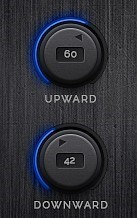 Time Knob
Allows producers to adjust the attack and release time of the Upward and Downward Compression. We love how both of these compression options compliment the mix of the Multi-Band elements.
Magic EQ
The Kings Magic EQ is an amazing development that allows you to add EQ to anything being affected whether it be a master rack, individual audio file and or MIDI instrument. The Magic EQ has 3 different shapes/ curves that are designed mainly for cleaning. The 1st option is designed to clean up the muddy frequencies to give the affected element a cleaner sound. The 2nd and 3rd option on the Magic EQ is primarily meant for the master tracks of a project.
Designed to focus on cleaning up a wide variety of elements at one time. This means cleaning up the muddy frequencies and amplifying what it has polished clean. This will make your bright tones shine and sound crisper.
Input & Output Gain
A major factor in compression plug-ins is an Input Gain and an Output Gain option. These two options are extremely important based on what you are using The King on. Say you have a MIDI Instrument and you need to judge how much of the instrument gains into The King, you would adjust the Input Gain knob, and to judge how much The King's effects push out into the mix.
These features are important to understand and use, because they can bring the clarity of the effect and really show how amazing The King is. We really hope producers abuse this feature to really get that intense sound that The King provides!


Videos & Audio Courses
Compression can be very touchy and overwhelming. When you purchase The King we want to make sure you get the most out of it.
We are providing Video Tutorials and Audio Courses for beginners or even for those who must know all the specs and uses available to you.
In these tutorials and courses you will learn about Mastering, Sound Design, Instrument Busses, Vocal Mixing, and Piano Mastering. You get insight from the pros.
3 Audio Courses:
Redhead Roman – Explaining Mastering, Effecting Drums & Busses and Effecting Individual Elements using The King. (+ Secret Tips!)
Dazkol – The King Overview, Bass Sound Design, Bass Music Mastering with The King.
Josh Isaacs – Mastering with The King, Using The King on Instrument Busses and Using The King on Vocals.
7 Video Tutorials:
Multiplier  –  Effecting Drums & Electro
Eric Kauffmann  –  The King Review in Spanish
Arcade  –  Effecting Piano & Mastering
Austin Leeds  –  Using The King in Logic Pro
Nikk  – Effecting Various Elements
Reuben  –  Plugin Explanation & Overview
Redhead Roman  –  Bundle Explanation (The King + Bonus Content)
BONUS Content
Oh and one more thing to delight your senses. You may be more familiar with W.A. Production for our Sample Packs.
We are including some of our bonus content in the form of Construction Kits, Presets, and a pack that is nothing short of what we are known for. Not just 20 samples, a full pack. Now you have some sounds to run through The King.
While we aren't offering The King of Rock 'n Roll, Elvis Presley, we are offering The King, a show-stopping plugin.
DAW Templates (To present you the power of The King!):
5 Ableton Live Templates + Construction Kits (MIDI and Presets Provided)
6 FL Studio 12 Templates + Construction Kits (MIDI and Presets Provided)
Samples & Loops:
90 Drum Loops
94 Kick Samples
83 Claps, Snares & Snaps
33 Percussion Samples
20 Cymbals
12 Fills
48 FX
48 Melody Loops + MIDI
20 Synth Shots
Presets & Patches:
70 Serum Presets
20 Sylenth1 Presets
10 Spire Presets
BONUS / BONUS Content:
20 BONUS Big Room MIDI
18 BONUS Deep House MIDI