Punchy Worm
Here at W.A. Production we're serious about music and over the last few years we've created many top quality plugins with finely tuned controls and pro studio features. But sometimes we just like to go a bit crazy.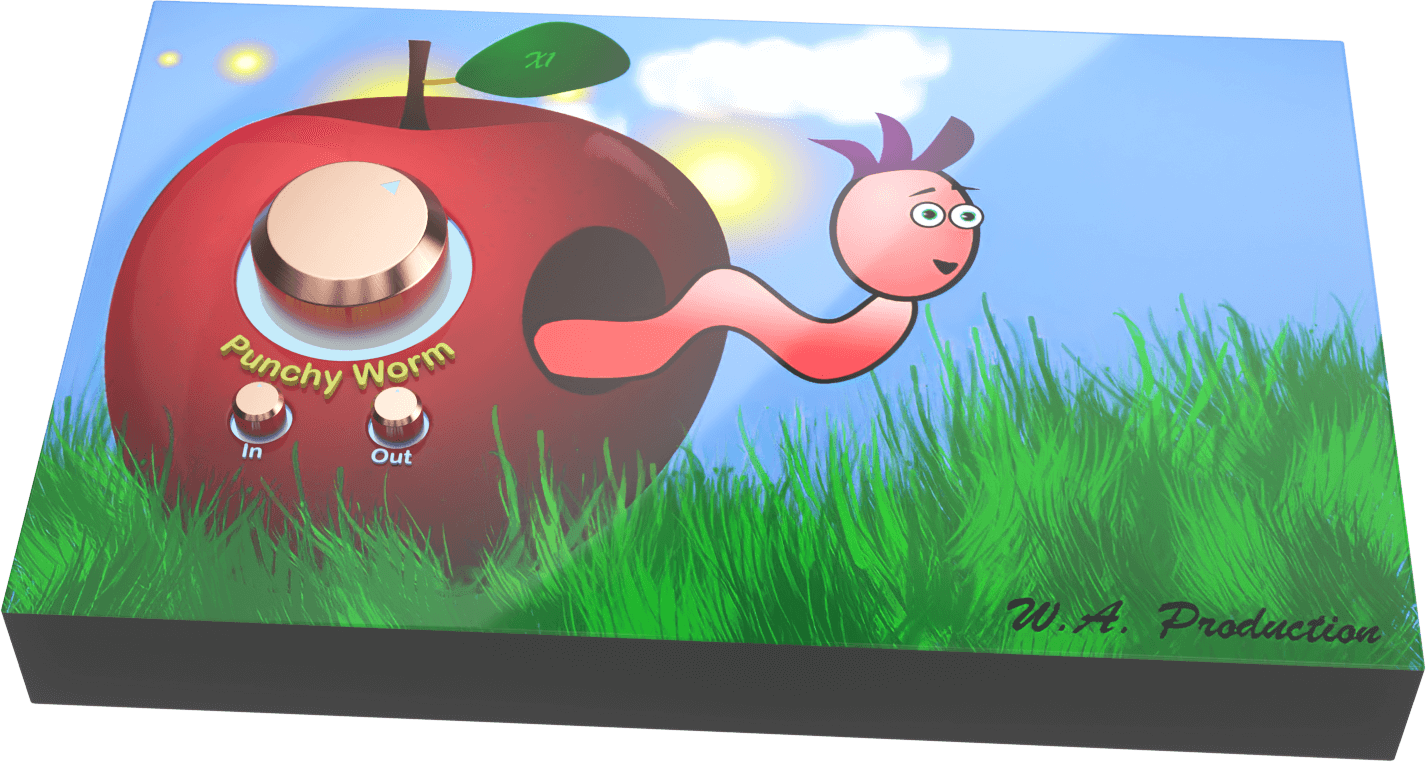 Presenting "Punchy Worm", the only one-knob punch powerhouse featuring a dancing worm! This little dude can keep your beats bouncing and synths saturated as long as you keep feeding him audio apples. He'll head-bang along with your track whilst shaping transients and adding harmonics. Why did we add a wobbly worm to our latest plugin?... We can't really answer that with a straight face, but in these serious times, why not?!
Easy Controls
With just a couple of simple controls, Punchy Worm keeps you concentrated on the most important thing about your music... the sound. Simply drag the dials to operate and double click to reset them to default. Trust your ears to tell you what sounds good and let the dancing worm take the strain.
Punch & Saturation
Depending on if you set the main dial to the left or right of centre, you'll hear punch or saturation, combined with smooth and responsive upward and downward compression. With more subtle settings you'll hear more presence and power. Pushed harder will result in more brutal transient shaping and saturated harmonics. 
In / Out / Bypass
Use the Input control to drive more signal into that rosy red apple, increasing the amount of the effect and resulting in more aggressive processing (and a more frantic freakout from the bewigged worm). The Output dial can be used to volume match the original signal so you can hear exactly what effect the plugin is having on the audio, without artificially increasing the loudness. Click the "Punchy Worm" logo to bypass the plugin for easy A/B comparison.
Oversampling
The leaf at the top of the interface acts as a toggle, which can be set to x1, x2 or x4 interval oversampling. Careful use of this control will reduce unwanted noise from digital aliasing.
W. A. Production are real-life producers making creative plugins to help you achieve studio quality processing quickly and easily. Enjoy!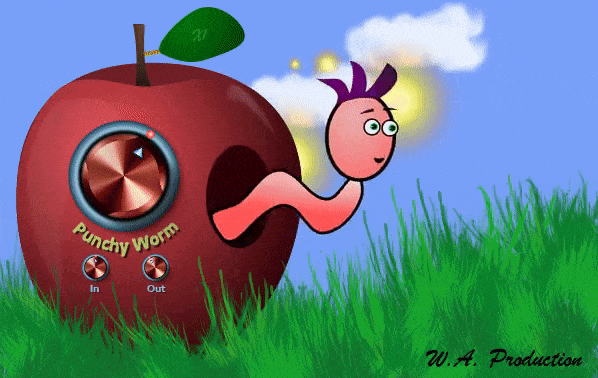 Features:
Dancing worm!
One-knob punch and saturation processing
In / Out controls for accurate A/Bing
Bypass toggle
Up to x4 oversampling to reduce aliasing noise
Full PDF Manual & Tutorial video
FAQ
Windows 8 and later (32 / 64 bit)
macOS 10.13 and later

AAX - ProTools 11 or higher

The plugin likely will not work properly on older OS versions. If the demo appears to work on your older system, this does not guarantee that the full version will work properly. If you are unsure whether or not the plugin will work on your system, please email info@waproduction.com.

Important notice for M1/ARM Mac users: Before purchasing, please review the current compatibility status of this plugin on your system here.
Also available in these bundles