Pumper 3
Harder. Better. Stronger.
We've done it again… after the release of "Pumper" we wanted to step up our game and give you even more control over the punch and power of your sounds. The sequel, Pumper 3, has been long in development as our team toiled away to retain the stellar performance parameters of the original plugin whilst adding new features. The end result is a multi-effect powerhouse that achieves the level of immediacy, body and depth that our fans expect and their tracks deserve.
This is our most requested update ever and builds on the Compressor, Saturator and Stereo Imager modules of the original whilst adding more controls to fine tune the processing.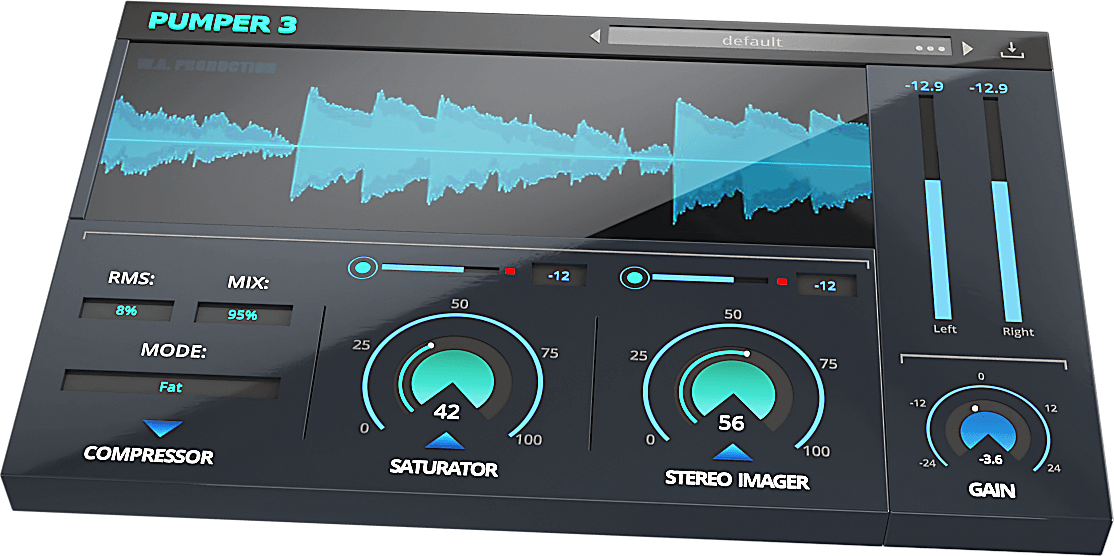 Compressor
The compression module has 4 flexible modes:
Punchy Mode gives you that direct punch and clarity. This is great for kick drums or percussion.
Fat will help to bring out the bottom end of your audio and make it sound big.
Clean is more transparent and perfect for adding cohesion. Great for softer vocals or acoustic instruments.
Soft is wonderful to use on your master channel. Subtle compression makes everything sound tighter, increasing clarity without sucking the life out of your mix.
New compression parameters for Pumper 3 include adjustable wet / dry parallel compression and RMS shaping controls, ideal for perfecting your sound in the box, without resorting to complex channel audio routing.
Saturator
Add warmth and depth with subtle saturation settings, or push the dial up high for pronounced distortion with a harder edge.
The new Rise and Fall settings allow you to shape transients and smooth out the character of the saturation, both essential controls for fine-tuning the performance of any audio.
Stereo Imager
Bring your tracks to life with the Stereo Image control, adding beautifully clear width and depth. Unique to Pumper 3, the dedicated Low and High shelf modes, alongside frequency and resonance controls, allow you to focus the width processing to specific frequency ranges. Use these settings to emphasise the unique characteristics of a sound.
All in one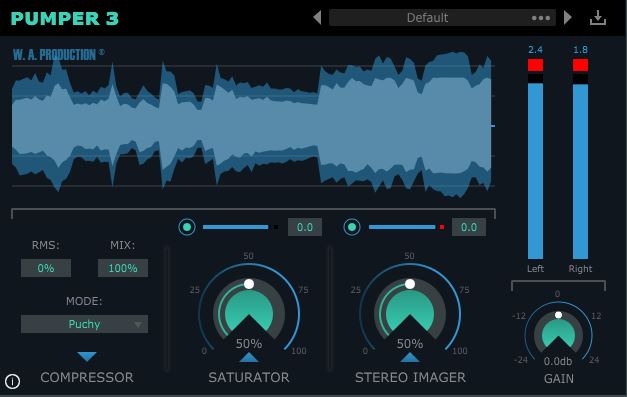 Using these 3 modules simultaneously within one plugin is quick, easy and inspiring.
Each module has a dedicated input control for balancing the effects and the real-time waveform window shows a visual representation of your audio, both before and after processing. Essential for accurate A/Bing to check the results of Pumper 3's processing power.
50 factory presets are designed to get you up and running quickly, with tailored settings for drums, vocals, bass, keys, synths, acoustic instruments and mastering. These are all easily accessible from the plugin menu and of course, you can save you own settings as user presets too.
Pumper 3 is a big leap above and beyond the first version. If you've used and enjoyed the original Pumper in the past, this is a perfect upgrade with expanded features and more nuanced controls. If you're new to this kind of processing, then Pumper 3 is a great starting point, with interface controls as simple or complex as you want it to be. We've been using Pumper 3 to beef up our kicks, expand synth lines and widen guitars. It's your one-stop-shop for creating tracks that will engage and excite your listeners.
W. A. Production are real-life producers making creative plugins to help you achieve studio quality processing quickly and easily. Enjoy!
Features:
50 Creative Presets for drums, vocals, synth, bass, acoustic, keys and mastering
4 Compression types with adjustable RMS
One-click parallel compression
Hard & soft clip saturation with transient and character controls
Stereo Imager with frequency focus
Per-module and master gain controls
Real-time waveform display
Full PDF Manual & Tutorial video
New Features in version 3.0.0:
Updated GUI (Wave graph)
Catalina compatible
Pro Tools / AAX compatible
Minor Bug Fixes
New Features in version 3.1.0:
Resizability
Updated presets manager
Updated license management
Bug fixes

FAQ
Windows 8 and later (32 / 64 bit)
macOS 10.13 and later

AAX - ProTools 11 or higher

The plugin likely will not work properly on older OS versions. If the demo appears to work on your older system, this does not guarantee that the full version will work properly. If you are unsure whether or not the plugin will work on your system, please email info@waproduction.com.

Important notice for M1/ARM Mac users: Before purchasing, please review the current compatibility status of this plugin on your system here.

v 3.0.0 - Update 18th August 2020
v 3.1.0 - Update 21st June 2020
Also available in this bundle
Top Rated
90%
Everything Bundle V1