MSpectralDelay
Process individual frequencies to creat the delay effect like no other

MSpectralDelay is a unique creative delay plugin, which works in the spectral domain and lets you perform various transformations on the delayed signal - from changing pitch to arbitrarily transforming individual frequencies. It's complex, but it is still easy-to-use for the beginners.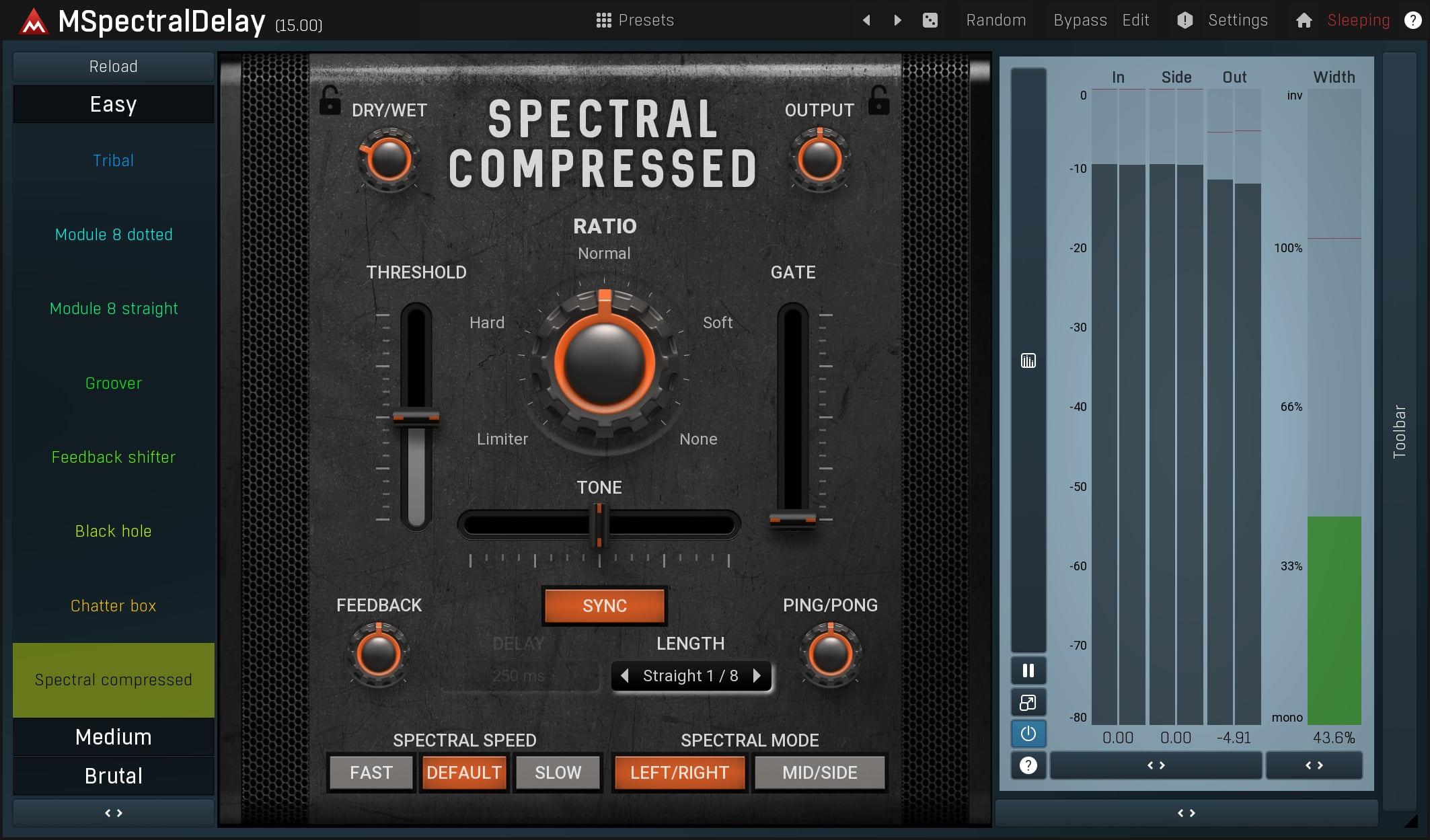 20 delay plugins in one
MSpectralDelay is extremely powerful, therefore also complex. So we have exploited its features and created 20 active presets on the easy screen, each as versatile as a dedicated plugin. These make using the plugin easy even for complete beginners.
The power of spectral processing
Traditional delay plugins feature a simple feedback delay, which produces identical copies of the original signal, sometimes with a possibility of filtering, distortion or other basic effects. MSpectralDelay lets you transform individual frequencies. First it lets you control the delay time, feedback, panorama and level (EQ) for each frequency. MSpectralDelay also provides complex spectral transformations - pitch, frequency shift, formants, plus an actual frequency to frequency transformation and level to level transformation.
MeldaProduction goodies
Isn't transforming pitch, formants, levels and more advanced stuff enough to satisfy your creative needs? It wouldn't be a Melda plugin without the signature modulators, multiparameters, channel modes, A-H presets, ABCD morphing and more!
Features
The most advanced user interface on the market - stylable, resizable, GPU accelerated
Dual user interface, easy screen for beginners, edit screen for professionals
Unique visualisation engine with classic meters and time graphs
1-6 fully configurable independent bands
Modulators
Adjustable oscillator shape technology
Multiparameters
M/S, single channel, up to 8 channels surround processing...
Smart randomization
Automatic gain compensation (AGC)
Safety limiter
Adjustable up-sampling 1x-16x
Synchronization to host tempo
MIDI controllers with MIDI learn
64-bit processing and an unlimited sampling rate
Extremely fast, optimized for newest AVX2 capable processors
Global preset management and online preset exchange
Supports VST, VST3, AU and AAX interfaces on Windows & Mac, both 32-bit and 64-bit
No dongle nor internet access is required for activation
Free-for-life updates
FAQ
Windows

Windows 8 / 10 / 11 (32-bit or 64-bit)
VST / VST3 / AAX compatible host (32-bit or 64-bit)
Intel/AMD processor with SSE2 support

Always use 32-bit plugins in 32-bit hosts, or 64-bit plugins in 64-bit hosts!

64-bit plugins can't work in 32-bit hosts even if the operating system is 64-bit. Do NOT use 32-bit plugins in 64-bit hosts. They would have to be bridged and can become slow and unstable.

Mac OS X

Mac OS X 10.14 and newer (64-bit only)
VST / VST3 / AU / AAX compatible host

Intel/AMD processor with SSE2 support or Apple Silicon processor
M1 (native Apple Silicon ARM CPU) support