InstaComposer 2 Upgrade
Introducing Instacomposer 2: The Ultimate MIDI Generation Station
We've all experienced those moments when creativity runs dry. Fear not, as the newly updated Instacomposer 2 is your ultimate muse. This is a powerful MIDI generator plugin designed to revolutionize music creation. Whether you're a professional musician or just starting out, this versatile tool offers endless possibilities for crafting captivating melodies, phrases, riffs, and chord progressions across various genres and styles. With its user-friendly interface and advanced algorithms, Instacomposer 2 lets you focus on getting ideas down fast, without spending hours auditioning parts manually. It's the only generation station you need…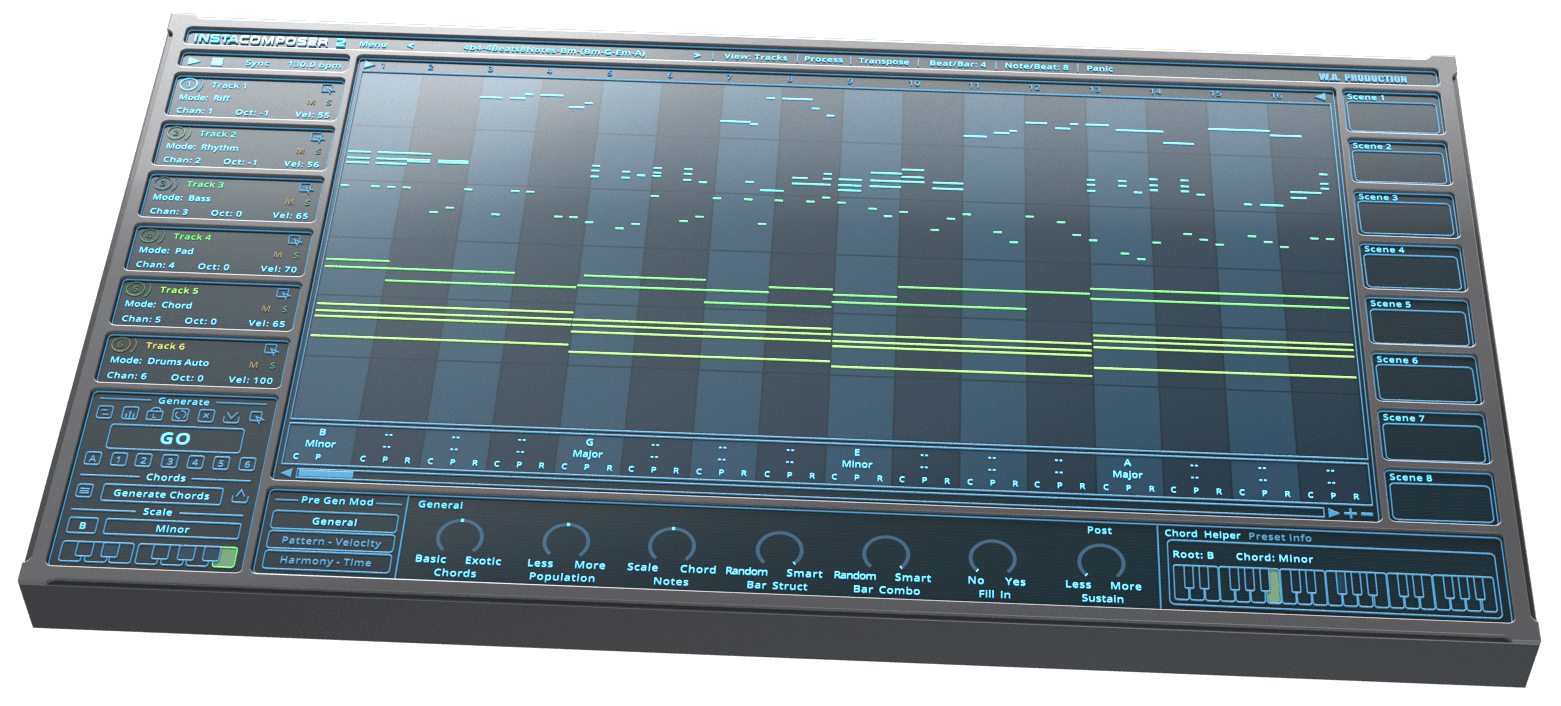 New to Instacomposer 2
Building on the foundation of the original, Instacomposer 2 sports exciting new features and improvements to enhance your experience. Organize ideas and song parts with 8 new "scenes", providing a convenient way to store different variations within a single preset. Scale support is upgraded, with 22 additional scales ranging from Spanish, Arabic, Ryukyu and more. Melodies can be generated in different modes and paired with unique chord progressions for each scale. A new virtual keyboard and highlighted chord menus help with scale and chord selection. The update introduces two new generation modes. Drums; effortlessly generating drum lines across various styles and complexities, and Pad 2; creating fuller sounds by combining pad and chord modes. The AI algorithms have been further improved for rhythm, phrase, and melody generation, conjuring more refined results. New parameters like Sustain and Chord Helper provide additional control. The plugin now offers six total tracks, improved performance with reduced CPU usage, and legacy support for loading presets from the previous version.
Artificial Intelligence
Each new starting point for Instacomposer 2 generates a unique result, ensuring that you'll never run out of fresh ideas and possibilities for your compositions. Unlike random note generation, Instacomposer 2 employs meticulously crafted algorithms and databases to produce musical ideas. By mimicking human creativity, it constructs rhythmic and melodic structures that just sound correct, selecting notes that fit the given scale and context, and creating cohesive phrases that complement underlying chords. Instacomposer 2 understands our brain's affinity for pattern recognition in music. The AI uses different shapes and formats to build captivating combinations of beats and bars, adding rhythmic and melodic consistency often found in chart-topping music. By using smaller musical chunks that repeat or occur in various forms throughout the melody, Instacomposer 2 builds larger blocks, creating a sense of unity throughout your music. Depending on the selected mode and settings, the plugin harmonizes notes to enrich the sonics, resulting in a more cohesive composition as it aligns melody to chords. With adjustable AI controls and variable chaos parameters, you're in charge of how Instacomposer 2 develops ideas (and how far it strays from the rules). Fine-tune various components such as chord complexity, note population, beat and bar structuring, pattern generation, harmonization, velocity randomization, and more.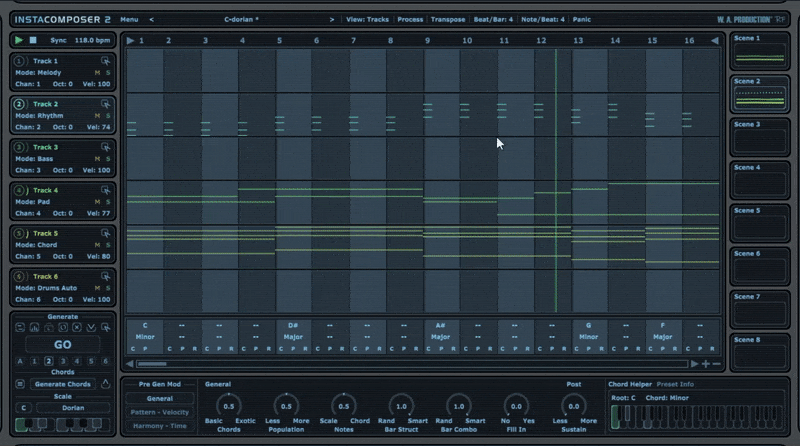 Multi Mode
Instacomposer 2 includes complex algorithms for generating melodies, bass lines, ostinato, rhythmic patterns, pads, chords, drums and more. By exploring the potential of these modes, you can uncover unique and compelling music. With six tracks and eight scenes available, Instacomposer 2 offers flexibility and organization for multiple layers, alternative variations, and different song parts within a single preset.
MIDI Editor
With a user-friendly piano-roll interface at your fingertips, you can effortlessly manoeuvre, duplicate, and remove notes, breathing life into your riffs. The onboard MIDI editor can be used to tweak the output of Instacomposer 2. This means that you can manipulate the music before it leaves the plugin, adding your own creativity and personal style to the AI-generated phrases. Move, copy and delete notes within a familiar piano-roll interface, even changing the velocity.
MIDI Export
Edit and modify MIDI playback directly within the Instacomposer 2 interface. Save your output as a MIDI file or conveniently drag and drop it into your DAW. Each track can also be saved separately, providing ultimate flexibility. Alternatively, set up multi-channel instruments and route the MIDI from Instacomposer into your favourite VSTi's. In this way you can preview all 6 tracks simultaneously, without ever leaving the plugin environment.
Presets
Instacomposer includes a huge number of factory presets, many more than the original version; useful musical motifs to get you up and running quickly which can eventually become the basis for whole tracks.
W. A. Production are real-life producers making creative plugins to help you achieve studio quality processing quickly and easily. Enjoy!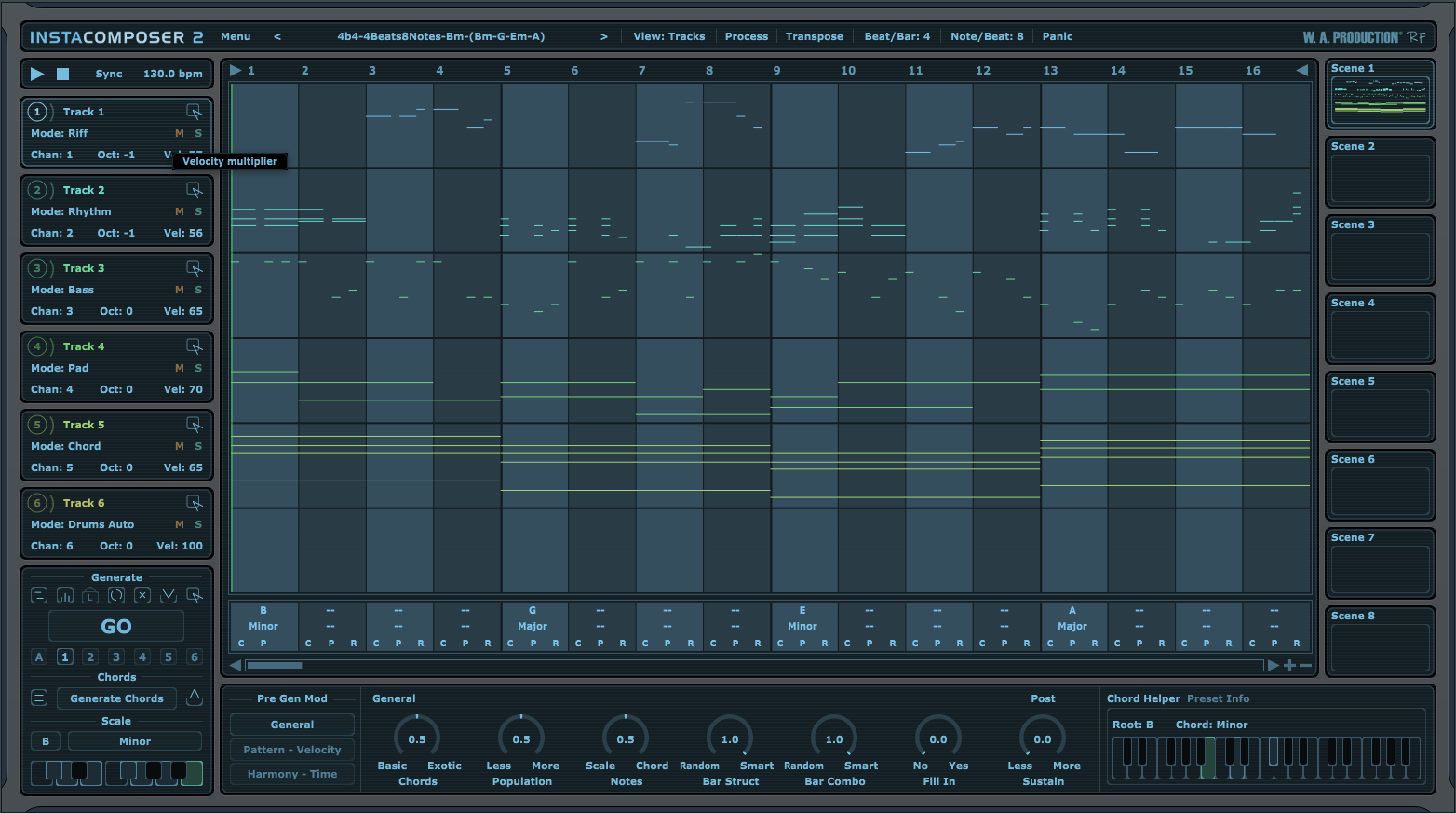 Features
Intelligent MIDI Generation plugin
Create Melodies, Phrases, Riffs, Chords & more
Infinite ideas at the click of a button
Generate 5 tracks simultaneously
Multi-track and Multi-channel routing
Automatic harmonies and chord progression generation
Comprehensive MIDI editing
MIDI drag and drop
Multiple time signatures
Many controls for Probability, Complexity & Variation
Factory Presets
Full PDF Manual & Tutorial video
What's new in version 2
Scenes: Organize various ideas, alternative variations, and different song parts by storing them in any of the eight available scenes within the same preset.
New Scales: Now supporting 22 additional scales.
Including Major, Minor, Harmonic Minor, Melodic Minor, Spanish, Arabic, Neapolitan Minor, Hungarian Minor, Major Pentatonic, Minor Pentatonic, Blues, Insen, Hirajoshi, Miyako Bushi, Ryukyu, Ritsu, Diminished, Major Bebop, Dominant Bebop, Dorian, Phrygian, Lydian, Mixolydian, Locrian.
Generate melodies in different generation modes and chord progression for each scale.
A new virtual keyboard highlights the notes for the selected scale.
Chords belonging to the selected scale are highlighted in the chord menus.
New Modes: Added two more generation modes.
Drums: Allows you to easily generate drum lines. Supporting a wide variety of styles, time signatures, and complexity levels.
Versatile: The algorithm is able to generate a wide variety of drum lines depending on the settings like time division, population, structure, velocity, scale, etc. Similar to melody generation modes, experimenting with different sounds and drum modes, regardless of the naming, can lead to some interesting results.
Sub-modes: There are a few drum modes that let you narrow down the output to something that fits your preferences
Auto: Takes in settings such as time and population and chooses an approach automatically.
Default: Generates drum lines that fit most genres and drum sounds.
Half Time: Similar to default mode but in half time.
Double Time: Similar to default mode but in double time.
Double Time – Snare Lead: Similar to double time mode but with leading snare.
Dance: Generates drum lines that fit electronic genres and drum sounds a bit better.
Pad 2: Creates a fuller sound by combining pad and chord modes. Focusing on chords in the lower register, while allowing for more relaxed movements in the higher register.
Improved algorithms: Updated rhythm, phrase and melody generation sections.
Sustain Parameter: Control over the length of the notes that are going to be generated. There is also a post processing option to apply changes after the output has been generated.
Chord Helper: Highlights the notes for the selected chord on a virtual keyboard.
One additional track: The number of tracks has been extended to 6.
Lock MIDI channels: Gives you the option to keep the same channel configuration when loading new presets.
Improved performance: Using slightly less CPU power.
Legacy support: You can load presets from the first version of the plug-in.
MIDI Routing video tutorials:
FL Studio (fully compatible)
Logic Pro X (fully compatible)
Ableton Live (fully compatible, but requires extra steps to use multi-channel output, instructions for this here)
Cubase (fully compatible except on Cubase Elements, which does not have this capability)
Studio One (fully compatible)
Bitwig (fully compatible)
Samplitude (fully compatible, video shows a different plugin but it is the same process to set up)
Pro Tools (fully compatible, video shows a different plugin but it is the same process to set up)
Mixcraft (fully compatible, requires a driver download)
Reaper (fully compatible)
FAQ
Windows

Mac

macOS 10.13 and later

VST, AU

The plugin likely will not work properly on older OS versions. If the demo appears to work on your older system, this does not guarantee that the full version will work properly. If you are unsure whether or not the plugin will work on your system, please email info@waproduction.com.

InstaComposer can be used on any software that supports VST or AAX plug-ins with MIDI routing or AU MIDI effect type. But to make sure it's compatible with yours please try the demo version before you buy (only major chords are allowed in trial version).

Tested OK on:

Windows

FL Studio 12 (and newer)

Cubase 10 (and newer)
Studio One 5 (and newer)
Ableton Live 9  (and newer)

Pro Tools 11 (and newer)

Mac

FL Studio 12 (and newer)
Cubase 10 (and newer)
Studio One 5 (and newer)
Ableton Live 9 (and newer)
Logic Pro X (and newer)

Pro Tools 11 (and newer)

Global


NI Maschine - Blue Cat's Patchwork plugin needed for multi-channel MIDI routing
Mixcraft - Blue Cat's Patchwork plugin needed for multi-channel MIDI routing

Maschine 2 (Win / Mac) - No MIDI routing. You can still use Drag&Drop MIDI function.

Reason (Win / Mac) - No MIDI routing. You can still use Drag&Drop MIDI function.