HELPER Saturator 2
Helper Saturator 2 is an audio effect VST plugin professionally designed to apply saturation to the audio signal. Helper Saturator 2 is not just a simple saturation plug-in, it also comes with 2 filter features, 2 types of saturation modules and ability to be able to process 5 different types of audio signal.
With Helper Saturator 2, you have 2 options of saturation to use on your sounds. It features 2 saturation modules, which are Tube distortion and Tape distortion. They both add analog "warmth" to your sounds without over-distorting them. Helper Saturator 2 can be used in varieties of audio mixing cases: you may use it to get good results with drums, bass, and vocal tracks, over sub-mixes and of course over complete mixes.
With its both low pass and high pass filter modules, you'll be able to cut off unwanted frequencies from the saturated audio signal. The possibilities are endless as you use the filter modules for creative purposes such as crafting new unique sounds. With the input and output gain control, proper gain staging can be done before and after the saturation process. You can choose to saturate different types of audio signal from the audio source – Stereo, Mid, Side, Left & Right.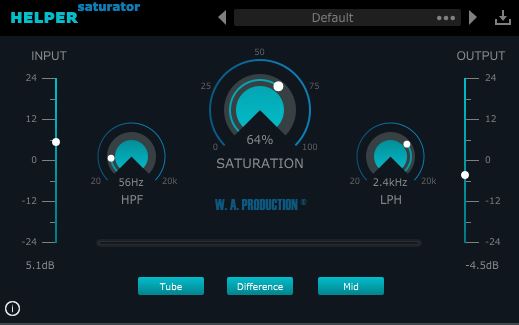 Features:
Analog Saturation
Simple user interface (stylish & easy to use)
Clean filter modules
10 Factory presets
Responsive & CPU friendly
New Features in version 2.0.0:
New GUI
Presets manager
Catalina compatible
Pro Tools / AAX compatible
Minor Bug Fixes
New Features in version 2.1.0:
Resizability
Updated presets manager
Updated license management
Bug fixes

FAQ
Windows 8 and later (32 / 64 bit)
macOS 10.15 and later

AAX - ProTools 11 or higher

The plugin likely will not work properly on older OS versions. If the demo appears to work on your older system, this does not guarantee that the full version will work properly. If you are unsure whether or not the plugin will work on your system, please email info@waproduction.com.

Important notice for M1/ARM Mac users: Before purchasing, please review the current compatibility status of this plugin on your system here.

v 2.0.0 - Update 28th May 2020
v 2.1.0 - Update 21st June 2020

Also available in these bundles
Top Rated
20%
Helper Series 2
Top Rated
90%
Everything Bundle