Babylon
One Page Wonder
We've been wanting to create a synth like Babylon for years, after struggling with synths that overcomplicate programming with multiple windows and menus. Babylon keeps things sleek and simple with a one-page design, featuring all major parameters on a single interface page. Of course, a synth is only as good as it sounds and we've included hundreds of waveforms and presets to choose from. Babylon can turn its hand to any kind of instrumentation including different types of leads, basses, pads, organs, keys, FX and more. With powerful multi-voice oscillators, stereo unison & detuning, high quality filters, effects and an internal modulation matrix Babylon can stand with the big boys because it's powerful, but perfectly formed.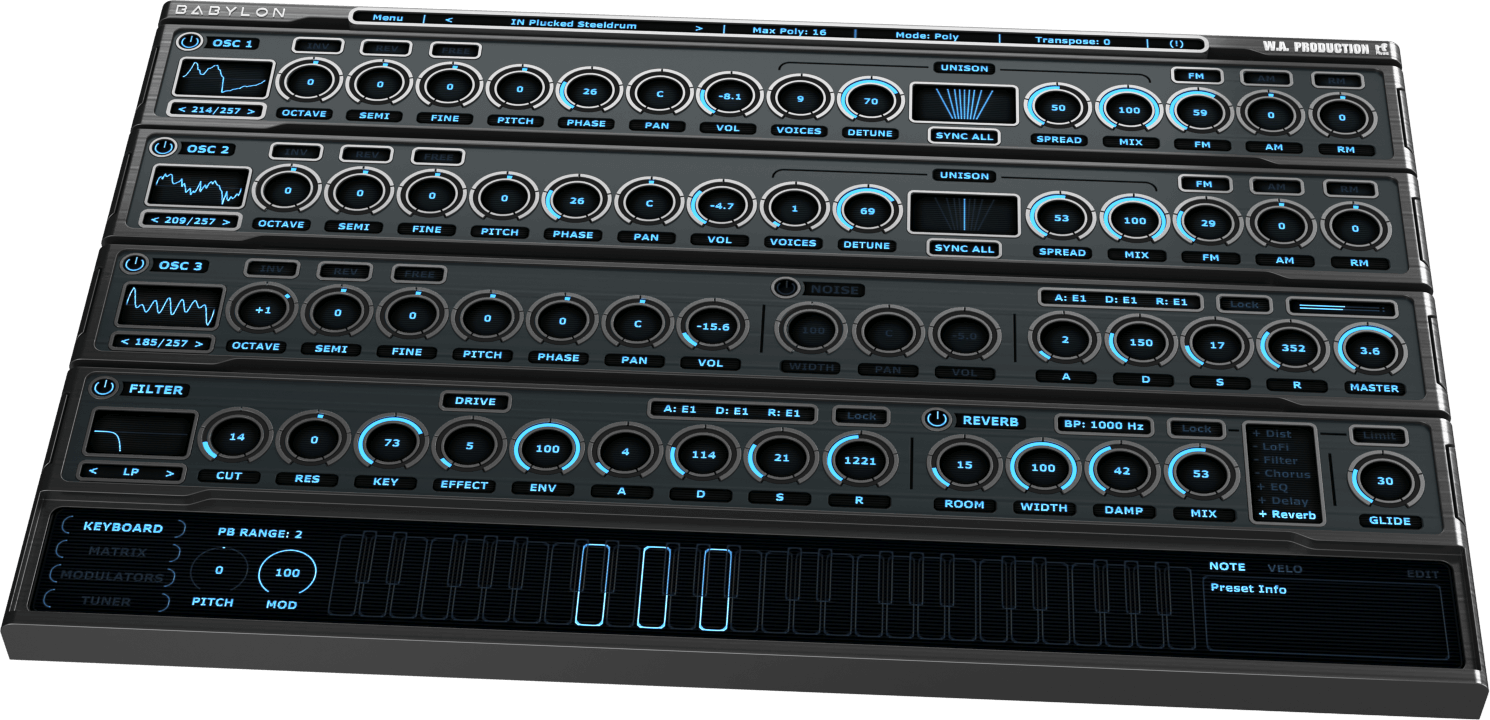 Microtonal Tuning
Very unusual for a soft-synth, with Babylon you can tune every individual note to its own frequency and play quartertone and microtonal scales. These would not normally be able to be played in standard tuning and make for some extremely fun experimental harmonics.

Scale Helper
Babylon comes complete with 23 standard and 34 traditional scales and modes from the Middle East. You can choose a scale, a key and see the notes of the scale highlighted on the virtual keyboard. Micrtonal tuning is also set up automatically. Using a modern synthesizer to play scales from all over the world has never been easier.
Presets
With 257 high resolution waveforms, you're sure to find the perfect starting point for your own sounds. Alongside many variants of the classic oscillator shapes we've included formant, gritty, voice and instrument waveforms for maximum versatility. These can all be inverted and reversed (or both). Over 2300 preset sounds have been expertly programmed and are catalogued into themes within the onboard browser so you can easily find what you need in a hurry.
Effects
A full range of FX are included: Distortion, Bit rate and Sample rate reduction, Filter, Chorus, EQ, Delay and Reverb. These can be reordered by simply clicking and dragging, making for a logical approach to FX routing.

Unique features
We could list all of the great features of Babylon, but instead allow us to point out some aspects which we think are unique in the world of soft-synths. The filter section features not only standard controls, but also 5 characterful poly effects: drive, distortion, saturation, crush and LoFi. There's a dedicated Vibrato LFO with delay & attack settings for smooth vibrato transitions. Babylon has 12 different curve types for ADSR and Filter programming. Visual unison feedback shows the exact width and depth of your voicing and detuning choices. And did we mention the scales and microtuning? Oh yes, so we did.
W. A. Production are real-life producers making creative plugins to help you achieve studio quality processing quickly and easily. Enjoy!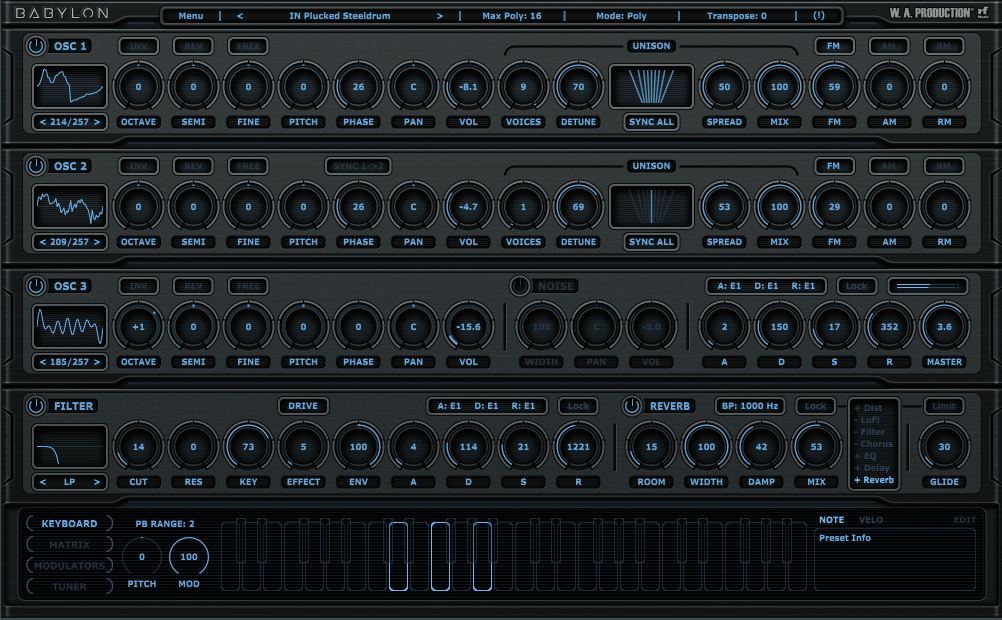 Features:
One-page synth programming
257 high resolution waveforms
Over 2300 Preset sounds
Scale & Microtonal features
Filters & Effects
Multi-voice Oscillation
Modulation Matrix
FM, RM & AM modulation
Dedicated Vibrato LFO
Skins and dual-size interface
Full PDF Manual & Tutorial video
FAQ
Windows 8 and later (32 / 64 bit)
macOS 10.13 and later

AAX - ProTools 11 or higher

The plugin likely will not work properly on older OS versions. If the demo appears to work on your older system, this does not guarantee that the full version will work properly. If you are unsure whether or not the plugin will work on your system, please email info@waproduction.com.


New Features in version 1.0.1 - 30th Sep 2019:

75% UI Scale Option

New Light / Clear Skin Option

Minor Bug Fixes

New Features in version 1.0.2 - 16th Feb 2021

MacOS Big Sur support.
Built with latest libraries.

New Features in version 1.0.4 - 21st April 2023

AAX: Native ARM support on MacOS.
Minor bug fixes and improvements.

Also available in these bundles
Top Rated
87%
Everything Bundle V1
Top Rated
Babylon & Expansions