Minipol
Creativity. Enhanced with fun.
Meet Karanyi Sounds' very first virtual instrument, Minipol – a powerful virtual analogue synthesizer with a lot of fun and a unique Smart Random feature!
Recreate classic analogue keys, chunky 80s basses, kick-ass house stabs, or design massive soundscapes, modern plucks, or analogue effects in no time. Quality sound engine, straightforward design, super intuitive workflow: this is Minipol, the swiss-army-knife of the analogue sound.
A little bit of everything
You don't need another CPU-hungry software synth. Or a plugin with hundreds of knobs, sliders, or switches. Minipol is super light on your CPU and comes with a handful of controls and effects your need to create great sounds! All these parts are designed to work great together – you will be surprised how far you can go from a simple patch. Need a giant soundscape for your soundtrack? A rumbling bassline for your house track? A vintage keyboard theme for your lo-fi track? You got it!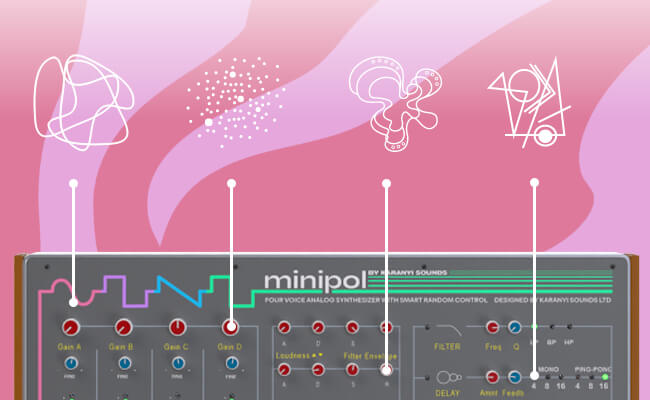 Smart random controls
Seize the moment: inspiration doesn't wait! You don't need to spend valuable time getting around your new instrument or opening up a manual. With Minipol's Smart Random Bar, you can skip the boring parts and straight to the point: create brand new ideas instantly. Randomize a group of controls, sections, or all at once. All randomizers are smarty adjusted, so there are no bad choices here, just happy accidents!
Clean & intuitive workflow
Minipol has a straightforward design: sound generators, Envelopes & modulation, and Effect panels. This is a one-window, clean interface, no hidden menus or additional tabs, so you can spend more time with the creative process and less with adjusting the parameters.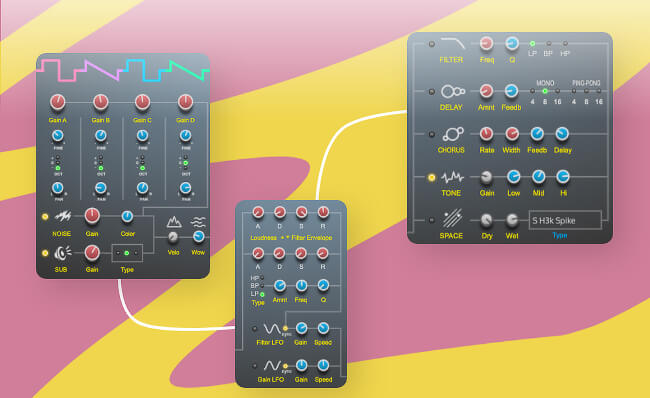 300 artist presets
Minipol has hundreds of Factory Sounds made by music producers and sound designers from all around the world. You can find here professional basses, keys, pads for electronic music and keys, soundscapes, and plucked sounds for game audio or film scoring in this library. Check these sounds first to get a better view of how flexible Minipol can be!
Works with your favourite DAW
Minipol is available for Mac and Windows as VST3, Audio Unit, and standalone versions. The plugin version will run with all the major* DAWs such as Ableton, Cubase, Logic, Studio One, Reaper, and more. (*Pro Tools is not supported)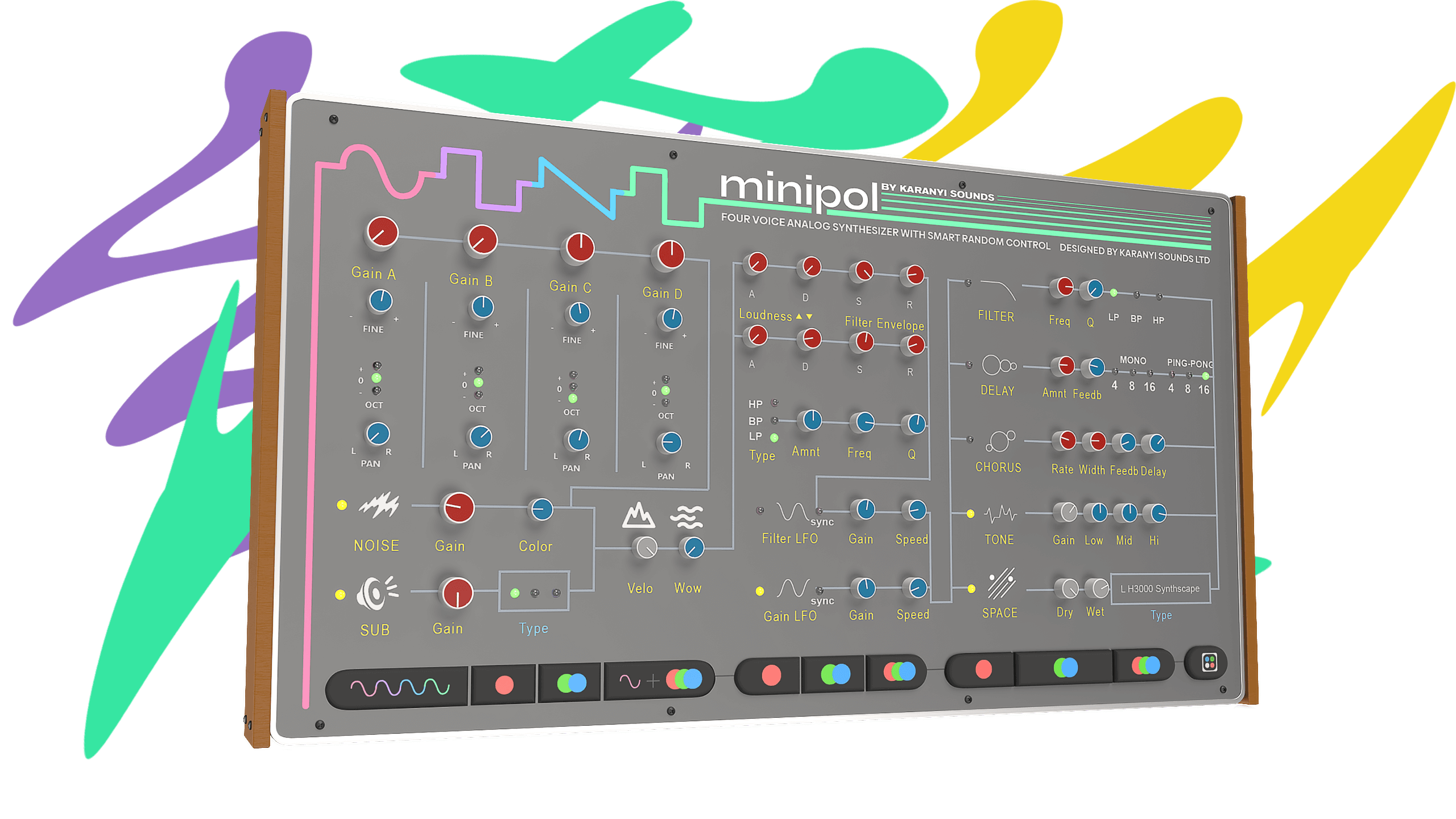 Features
6 voice analogue synthesizer with multiple effect and modulation capabilities
Factory Library with 300 professional presets for electronic music, scoring, and more
Sophisticated random control with 47 randomizable controls via Smart Random Bar
Oscillators
4 virtual analog oscillators models based on classic synth hardware
Separate detune, octave, and pan controls for each virtual analog oscillators
1 additional noise oscillator
1 sub-oscillator (high-quality sample-based from a Sequential OB-6)
Envelopes & Effects
Multimode Filter (High-Pass, Band-Pass & Low-Pass) based on classic synth hardware
5 stereo effects: Multimode Filter (3 modes), Delay (with mono & stereo presets), Chorus (can be used as Phaser and Flanger too), EQ (3 bands), 70 Hi-quality reverb presets sampled from famous hardware reverb units from TC, Lexicon, Quantec, Eventide, and more
Host-syncable Filter, Gain LFO, and Delay effects
Tape machine-style wow control
Additional Features
All controls are MIDI learnable
40+ predefined DAW automation lines
Resizable UI from 20% to 200%
FAQ
macOS

macOS 10.11 or later (Apple Silicon Native)
A VST3/AU compatible 64-bit host for the plugin version
4GB RAM (more recommended)
120MB free disk space

Windows

x64-compatible CPU
Windows 7 SP1 or later
A VST3 compatible 64-bit host for the plugin version
4GB RAM (more recommended)
120MB free disk space

Formats

macOS: AU, VST3 & Standalone app (64-bit)*
Windows: VST3 & Standalone app (64-bit)*
* Pro Tools is NOT supported