Loop Engine 1.1
Infinite Loop Generator
W. A. Production presents LOOP ENGINE, the next generation of cutting-edge multi-voice loop tools.
This revolutionary plugin unlocks a new standard for MIDI generation by drawing on the legacy of CHORDS plugins and pushing the boundaries even further. Say goodbye to the limitations of static chord shapes and divisible segments as Loop Engine takes riffs, arps and melodies to the next level with its dynamic tonal capabilities. This plugin allows you to generate MIDI loops outside the norm, with intuitive controls to shape the algorithms. Always inspiring and innovative, this powerful tool is designed to set your tracks alight and help kickstart the ideas behind new musical creations.
What is the difference between Chords, Chords Pro, Chords Pro + Notes, and Loop Engine (read more)?
These four plugins are related, and may look similar, but have very different feature sets. We hope this chart will help make the differences between them clear for you.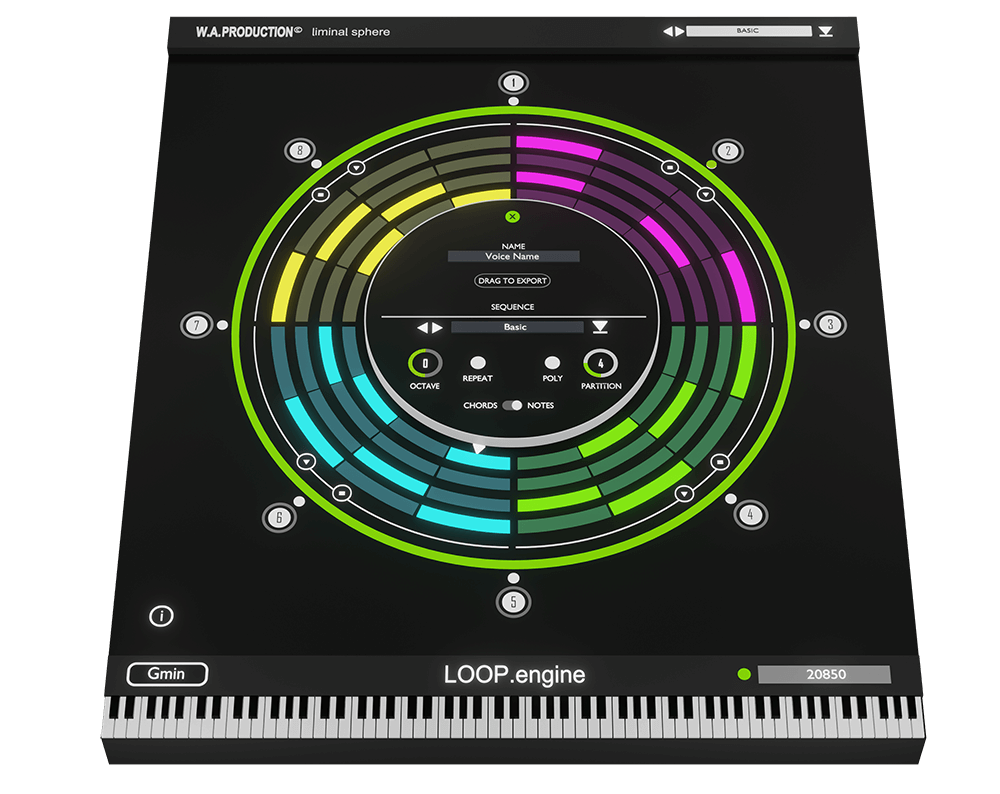 Originally designed for EDM productions, but totally effective in all sorts of other genres, this loop workstation will manufacture note progressions with flair and ease, based on chord shapes and rules. Try out new ideas within the intuitive circular interface or click "create" to instruct the plugin to produce imaginative ideas.
We've stacked the feature set of Loop Engine with new concepts to create a whole new way of working that massively expands the scope of what MIDI generation can be. Routing options for multi-track playback mean that integrating this plugin into a DAW project is easier than ever. Use your favourite virtual synths and instruments with Loop Engine seeding up to 8 different MIDI parts, sending them to an accompanying secondary plugin; Loop Engine Listener. Using these two tools, you can design complex multi-track loops that span multiple tracks of your DAW... or simply use the presets as a jumping-off point for some legendary loops.
Multi-track Manipulation
Although it looks similar, Loop Engine is far more fully-featured than any previous CHORDS plugins. It offers advanced multi-track routing and playing and a wealth of new functions; piano roll view, additional chords, voicing rules, chord range, the ability to add tension notes and choose open, mixed, or close chord positions.
Loop Engine Listener
Routing MIDI out of the primary plugin and into additional tracks is the special sauce behind Loop Engine. This is achieved with an additional secondary plugin; Loop Engine Listener. Loop Engine outputs up to 8 independent MIDI voices that you can route to Loop Engine Listener, loaded onto instrument tracks in your DAW. Choose which voices supply which tracks, and easily swap them with just a couple of clicks.
Loop View
Global controls can be adjusted in Loop View, tweaking chord inversions, length, speed and root major/minor and key of the entire playback. Make on-the-fly adjustments to your entire riff incredibly easily. To get into the detail, click a chord segment for more granular control over chord shapes, individual inversions and velocity.
Chord Mode
A broad range of playback options for each chord can be manipulated using straightforward controls. Program each chord segment with inversions ranging from -4 to +4. Transform the chord shapes with the Range parameter, spacing out the notes more widely. Push the lowest notes up an octave or the highest notes down an octave to turn your chords inside out.
Tensions & Extensions
With your chords loaded and a segment chosen, use the range of chord shapes in the centre of the interface to choose between 21 chord types: Tonic, Subdominant or Dominant, from simple triads to more advanced chord shapes. Apply chord Type and Tension with 9 transformation buttons, new to Loop Engine's Advanced Mode.
Creation Station
Click "Create" to randomly generate one or more chords, on which the note and loop playback is based. Loop Engine offers 30 diverse chord types and tensions to produce harmonic progressions for natural sequences.
Simple Segments
Create up to 8 chord segments, each with up to 16 partitions. Trigger between one and four notes per chord and choose how to play them. Playback is locked to the BPM of your DAW, and you can add/subtract segments and modify parameters individually.
Partition Playback
Split chords into partitions, drawing in the playback of the 4 chord notes to create melodies, arpeggios, shorter chords and loops. With options for Copy / Paste and Repeat, it's easy to sketch out loop ideas for just one chord and then apply that playback to the others, experimenting as you go. Don't forget the voicing options, which can send up to 8 loops to 8 different DAW tracks.
Overlap Mode
The POLY button creates patterns that loop indefinitely. These patterns can be longer or shorter than chord segments and loop iterations and will create intertwining arps that reach beyond the normal chord structures. Whenever a portion of a poly pattern enters a new chord segment, the notes of that section will adapt to the new harmonic environment. Go wild and create self-generating melodies with poly mode, multiple voices and all their recombinations.
Export MIDI
To customise your chords and riffs even further, drag and drop chords and arps from the plugin directly into your DAW. Making your original chords ripe for MIDI editing, transposing, and tweaking to fit the sound of your music.
Powerful Presets
Loop Engine offers many categorised presets for chord progressions. In addition, sequence presets for chords, riffs and arpeggios. These presets make it easy to source musical motifs that can evolve into full tracks.
W. A. Production are real-life producers making creative plugins to help you achieve studio quality processing quickly and easily. Enjoy!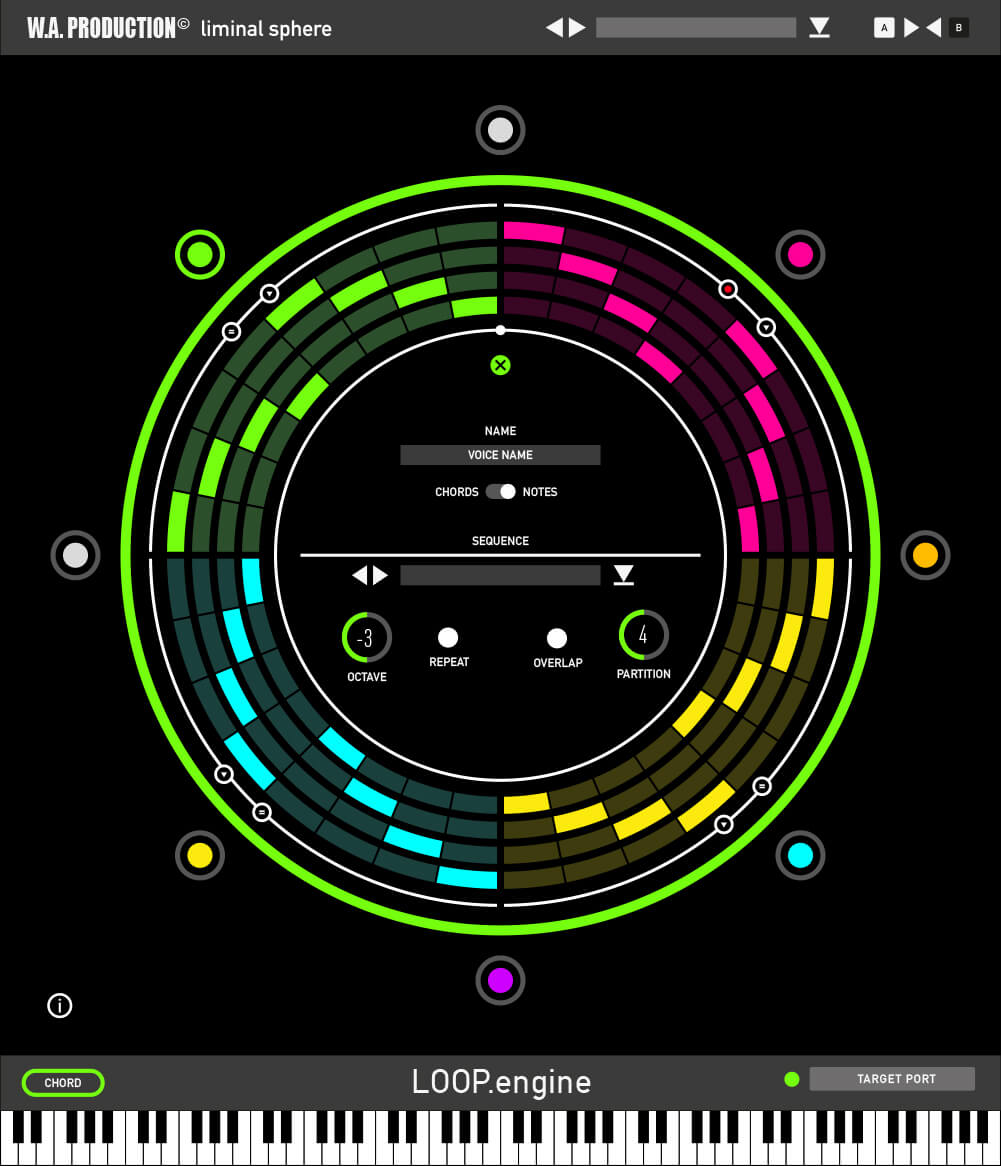 What's new in version 1.1:
1. A very comprehensive preset manager to search, tag, organize, and save any type of presets (to open click on input field in the center of the general Loop Control panel)
Presets are backward-compatible from V1.0
We have also included two 2-voice factory presets for a super easy start with the software and the concept of multi-voice loops.
2. Tooltips: on/off by toggle (the question mark)
3. Help Button (the light bulb): links to your LE webpage with content such as setup videos, tutorial videos, text information, etc., which is being produced.
4. Automation capability for the following controls:
OCTAVE (transpose entire loop by octave)
KEY (change key for the entire loop)
VOICE mute/unmute (for all 8 voices)
5. Chord segments can be split into up to 16 partitions for placements of single notes now (by user request on your website under "COMMENTS")
6. Minor adjustments to the GUI, e.g. chord LENGTH control has been removed for simplicity and a few control elements have been shuffled around.
Features:
Multi-track Chord & Arp MIDI effect
Connects to any DAW
Route up to 8 voices from a single Loop Engine
Loop Engine Listener plugin for routing voices to multiple tracks
Extensive chord selection with additional options for types and tensions
Closed, open, and mixed chord positions for optimal voice leading
Creative randomization
Intelligent harmonic progressions
Copy & paste
Global and per-segment controls
Note partition controls
Editor for polyrhythmic arpeggios and note lines
Keyboard displaying chord and melody notes

Export MIDI
Factory presets for chords & sequences
Resizable interface
Demo limitations: Disabled saving stuff and MIDI export & white noise glitches every thirty seconds

PDF Manual & Tutorial video
Here is how to route Loop Engine to multiple instruments in most DAWs.

FAQ
Windows 8 and later (64 bit)
macOS 10.13 and later (64 bit)
AAX - ProTools 11 or higher

The plugin likely will not work properly on older OS versions. If the demo appears to work on your older system, this does not guarantee that the full version will work properly. If you are unsure whether or not the plugin will work on your system, please email info@waproduction.com.

Loop Engine can be used on any software that supports VST or AAX plug-ins with MIDI routing or AU MIDI effect type. But to make sure it's compatible with yours please try the demo version before you buy (only major chords are allowed in trial version).

Here is how to route Loop Engine to multiple instruments in most DAWs.

Tested OK on:

Windows

FL Studio 12 (and newer)

Cubase 10 (and newer)
Studio One 5 (and newer)
Ableton Live 9  (and newer)

Pro Tools 11 (and newer)

Mac

FL Studio 12 (and newer)
Cubase 10 (and newer)
Studio One 5 (and newer)
Ableton Live 9 (and newer)

Logic Pro X (and newer)

Pro Tools 11 (and newer)

Global


Maschine 2 (Win / Mac) - No MIDI routing
Reason (Win / Mac) - No MIDI routing