Kick
Immediate control for unparalleled sound
Gum cuisine kick provides simple and intuitive access to great sound shaping tools. six sections allow you to create the perfect kick for your mix.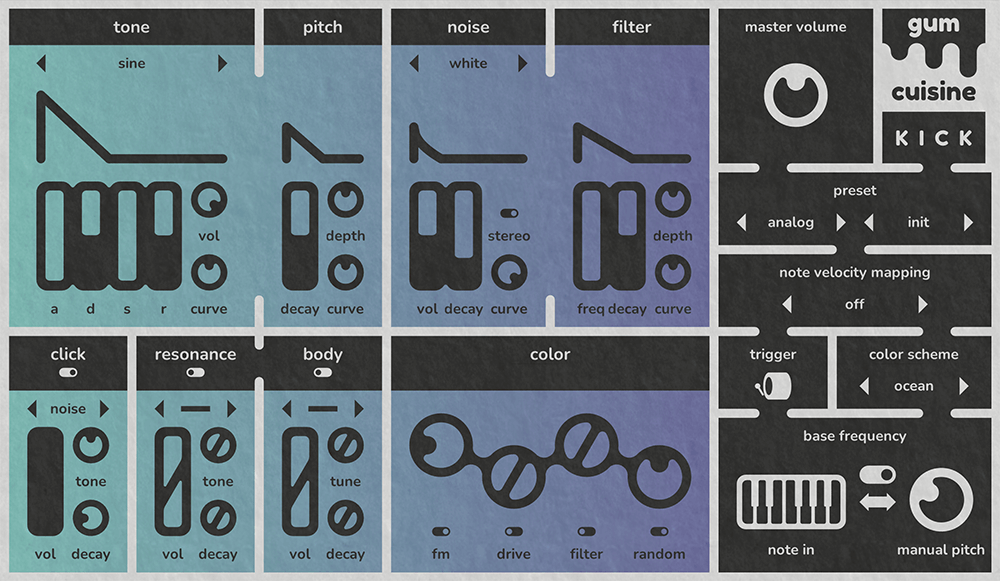 Maximum flexibility through synthesis
A completely synthesized architecture allows you to tweak every aspect of your kickdrum.
Compatible with your DAW
Tested on Logic, FL Studio, Ableton Live, Bitwig Studio, Cubase and Reaper. comes as VST3 and AU plugin and as a standalone app. Windows and MacOS with native intel and M1 processors are supported.
Control your tone
Simple and precise control over the kick drum base tone. with two envelopes for amplitude and pitch and a waveform selector you will always find a good foundation for your sound.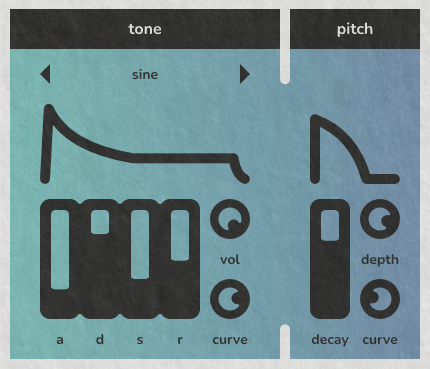 Noise at your disposal
A filtered noise generator adds some grit to your kick drum. two decay envelopes, one for ampitude and one for the noise filter frequency give you all the flexibility you need. select your perfect texture with four noise modes in either mono or stereo.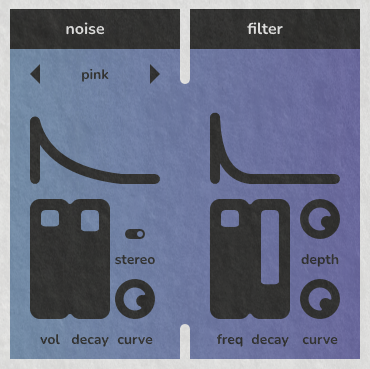 Snappy clicks
The click section adds the perfect transient your kickdrum. pick one of two modes and let your kick cut through the mix.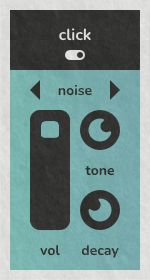 Roomy resonance, full body
Resonance and body section allow you to give some accoustic characteristics to your kickdrum.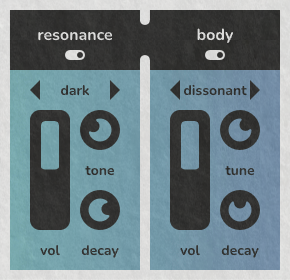 Color your sound
Shape your kickdrum with these four parameters.
FM adds some overtones with subtle frequency modulation.
Use drive for some slight crunch, heavy distortion or everything in between.
Soften the sound with a two pole lowpass filter.
Add some natural variation with the random parameter.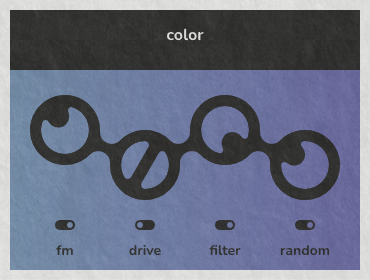 Demo version: Use it for as long as you like
Check out the demo version that has the same exact features as the full version, except you don't have access to all controls and all presets. no silence after a certain time of usage, no demo period!
Features:
Fully synthesized sound architecture for maximum control and flexibility
Intuitive and modern controls for easy sound manipulation
Punchy and powerful sound
Available in VST3, AU and standalone for Mac and PC
100+ presets included
Customizable Tone Section with full ADSR envelope and pitch control
Versatile noise section for fine-tuned sound design
Click section for added transients and punch
Body section to enhance punch and rumble
Resonance section for added spatial and ringy character
Drive ranging from subtle overdrive to heavy distortion
FM function for added harmonic overtones
Low Pass Filter for smooth and mellow kick sounds
Random control for natural variation
Sleek and user-friendly interface
6 stylish color schemes
Note in for pitched kick drums
Walk-through video to discover its full potential
FAQ