HALO 2
Loaded with new features and more powerful than ever!

With a visual and creative workflow, HALO-2 redefines the space between audio and synthesis. Combining meticulously crafted re-sampled audio with a host of Synth layers, processing and FX, HALO-2 effortlessly creates enormous basses, soaring leads, lush pads, stabs and more. The immense presets will either slot straight into your projects or serve as an inspirational start point, but delve deeper into the extensive filter, FX and modulation options to make whole new sounds with just a few clicks. Unlike many Romplers, HALO-2 allows users to add their own custom audio files with infinite sound design possibilities, or simply load in one of the ever increasing range of Expansions, each with their own theme and sonic signature. And if that isn't enough the HALO FX plugin is included with HALO-2, bringing all of the filters, distortions and effects right into your DAW plug-in chain.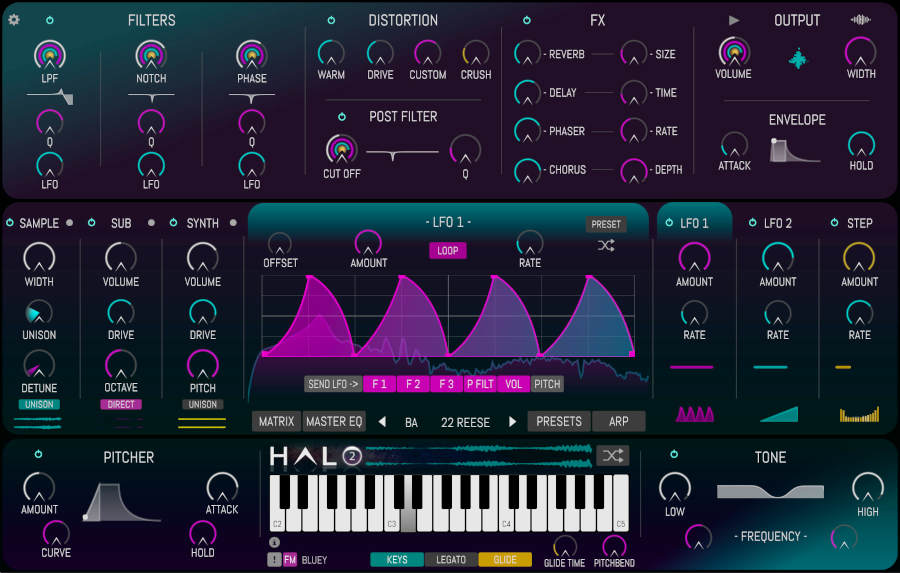 A slicker user interface and refined user experience spearhead the immense upgrades of HALO-2 including sampler frequency modulation, split channel arpeggiator, sample unison, precision sample loop editing, and bit-crushing, amongst many many more updates. The User Audio Import System has been totally redesigned offering increased flexibility and can even be modulated by other user audio files.
Hybrid Synth / Sampler / Rompler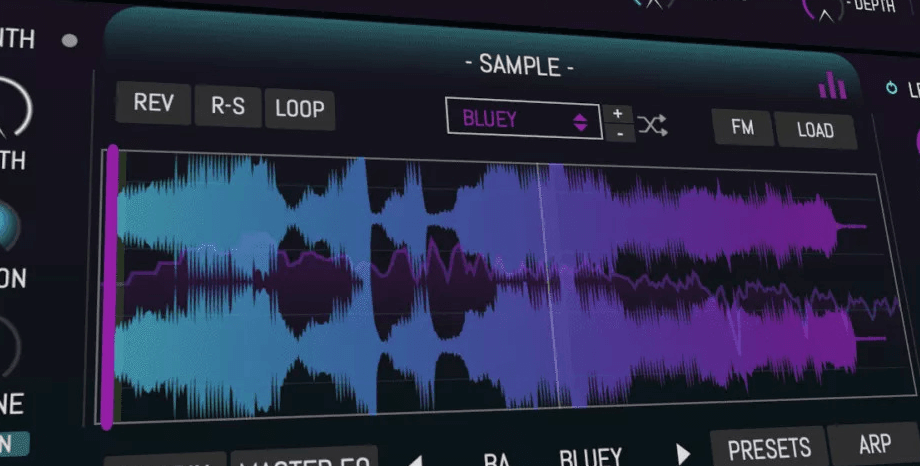 Ranging from huge Reeses to lush liquid pads, HALO-2 features over 430 meticulously crafted presets and 300 Sample Banks, with a range of available expregeansions and more to come. Each Sample Bank has been painstakingly crafted by DHPlugins, using a range of hardware and software synthesisers, FX and processing, and then layered with HALO's inbuilt synthesisers,  pristine filters, FX and unique modulators, in order to create complex, raw, quality, playable and malleable sounds across a vast sonic palette.
Samples, Synthesis, Modulation, FX...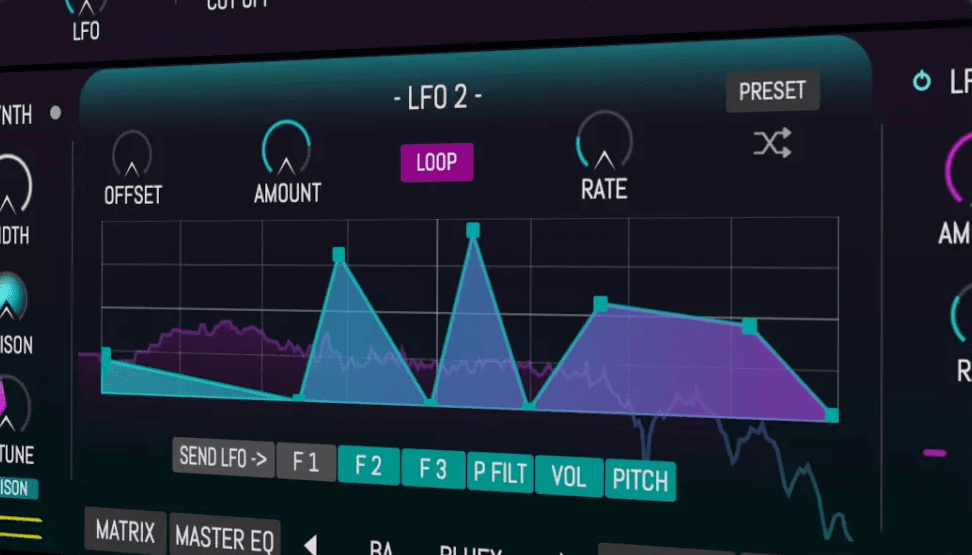 At HALO's core are the Sample, Sub and Synth layers. The combination of samples and synthesis allows for huge sound generation with unparalleled weight, clarity, definition, width, and grit. With over 300 Sample Banks to choose from, a new Sample and Synth Unison engine, 4 multi-filters, 3 modulators, 4 FX units, 4 distortions, an Audio FM engine and assignable Arpeggiator, HALO is a unique sandbox of creativity. The Random Preset Generator makes it as simple as possible to create unique presets, with localised random buttons assigned to all the modulators, waveshaper, sample banks and arpeggiator too.
Arpeggiate Your Sound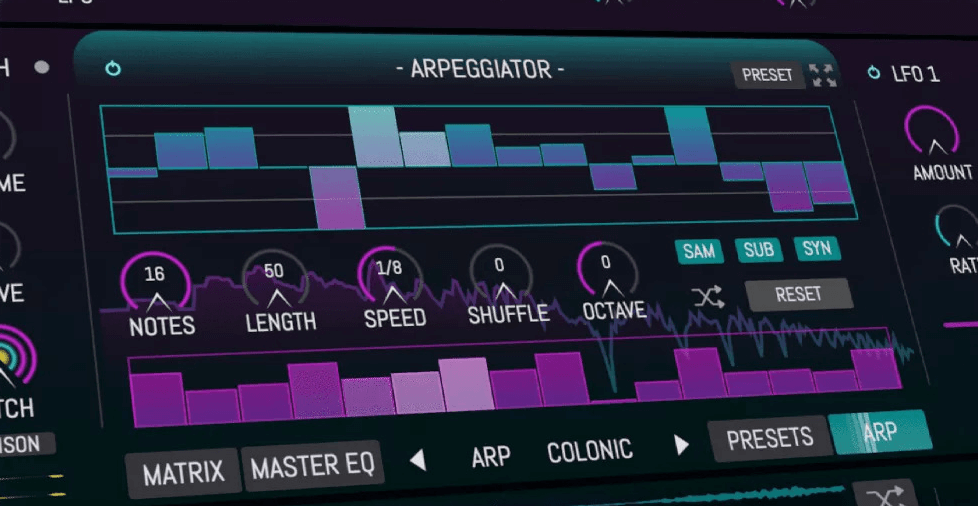 The assignable on-board Arpeggiator elevates HALO-2 to a whole new plane of audio creation. Featuring a random melody generator, simply choose the scale and hit the random button to effortlessly create new and unique melodies, riffs or progressions. The Arpeggiator can be assigned to any combination of the sampler, sub or synth, allowing users to Arpeggiate their own samples on a bed of synthesis, or vice-versa. HALO-2 can almost play an entire song by itself. With it's own preset browser users can store and recall their own arp settings, or browse the existing HALO library of over 30 presets and scales.
Sample FM, Distort, Crush, Mangle!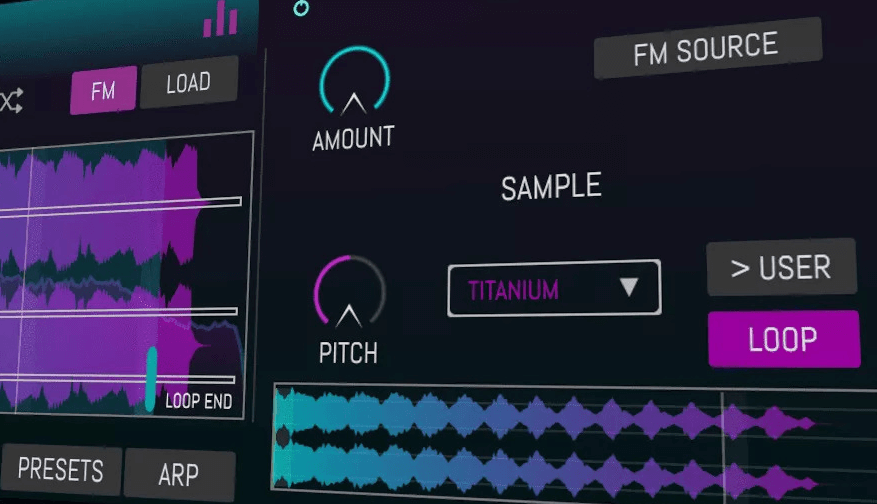 One of HALO-2's finest upgrades is the Sampler FM engine... This unique functionality allows any Sample Bank or User Sample to be modulated by either a Synth (square and triangle waveforms), a Factory Sample Bank, or even another User Sample file, allowing for either subtle modulations or complete mangling of audio files! Coupled with a selection of four distortion modes (Warm Saturation, Amp Style Drive, Customisable Waveshaper, Crush), as well as the Synth FM engine, and improved Sample Bank editing including loop point manipulation, HALO-2 takes it's core sound design potential to a different level.
Features
430+ Presets 300+ Sample Banks
Import User Audio Files
User Editable LFOs
Assignable Arpeggiator
Custom Waveshaping Distortion
3 Pre Distortion Multi Filters
Multiple Modulation Sources
HALO-FX Effect Plug-In
Step Sequence Modulation
Dual Osc Synth Layer with FM
Master Parametric EQ
Reverb, Delay, Phaser & Chorus FX
Multiple Expansions Available
Dedicated Pitch Enveloper
Post Distortion Multi Filter
Quick Tone Shaping EQ
Right-Click Modulation Matrix
Random Preset Generator
Sampler and Synth FM Synthesis
Sub Oscillator
HALO FX (also included)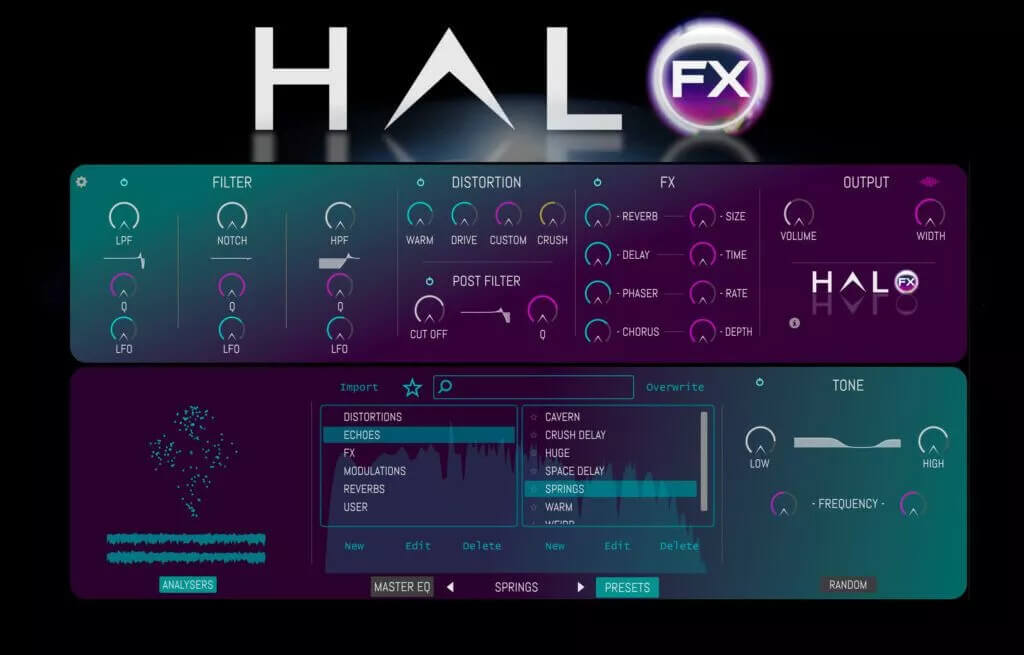 The HALO FX plug-in brings the pristine filters, customisable distortions, EQs, fx and modulations from the HALO virtual instrument directly into your plug-in effect chain.
With a signal flow comprising of a triple multi filter complete with individual LFOs, four distortions including a customisable waveshaper and bit-crusher, a post distortion filter with LFO, a reverb, delay, phaser, chorus, limiter and a choice of two EQs HALO FX is the fastest way of dialling in experimental FX ever created. Within only a few clicks you can add any or all of the processing available in HALO FX. The Random Preset Generator will create totally new, useable, interesting settings to shape your sounds in ways you never would otherwise.
Via the extensive Preset collection you can easily access a range of fine tuned settings, from intense distortions, huge reverbs, cavernous delays, rhythmic modulations and glitchy effects.
Filters Galore
Featuring a total of 4 filters, each with multiple filter modes, and each with their own LFO there is a world of creative possibilities at your fingertips in HALO FX. Creating movement in your sounds couldn't be easier. Select between Low-Pass, High-Pass, Notch, Peak, BandPass and finally an all-pass Phase filter. With a further choice on a Tone EQ and Master parametric EQ the sonic shaping abilities in HALO FX are unparalleled in a single plugin. The Filter LFO clock will sync with your DAW enabling the LFO movements to be consistent when scrolling and rendering audio.
Push, Warm, Mangle, Crush or Destroy!
With 4 distortion modes HALO FX provides an endless sonic palette to play with. Experiment with a choice of Warm Saturation, Amp style Drive, Customisable Waveshaping distortion, and Bitcrushing. The versatile Waveshaper allows complete control over the Waveshape, Bias, Gain and Rate Reduction, whilst also featuring a preset browser of it's own to instantly select pre-made shapes from the HALO library or quickly saving your own for recall later and in other sessions.
Features
50 Fine Tuned Presets
Custom Waveshaping Distortion
Parametric Master EQ
3 Multi-mode Filters with Modulation
Post Distortion Multi Filter + LFO
Reverb, Delay, Phaser & Chorus FX
Tone EQ for Easy EQ Shaping
Master Peak Limiter
Precision Analysers
Random Preset Generation
FAQ
PC

Windows 7 or later (64-bit only)
1GB RAM minimum
4GB storage space
VST3 / AAX

Mac

MacOS 10.8 or later (Apple Silicon Compatible)
1GB RAM minimum
4GB storage space
AU / VST3 / AAX