CloudBounce (Lifetime License)
Important: With your one-time purchase, you'll receive lifetime access to the Cloudbounce service without making any future payments.

At W. A. Production, we're always looking to provide the best tools on the market to our customers. We're huge fans of CloudBounce, and we're excited to bring it to our store!
What is CloudBounce?
> Lightning-fast MUSIC MASTERING on your desktop
Automated mastering just got 10x better. With a single one-off purchase of the new CloudBounce desktop app Lifetime Plan, you can master all of your music files in no time.
Why do you need mastering?
Mastering is the final and most important step in audio post-production. It is the critical step that can either make or break a song.
With mastering, you can achieve a more professional, crisp, and commercial level sound, ready for distribution on Spotify, YouTube, radio, etc.
Sound better on any medium or device with the CloudBounce desktop app.
How does It work?
Drop your files in, and the mastering engine analyzes them and applies just the right amount of various audio processing ingredients to make it sound powerful and crystal clear. You can also tweak the sound to your liking.
This is made possible by new technology that employs machine listening, classification, and different audio processing tools such as a compressor, EQ, limiter, and stereo imaging, to name a few.
Upload or Drag & Drop files
Master one track, an EP, or an album easily. Just upload the files you want, and take a sip of coffee.
Choose mastering options & style
Upload a reference track, or choose from existing genre references and options to tweak the sound to your liking.
Preview & Master your tracks
With the new instant preview, you can get the job done in no time. No more waiting for re-processing, the new experience is lightning-fast, and you can ship your new album 10x faster. Final masters are exported in a couple of seconds.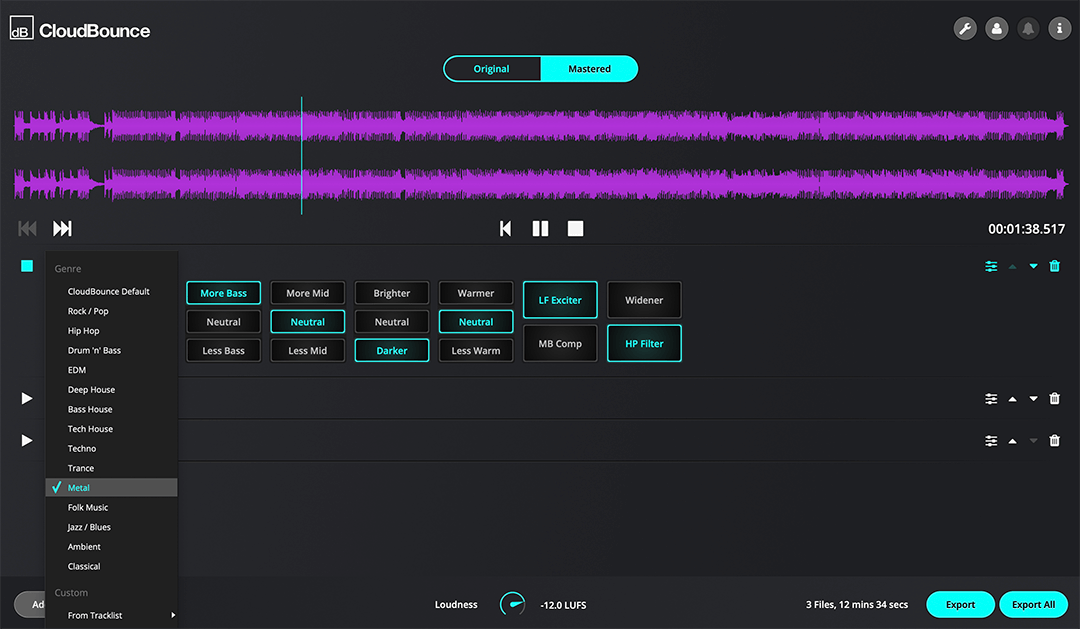 Main Features
Reference-based mastering: You can specify your favourite tune, and the engine will match its characteristics to make your track sound similar
Album mastering: Upload your whole album, specify the track order, options, and album-wide settings easily. Preview all of your tracks instantly.
Unlimited everything: No more "pay extra for this file format" type of complexity. With the CloudBounce subscription, you can master unlimited files to every file format you want to. Oh, and there is no limit to the length of the track either. Get those DJ sets, live recordings, 30-minute long jam sessions mastered today.
Target Loudness: For the first time, you have control over the output loudness level. Simply turn the loudness dial inside the app to freely add or decrease the LUFS level of your master. You can easily match the output volume to the needed loudness target level for various use cases.
Genre Mastering Style: You can specify your favourite tune, and the engine will match its characteristics to make your track sound similar
Mastering options: Pick and choose from a plethora of tweaks, as if you were talking to your mastering engineer. You can easily add more character, clarity, and excitement to your tracks with the best-in-market options.
Export to any major file formats: WAV, AIFF, FLAC, MP3, OGG. Easily export to any or all of these formats with just a single click of a button.
FAQ
64 bit system
Win 7 and above
Mac OS X 10.7 or above