Mixing Bundle
Introducing the W. A. Production Mixing Bundle, featuring a unique selection of W.A's best mixing software in one complete package. With a total of 5 plugins, this comprehensive package includes a dynamic processor, compressor, transient designer, saturator and stereo imager to cover each fundamental stage of your next mixdown.
The Mixing Bundle includes: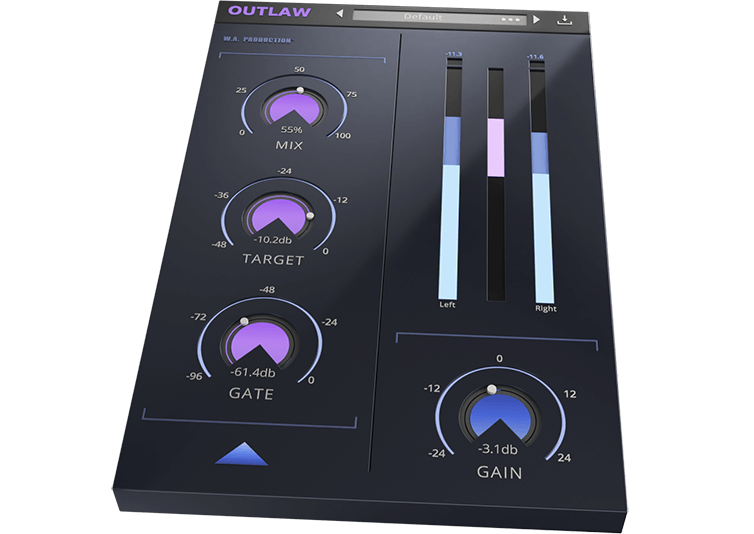 Whether you're mixing live sound, smoothing vocals or balancing solo instruments, Outlaw is the gain-riding plugin you've been looking for. Outlaw listens to the incoming audio and compensates for volume changes, mimicking the mixing desk fader movement of a real-life audio engineer. Forget about drawing complex volume automation and let Outlaw do the hard work for you, with smooth gain levelling and a wealth of features.
Features:
Mix: mixes is the gain riding.
Target: sets the rms target of the gain-rider.
Gate: allows user to set a gate level that is relative to the TARGET level, to have the gain-rider ignore softer sounds.
HPF/LPF/Slope: Let you filter away the highs and lows in the detection signal with variable slopes so you can, for example, ignore the low rumble in a speech or vocal recording, or ignore the high attack and finger noises of a bass recording.
Attack/Release/Direction: Let you apply additional attack and release to the gain-riding so you can let through the signals peaks or smooth out the signals tails. With the DIRECTION control you can set the direction of the ATTACK and RELEASE which is helpful depending on if the general gain produced is upwards, downwards or goes in two directions.
Max Up/Max Down/Instant/Zero/RMS: The MAX UP and MAX DOWN let you set the maximum gain that is applied up and down, which gives you more control over how extreme the gain-riding is allowed to be. Low values sound subtle. High values sound erratic. The RMS control lets you pick between slow, medium or fast rms-detection, which determines how quickly the plugin reacts to the incoming signal. INSTANT option is very fast and ZERO has 0ms RMS time.
Learn more about Outlaw.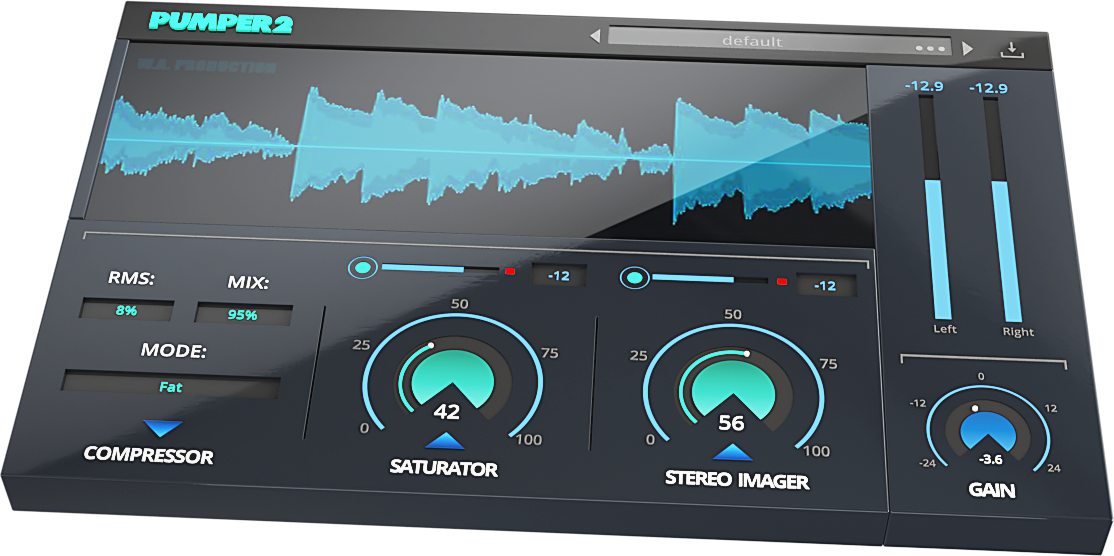 W. A. have done it again… after the release of "Pumper" they wanted to step up their game and give you even more control over the punch and power of your sounds. The sequel, Pumper 2, has been long in development as their team toiled away to retain the stellar performance parameters of the original plugin whilst adding new features. The end result is a multi-effect powerhouse that achieves the level of immediacy, body and depth that our fans expect and their tracks deserve.
This is their most requested update ever and builds on the Compressor, Saturator and Stereo Imager modules of the original whilst adding more controls to fine tune the processing.
Features:
50 Creative Presets for drums, vocals, synth, bass, acoustic, keys and mastering
4 Compression types with adjustable RMS
One-click parallel compression
Hard & soft clip saturation with transient and character controls
Stereo Imager with frequency focus
Per-module and master gain controls
Real-time waveform display
Full PDF Manual & Tutorial video
Learn more about Pumper 2.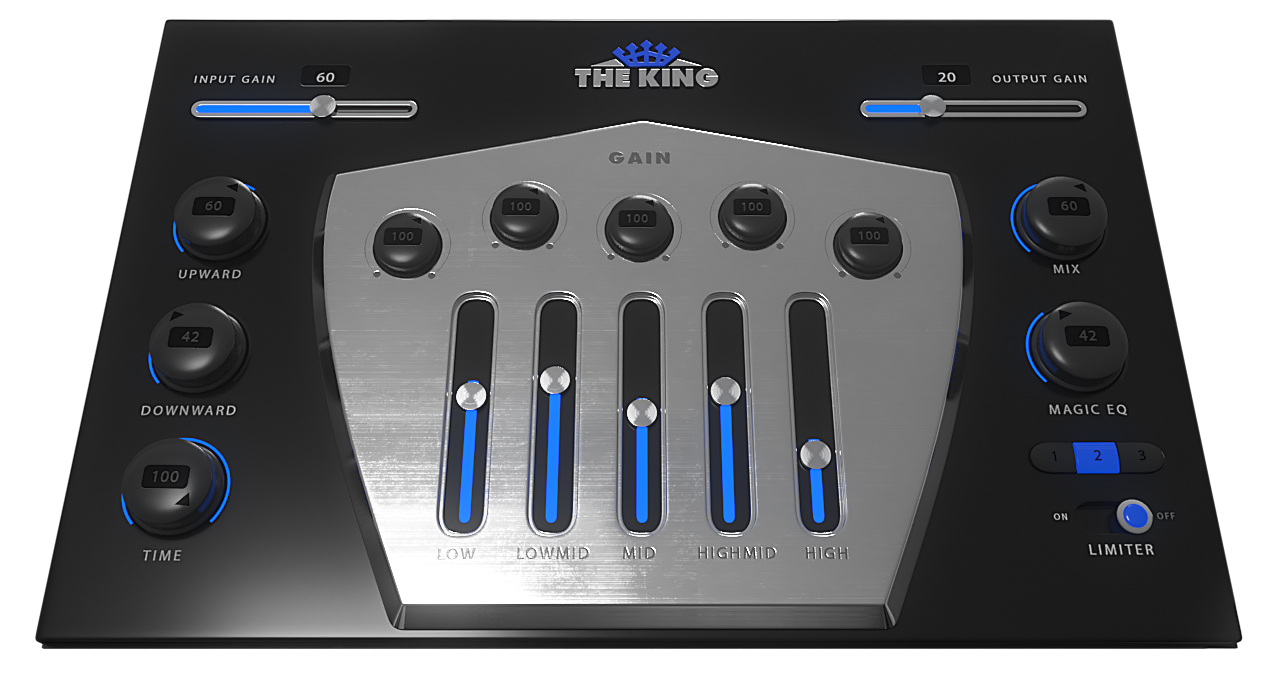 The King is a Dynamically Enhanced Multi-Band Compression Plug-In designed for Mastering.
Features:
5 Band Threshold knobs
5 Band Make Up Gain knobs
Input/ Output Gain
Upward Compression Knob, Downward Compression Knob
Release Time knob
Overall Plug-In Mix knob
Magic EQ with 3 different Shapes/ Curves and a built-in Limiter!
Learn more about The King.
Helper Saturator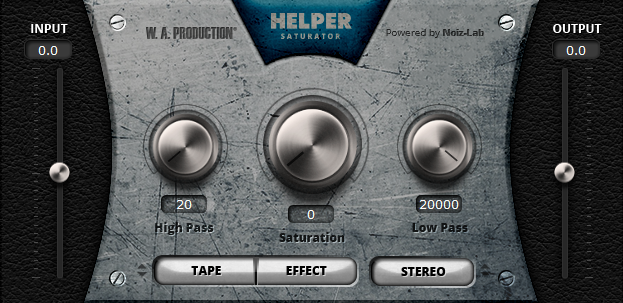 Helper Saturator is an audio effect VST plugin professionally designed to apply saturation to the audio signal. Helper Saturator is not just a simple saturation plug-in, it also comes with 2 filter features, 2 types of saturation modules and ability to be able to process 5 different types of audio signal.
Features:
Tube distortion
Tape distortion
Low Pass and High Pass filters to get creative
Learn more about Helper Saturator.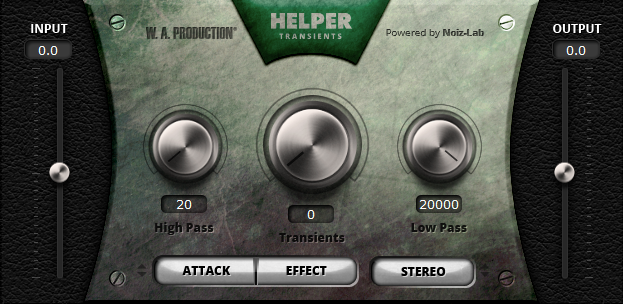 Helper Transients is much more than an ordinary transient shaper plug-in because it can process 5 different kinds of audio signal from the audio source itself. This means that the user can set it to affect only the original audio source, the mid, the side, the left or the right of the audio source. This brings up a new realm of possibilities.
Features:
Clean transient processing
Low Pass and High Pass filters to clean up the sound
Learn more about Helper Transients.
System Requirements
Windows 7 or higher (32 / 64 bit)
Mac OSX 10.7 or higher (32 / 64 bit)
AAX ProTools 11 or higher (Only Puncher)