2in1 Sphere Bundle
You can heat up your mix with a multi-mode delay and tame compression with a multi-mode compressor during the exclusive 2 for 1 summer sphere deal from W. A. Production.
We didn't waste our time on high-end graphics and knobs that apply little to no actual improvements to your sound. We spent our time on the functionality of our plugins to ensure you get the results you want. These lightweight plugins won't eat up your CPU and the design is compact so they won't slow down your workflow. The user-friendly interface makes our plugins great for beginners and seasoned sound professionals.
SphereDelay

SphereDelay is an innovative Multimode Delay Effect Plugin. We developed this plugin for the producers around the world who want something more when it comes to effects. The basic plugins that give the same Delay presets that we all know and are familiar with, whether it be DAW stock Delay plugins or third party Delay plugins that just aren't enough. We wanted to add something new to the table.

We believe that Beginner and Experienced producers will enjoy the sleek and easy workflow of SphereDelay as well as the pure customization of your Delay sound. We believe SphereDelay would give you a totally new depth experience, with a wide variety of customization features that makes the sounds it provides unique and limitless.

SphereDelay comes with a variety of different effect modules like;

- Variable State Filter – (High-Pass, Low-Pass, Band-Pass) stereo linked 24db/oct self oscillating filter.
- Saturation – Analog Tape Style Saturation, to get the warm classic sound of a real Tape Delay.
- Delay Modes
* Mono
* Stereo
* Ping-Pong
* Ping-Pong Separate
- Envelope Follower - to modulate the filter cutoff and the delay time.
- LFO – with variable waveforms to modulate the filter cutoff and the delay time.
- BPM Sync – The delay time and the LFO frequency can be synced to your project tempo to create rhythmic effects.
SphereComp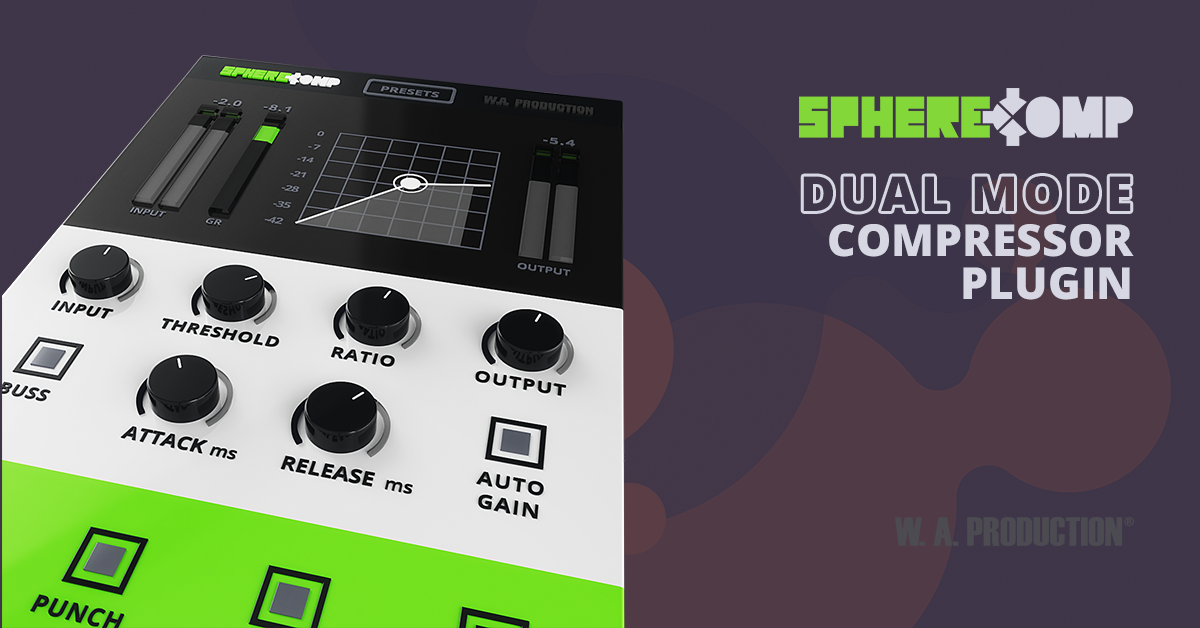 W. A. Production has created the perfect way to approach and achieve proper compression. All producers know compression can either be an award-winning tool if used properly, or it can totally destroy your mix. Audio students are introduced to compression and most are left confused or scared to death of it. SphereComp is capable of catering to the seasoned pro and the beginner.

To get the same results you get with SphereComp you would have to spend thousands of dollars in high end rack gear, invest time getting acquainted, making adjustments over and over until you get the result you want. Not to mention installation and routing your patch bay. Breathe a sigh of relief. Don't dread compression. Embrace it.

What is dual – mode?
  
Dual mode allows YOU to switch from peak compression (regular mode) to RMS compression (buss mode).

If you route your drum tracks (or any other group of tracks) into a group track, you are able to compress this group as a whole. Tying or "gluing" the individual elements to perform as one. The Buss mode is designed especially for that, It reacts to the RMS (root mean square) or the average of the signal, creating a smooth and musical compression. Regular mode reacts to the peaks of the signal, with it, you are able to dynamically shape the individual tracks. Keep in mind that some individual tracks will benefit much more from RMS compression and some groups or mixes will benefit more from peak compression, so experiment and see what works best for your track.
SYSTEM REQUIREMENTS:

- Windows 7 or higher (32 / 64 bit)
- Mac OSX 10.5 or higher (32 / 64 bit)
- AAX - ProTools 11 or higher