Ultimate MIDI Bundle
Do you ever get stuck when writing a chord progression? Or hate when you there is just one note that doesn't sound right in what could be the best lead you've ever written? W. A. Production is here to make sure that you complete that scale, find that fitting chord and make progressions that are out of this world with the Ultimate MIDI Bundle.
You will never hit another creative roadblock again with an endless variety of chord options and variations. Rather than just covering the major and minor, we have developed options that span multiple styles and structures. Triads, augmented and diminished have never been so easy. W. A. Production have put Music Theory at your fingertips so you don't have to stop and look up what the next note in a scale is or what notes make a specific chord. W. A. Production's plugins are easy to use with everything clearly labelled and in a font size that you can actually read.
Have you just started making music? With the Ultimate MIDI Bundle, W. A. Production making sure you never spend hours in the YouTube rabbit hole possibly learning incorrect information. Don't have money or time to sit through Music Theory class? You can still learn the same crucial information as you discover all of the variations of chords and scales.
For the professional producer, these plugin tools provide a quick reference for when you need a specific scale run. "What is the 4th note of a Dorian Scale?" No more head-scratching. Get your scales in an instant with Instascale. Get your chords in an instant with Instachord. Get a chord sequence generated that is as unique as you with MIDIQ.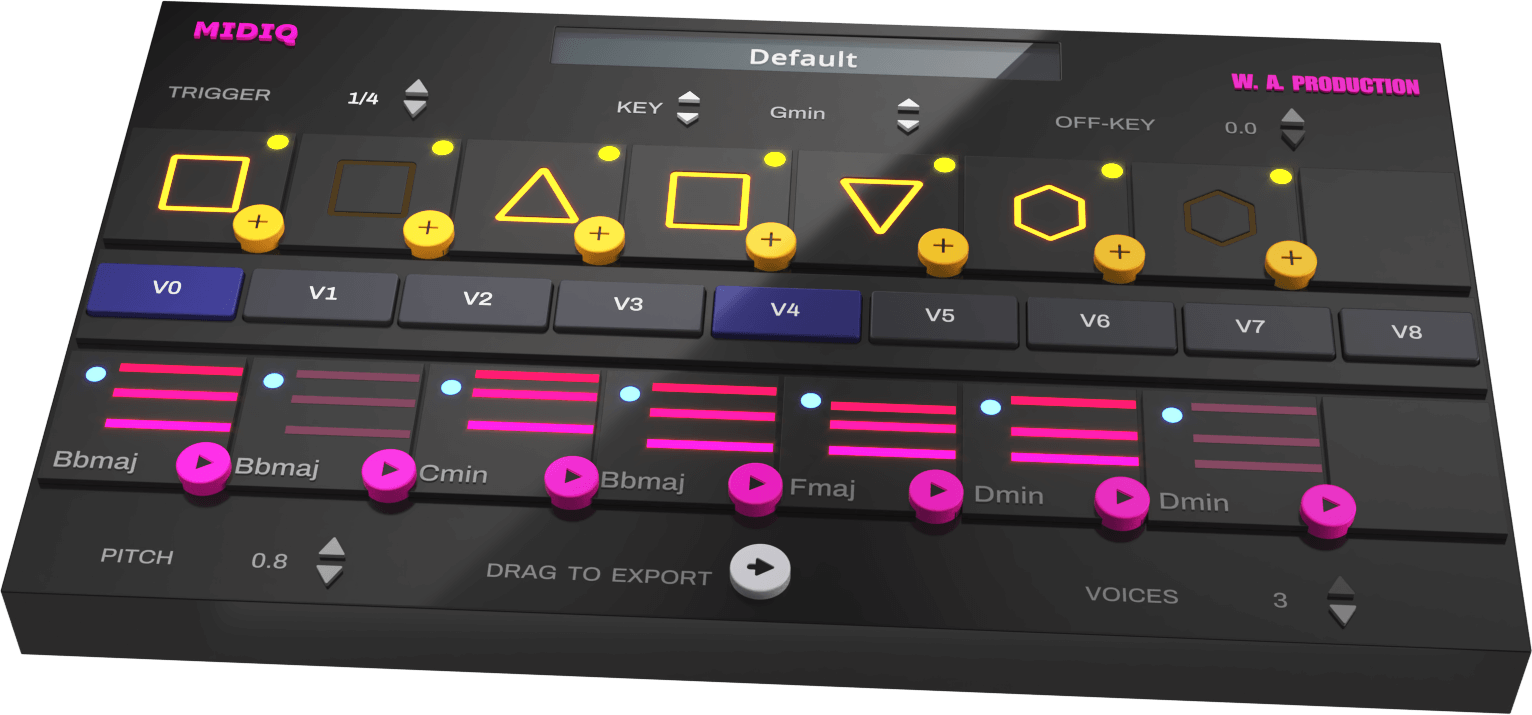 Sometimes we sit down in the studio and we're just fresh out of ideas. That's when we reach for MIDIQ to kickstart concepts for chord sequences, harmonies and bass lines. MIDIQ is an innovative MIDI sequence generator for both studio and live applications, featuring a unique and highly interactive user interface.
Generating near-limitless chord sequence possibilities, MIDIQ uses a simple pattern language for the definition of repeating chords. The layout resembles a slot machine so the interface is very visual. In fact, you don't need any knowledge of music theory to get some great results from MIDIQ.
Whenever you add or change a pattern symbol, the algorithm generates a chord for this position and also creates a set of eight alternative chord sequences for the current pattern of symbols. A click on one of the chord boxes is enough to switch to a new variant. Truly inspiring stuff.
Preset data is automatically saved in DAW sessions and can be exported for import into other sessions. Equally, copy-and-paste, drag-and-drop and drag-to-host functionalities are all included for ultimate flexibility.
It doesn't stop there... experiment with feeding a chord progression into an arpeggiator, running several plug-in instances in parallel, generating polyrhythmic patterns and finding interesting chord progressions between two or more chords.
Learn more about MIDIQ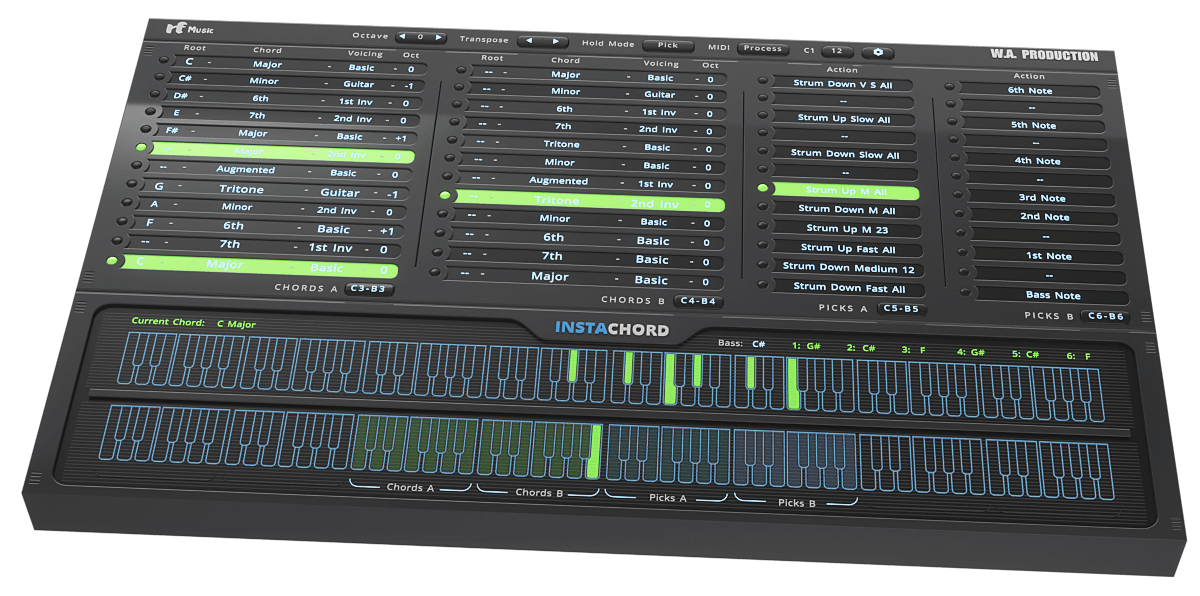 A MIDI Processing Plugin that helps you play chords and chord progressions faster and easier.
The foundation of a great song is based on its harmonic movements and chord changes which often is called chord progression. . A change in chord progression can have a drastic effect on the mood or direction of a song. Even those with a background in music theory can experience repetition and stagnation. Using richer chords and new chord progressions can take the song to a new level and make it sound more unique and professional.
Whether or not you are an experienced musician or just a beginner, with a vast chord bank and amazing playability, Instachord has something to offer to you.
If you're a song writer or a producer It will help you speed up the work flow and song creation process. Find the best progression and use a single midi pattern to play all of them.
If you're a player it allows you to play some of the hardest chords, in any musical key and combination of notes and different voicings, using just a few keys on your controller. Or jam and practice over them without spending much time creating a jam track.
If you're a student or a teacher you can use the plugin to learn and study the chords and use it as a reference and hear them in action.
Learn more about InstaChord

Play your instruments using the brilliant idea of relative notes, rather than the old static approach. Explore the world of scales and expand your creativity in a way that you never have before.
What is it?
Instascale is a newly invented, scale oriented instrument with only 16 keys to play with. But wait, is that enough? Turns out it's more than enough. Unlike the standard keyboard instruments where each key can only play a single note, Instascale has a set of smart keys, each one capable of playing different notes. The new note will be based on the given scale, last note's position and the action of the key assigned to it.
Instascale is available as a MIDI processor plugin that can be used in any DAW that supports VST instrument plugins (with MIDI routing) or AU MIDI effect plugins, given you the freedom to play any instrument you choose without any limitations regarding the sound and hardware.
What can I use it for?
Learning. With all the scales included in the plugin and various information displayed on the interface, Instascale can be a valuable source to study and learn different scales and modes very quickly.
Ear Training. Get familiar with the scales in different keys and modes without having to know how to play them. Train your ear to recognize intervals and distances quickly. Using the home feature you can stay on a certain note and see what feelings it creates compared to the other notes of that scale.
Serious playing. Instascale might seem like a strange and unfamiliar instrument at first but don't be fooled, like any other instrument with enough practice and dedication you can play a kind of mind blowing music that you could have never done with any other instrument out there.
Experimenting and getting inspired. Considering that you can never hit a wrong note with Instascale, just play random keys and get inspired by the unpredictable but musically pleasant results. Happy accidents always happen. You don't even have to use your MIDI keyboard, you can use your drum pad/kit, map the pads to the correct keys and start playing. You'd be surprised how cool it feels and sounds.
Breaking the rules. The foundation of the plugin is based on doing things differently, knowing the rules first and then breaking them. So let it inspire you to go even further and find new ways to create music without limiting your mind to the concept of black and white keys and minor and major scales. The plugin guards the rules but lets you change them, bend them or break them. It lets you change the scale, root and home notes on the fly, do crazy runs, it even allows you to create your own experimental scales.
Learn more about InstaScale
For System Requirements and DAW Compatibility, please check individual product details.