Royal Plugins Bundle
Break the boundaries and step out of the repetition. Reach for the bundle that offers a unique sound and new parameters for how you shape them.
The Royal Plugins Bundle from W. A. Production is an all in one for sound generation, modification, mixing and mastering.
This majestic bundle will allow you to create truly original sounds, expand your creativity and give you the control to ensure that your mix is full of warmth, dynamics, originality, and is well defined. If you want to get the sound that the pros have, you've gotta get the tools that the pros use. We've made those tools lightweight and easy to use for every producer. From beginner to pro. Create, Compose and Control with The Royal Plugins Bundle from W. A. Production.
Bundle details:
Bonus Content:
6 Construction Kits (+ Presets & MIDI)
5 FL Studio Templates
13 Melody Loops / Mini Kits (+ MIDI)
40 Serum Presets
30 Sylenth1 Presets
20 Drum Loops
20 Kicks
20 Fills
20 Claps & Snares
20 Percussion
10 Background Noises
20 Hip Hop Bass Loops
10 Melody Loops
20 Pads
20 Piano Loops
10 Sax Loops
30 Cymbals
30 Kicks
10 Percussive One Hits
20 Snares
Future Bass Fuse (DAW Template)

1 Ableton Template (+ 12 Samples)
7 MIDI Loops
9 Serum Presets
12 Stems (Construction Kit)
Brazilian Bass South (DAW Template)

1 FLP (+ 35 Samples)
7 MIDI Loops
7 Sylenth1 Presets
6 Stems (Construction Kit)
Hybrid Trap Might (DAW Template)

1 Logic Pro Project
13 MIDI Files
10 Serum Presets
11 Stems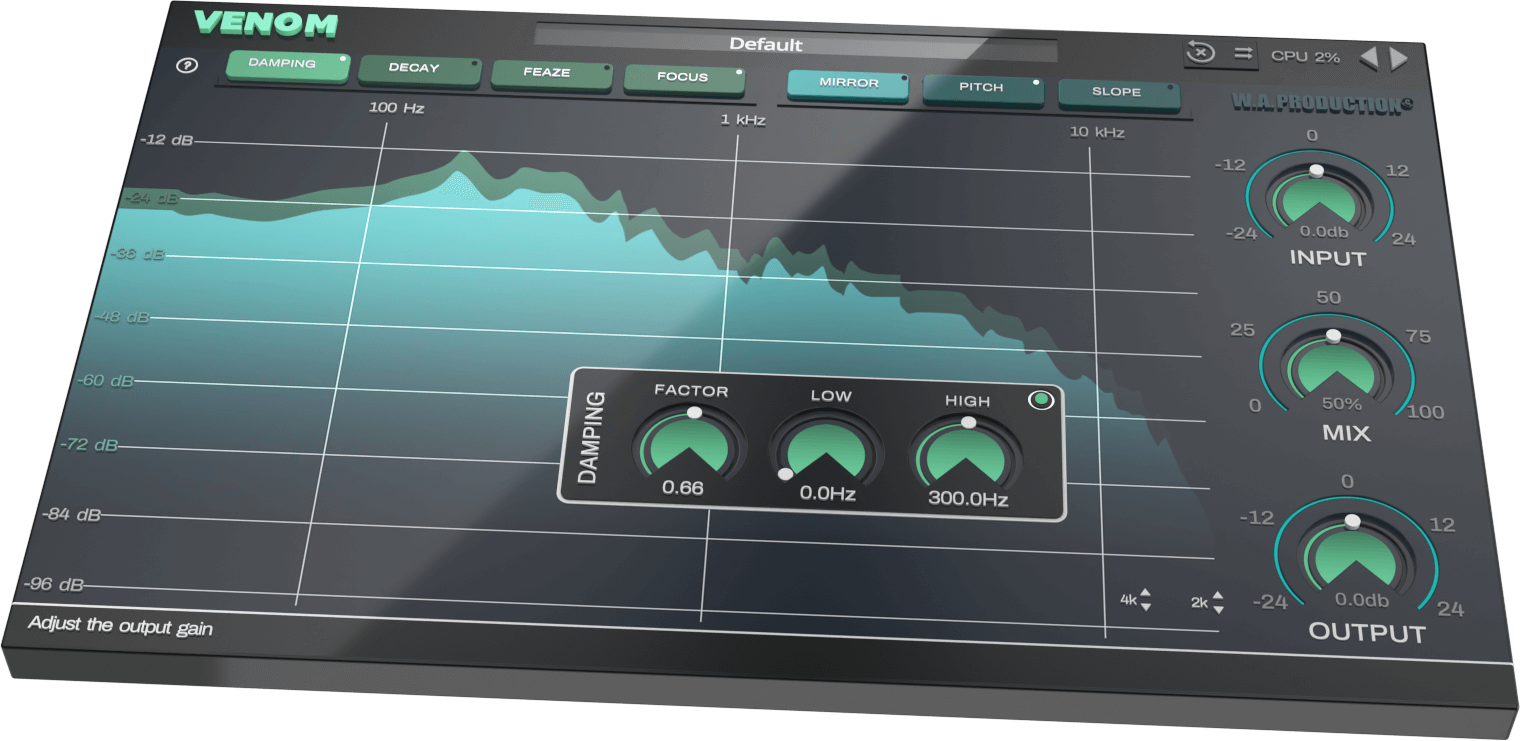 When reverb and delay just aren't enough, reach for Venom. This powerful spectral processing plug-in twists raw audio into many types of sounds from subtle granular movements to unrecognisable soundscapes. This makes Venom an incredibly versatile tool for sound designers, musicians, EDM producers and anyone who needs other-worldly transformations.
Features:
Spectral freeze and processing
Real-time frequency display
7 individual FX: Focus, Feaze, Decay, Damping, Mirror, Pitch & Slope
Hot-swappable FX chain
Creative Presets for special FX and spectral shaping
Click-free bypass control
Multicore support for glitch free performance
Input, Output level and Mix controls
Full PDF Manual & Tutorial video
Learn more about Venom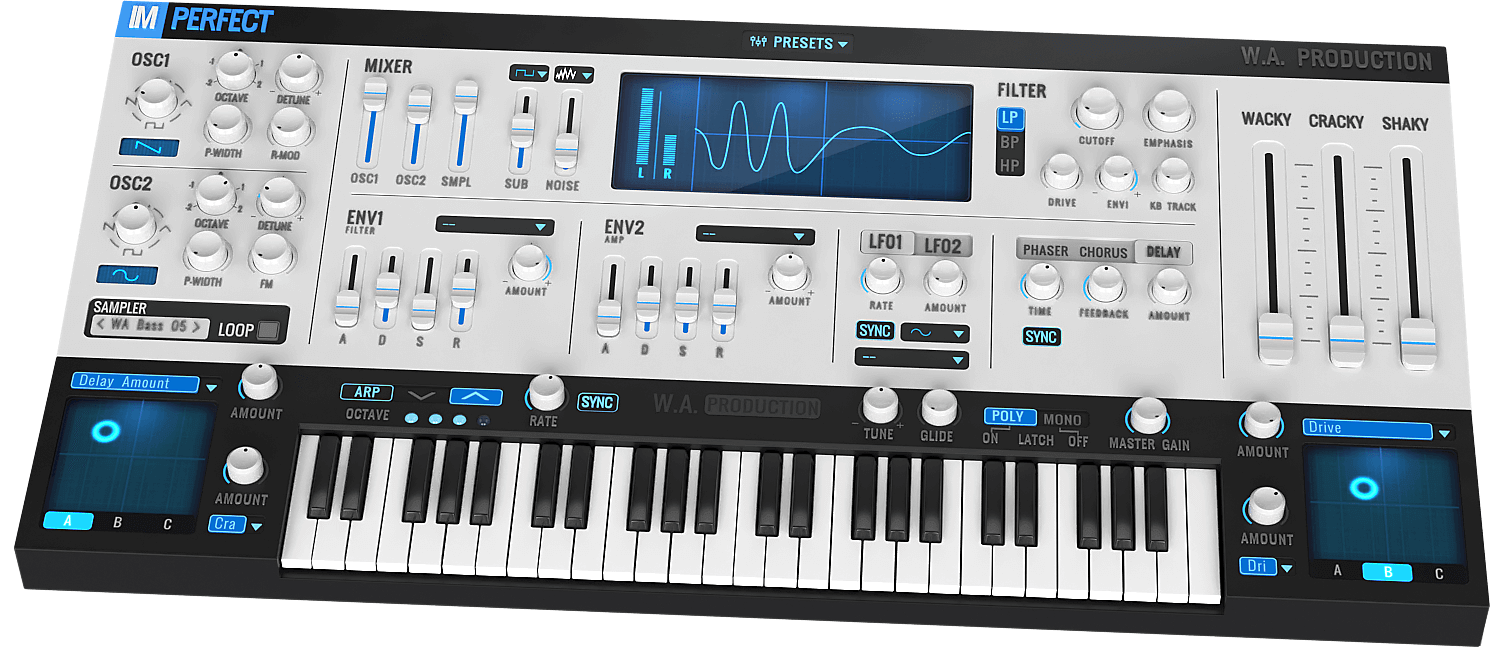 Most digital synths out there offer easily accessible functions, pristine digital quality and precisely tuned tones. "Imperfect" aims to break that trend with wavering detuned oscillators, modulating effects and a whole host of other functions designed to put the analog fun back into synth programming.
Features:
Fully functioning synth with analog-style imperfections
5 Oscillator modules
3 Unique transformation parameters
Hundreds of factory presets
260 Preset Waveforms & load your own samples
Dual X/Y pads
Filters & Effects
Real-time waveform display
Dual Envelopes & LFOs
Full PDF Manual & Tutorial video
Learn more about ImPerfect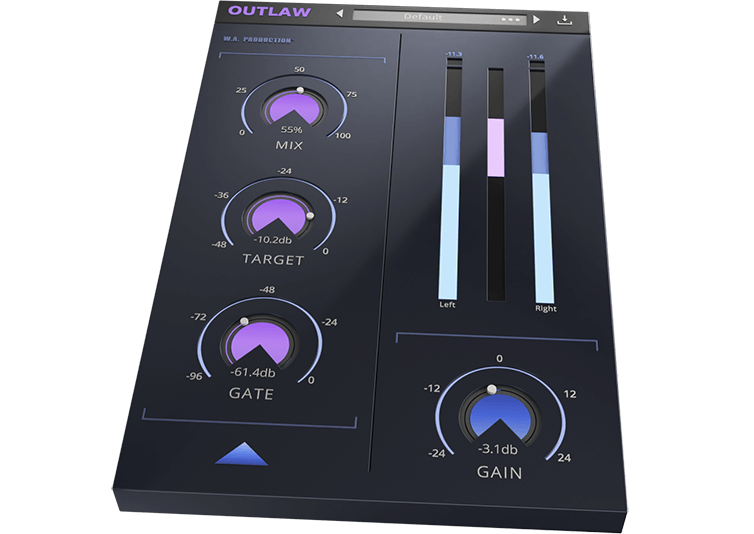 Whether you're mixing live sound, smoothing vocals or balancing solo instruments, Outlaw is the gain-riding plugin you've been looking for. Outlaw listens to the incoming audio and compensates for volume changes, mimicking the mixing desk fader movement of a real-life audio engineer. Forget about drawing complex volume automation and let Outlaw do the hard work for you, with smooth gain levelling and a wealth of features.MIX, TARGET, GATE & GAIN
Features:
MIX: mixes is the gain riding.
TARGET: sets the rms target of the gain-rider.
GATE: allows user to set a gate level that is relative to the TARGET level, to have the gain-rider ignore softer sounds.
HPF/LPF/SLOPE: Let you filter away the highs and lows in the detection signal with variable slopes so you can for example ignore the low rumble in a speech or vocal recording, or ignore the high attack and finger noises of a bass recording.
ATTACK/RELEASE/DIRECTION: Let you apply additional attack and release to the gain-riding so you can let through the signals peaks or smooth out the signals tails. With the DIRECTION control you can set the direction of the ATTACK and RELEASE which is helpful depending on if the general gain produced is upwards, downwards or goes in two directions.
MAX UP/MAX DOWN/INSTANT/ZERO/RMS: The MAX UP and MAX DOWN let you set the maximum gain that is applied up and down, which gives you more control over how extreme the gain-riding is allowed to be. Low values sound subtile. High values sound erratic. The RMS control lets you pick between slow, medium or fast rms-detection, which determines how quickly the plugin reacts to the incoming signal. INSTANT option is very fast and ZERO has 0ms RMS time.
Learn more about Outlaw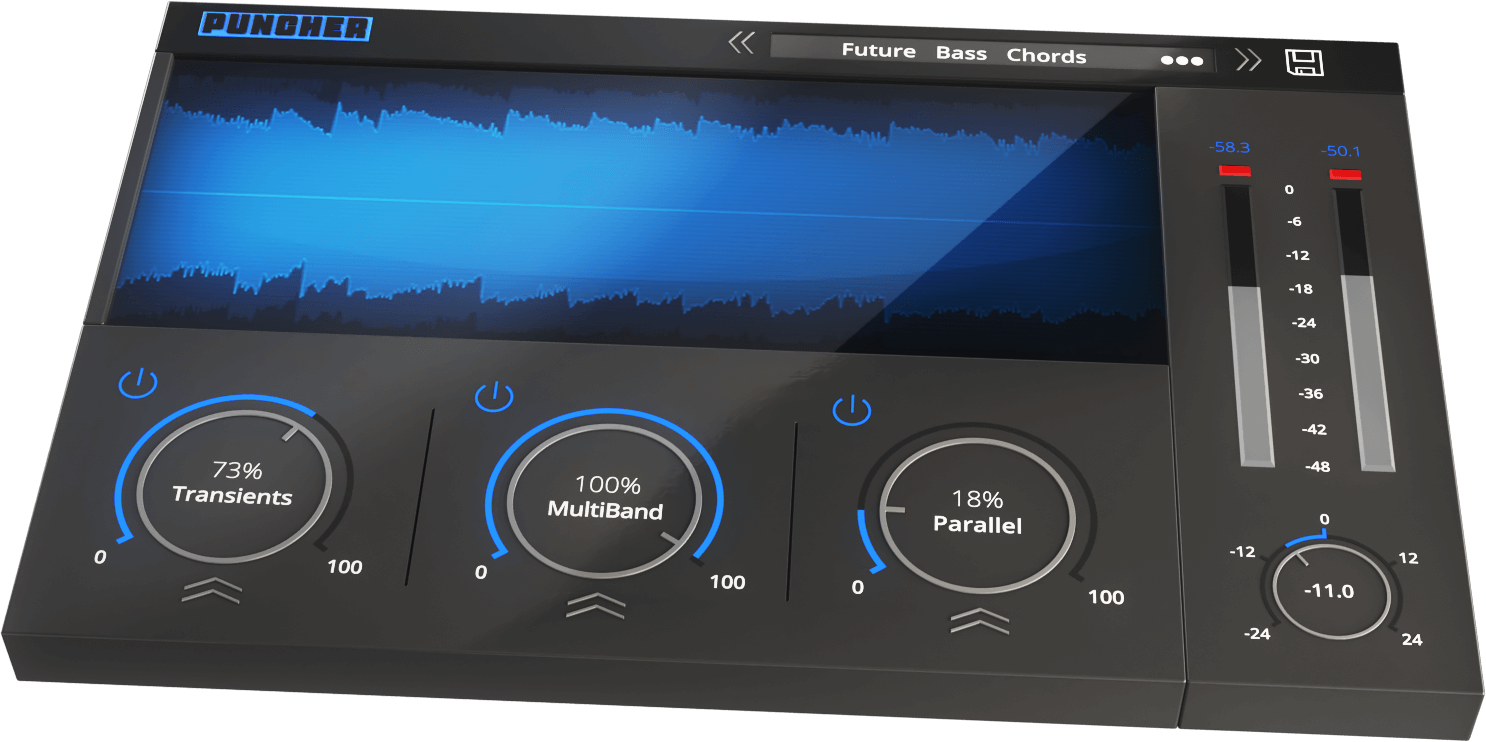 Puncher is a Multi-FX plug-in that will add instant power and punch to your tracks. In terms of compression, this is the all in one tool you've been dreaming of. Packed into its compact design you will find 3 different effects. A Transient Shaper, Multiband Compressor and Parallel Compressor. It allows you to combine the power of these 3 amazing tools to create a brand new, unique and powerful sound. Puncher not only allows you to to control the amount of the applied effect, it also allows you to control the effect itself. Offering advanced options for each effect you can fine tune every aspect as much as you like. Inside Puncher you will also find 48 configured presets made for various genres and instruments.
Features
Attack and release transient shaping
Real-time linear phase Multiband compression
Variable RMS parallel compression
Build in preset manager
Before/after dynamics wave display
Smoothed out bypass controls
Learn more about Puncher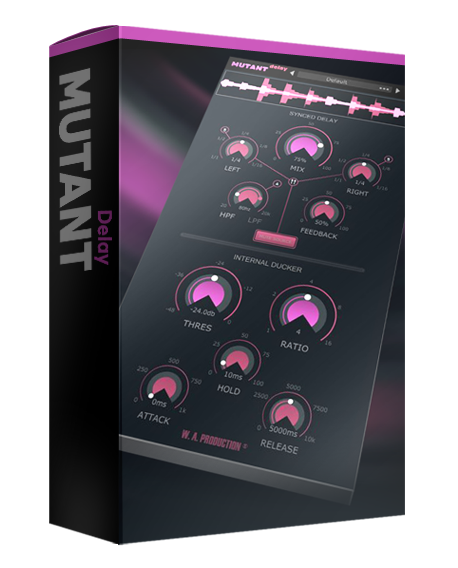 'Mutant Delay' is a host-synced delay plugin with a built-in ducker, perfect for vocal processing and many other applications. In the studio, we've lost count of the number of times we've had to set up convoluted sidechain and compression routing, just to achieve a ducked delay for our vocal lines. With Mutant Delay all that complexity is a thing of the past. Now you can easily replicate this popular mixing technique with just one plugin and a couple of clicks, allowing you to dial in extreme delay effects whilst maintaining clarity of the original signal. If you want to keep things simple, just load up Mutant Delay on your vocal track, choose a preset and voila! Need to get deeper? Adjust the delay and ducking parameters to your own taste, with clear visual feedback provided in real time, showing exactly how the ducked delay is being performed.
Features:
Host-synced delay
Built-in internal ducker with compressor-style controls
Many presets for a wide range of delay parameters
Click free bypass control
2 filtering modes (straight dampening & increasing over time)
Straight and ping-pong delay with multiple note divisions
Real-time waveform display
Full PDF Manual & Tutorial video
Learn more about Mutant Delay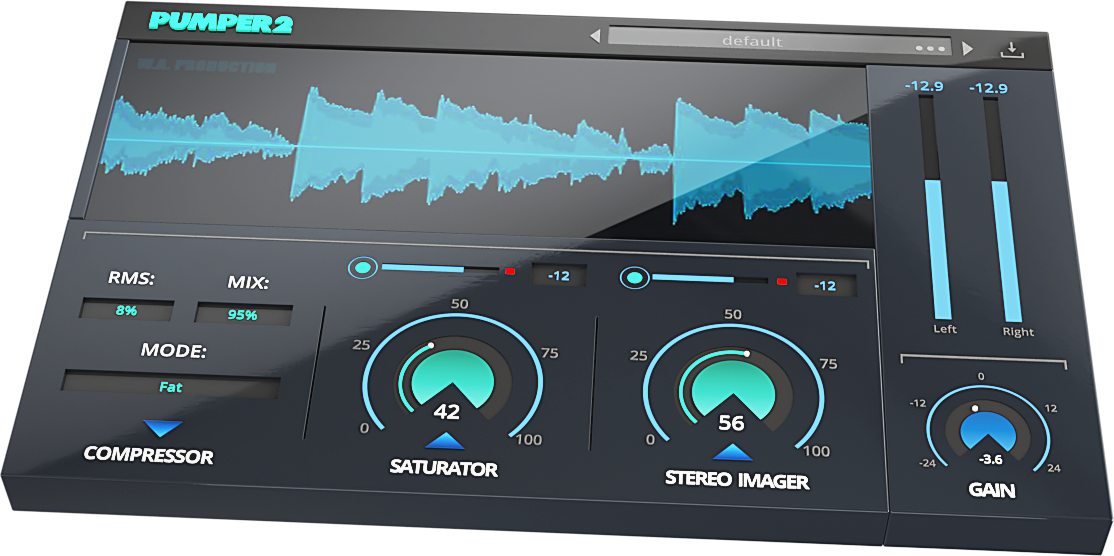 We've done it again… after the release of "Pumper" we wanted to step up our game and give you even more control over the punch and power of your sounds. The sequel, Pumper 2, has been long in development as our team toiled away to retain the stellar performance parameters of the original plugin whilst adding new features. The end result is a multi-effect powerhouse that achieves the level of immediacy, body and depth that our fans expect and their tracks deserve.
Features:
50 Creative Presets for drums, vocals, synth, bass, acoustic, keys and mastering
4 Compression types with adjustable RMS
One-click parallel compression
Hard & soft clip saturation with transient and character controls
Stereo Imager with frequency focus
Per-module and master gain controls
Real-time waveform display
Full PDF Manual & Tutorial video
Learn more about Pumper 2
Bonus Content (Sample Packs):
House Revolution
What About: House Revolution an amazing sample pack made by W. A. Production created for all the EDM & House freaks out there! Inspired by the hottest Hexagon and Spinnin producers & tunes. In this pack, you will find 6 construction kits + 5 FL Studio templates and hundreds of unique sounds all compiled into one huge 3.73 GB library.
Angry Parrots Lo-Fi Hip-Hop 2 pack was developed for producers that demand perfection and music that speaks from the soul. These are the sounds of complete audio euphoria waiting for you to sculpt into a conceptual auditory work of art.
Bonus Content (DAW Templates / Construction Kits)
Created to show producers, such as yourself, exactly how a Future Bass track is made. Not only did we break down the inner workings into Stems, MIDI/WAV loops, and Presets, we also threw in our complete Ableton Project file. Load up this template and see every instrument, effect, setting, and mixing technique that we used, even our master tracks. Use this template to learn, dissect, customize and create your own Future Bass masterpiece.
Brazilian Bass South brings you a chance to see how the professionals create a booming Brazilian Bass track. This template comes with amazing resources and elements such as our FL Studio Project File that gives you a detailed look at the arrangement and overall design of the track, the audio samples we used, our automation clips and presets. With our organized template and a positive work flow, just load up and you are ready to go.
Get ready to explore the fundamentals of Hybrid Trap. With the Logic Pro Project File, you can view our arrangement, what effects we used on our instruments, how we did our mix down and how we mastered the track. Allow our template to inspire you, to build upon, or design your own Hybrid Trap mix. This template was designed to make you a better Trap and EDM music producer and to have fun while doing it.