Pumping Summer Bundle 2019
Are you ready to take full control over your sound? Then let your audio quality soar to revolutionary new heights with the W. A. Production Pumping Summer Bundle. Featuring five production-ready plugins, the collection of tools will allow you to compose, compress, saturate and produce your sounds to complete perfection.
The Summer Bundle by W. A. Production will not only give you total tonal control, but it will also make your mix a true summer scorcher. The Summer Bundle is a Plugin Boutique exclusive offer and will only be available for a limited time.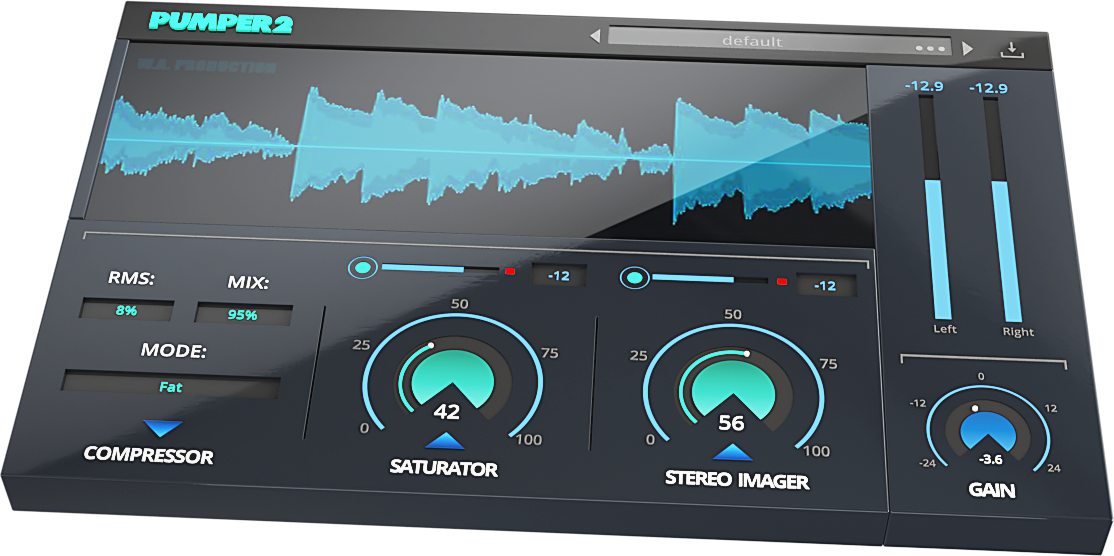 W.A have done it again… after the release of "Pumper" they wanted to step up their game and give you even more control over the punch and power of your sounds. The sequel, Pumper 2, has been long in development as their team toiled away to retain the stellar performance parameters of the original plugin whilst adding new features. The end result is a multi-effect powerhouse that achieves the level of immediacy, body and depth that our fans expect and their tracks deserve.
This is their most requested update ever and builds on the Compressor, Saturator and Stereo Imager modules of the original whilst adding more controls to fine tune the processing.
Features:
50 Creative Presets for drums, vocals, synth, bass, acoustic, keys and mastering
4 Compression types with adjustable RMS
One-click parallel compression
Hard & soft clip saturation with transient and character controls
Stereo Imager with frequency focus
Per-module and master gain controls
Real-time waveform display
Full PDF Manual & Tutorial video
Learn more about Pumper 2.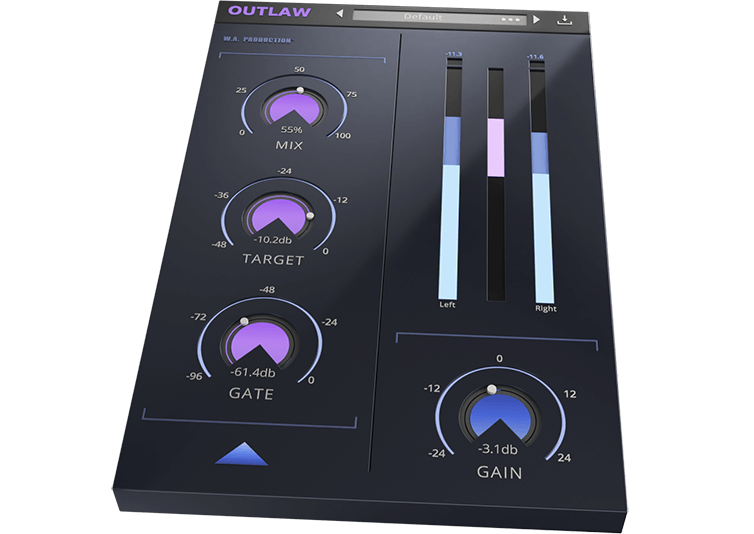 Whether you're mixing live sound, smoothing vocals or balancing solo instruments, Outlaw is the gain-riding plugin you've been looking for. Outlaw listens to the incoming audio and compensates for volume changes, mimicking the mixing desk fader movement of a real-life audio engineer. Forget about drawing complex volume automation and let Outlaw do the hard work for you, with smooth gain levelling and a wealth of features.
Features:
Mix: mixes is the gain riding.
Target: sets the rms target of the gain-rider.
Gate: allows user to set a gate level that is relative to the TARGET level, to have the gain-rider ignore softer sounds.
HPF/LPF/Slope: Let you filter away the highs and lows in the detection signal with variable slopes so you can, for example, ignore the low rumble in a speech or vocal recording, or ignore the high attack and finger noises of a bass recording.
Attack/Release/Direction: Let you apply additional attack and release to the gain-riding so you can let through the signals peaks or smooth out the signals tails. With the DIRECTION control you can set the direction of the ATTACK and RELEASE which is helpful depending on if the general gain produced is upwards, downwards or goes in two directions.
Max Up/Max Down/Instant/Zero/RMS: The MAX UP and MAX DOWN let you set the maximum gain that is applied up and down, which gives you more control over how extreme the gain-riding is allowed to be. Low values sound subtle. High values sound erratic. The RMS control lets you pick between slow, medium or fast rms-detection, which determines how quickly the plugin reacts to the incoming signal. INSTANT option is very fast and ZERO has 0ms RMS time.
Learn more about Outlaw.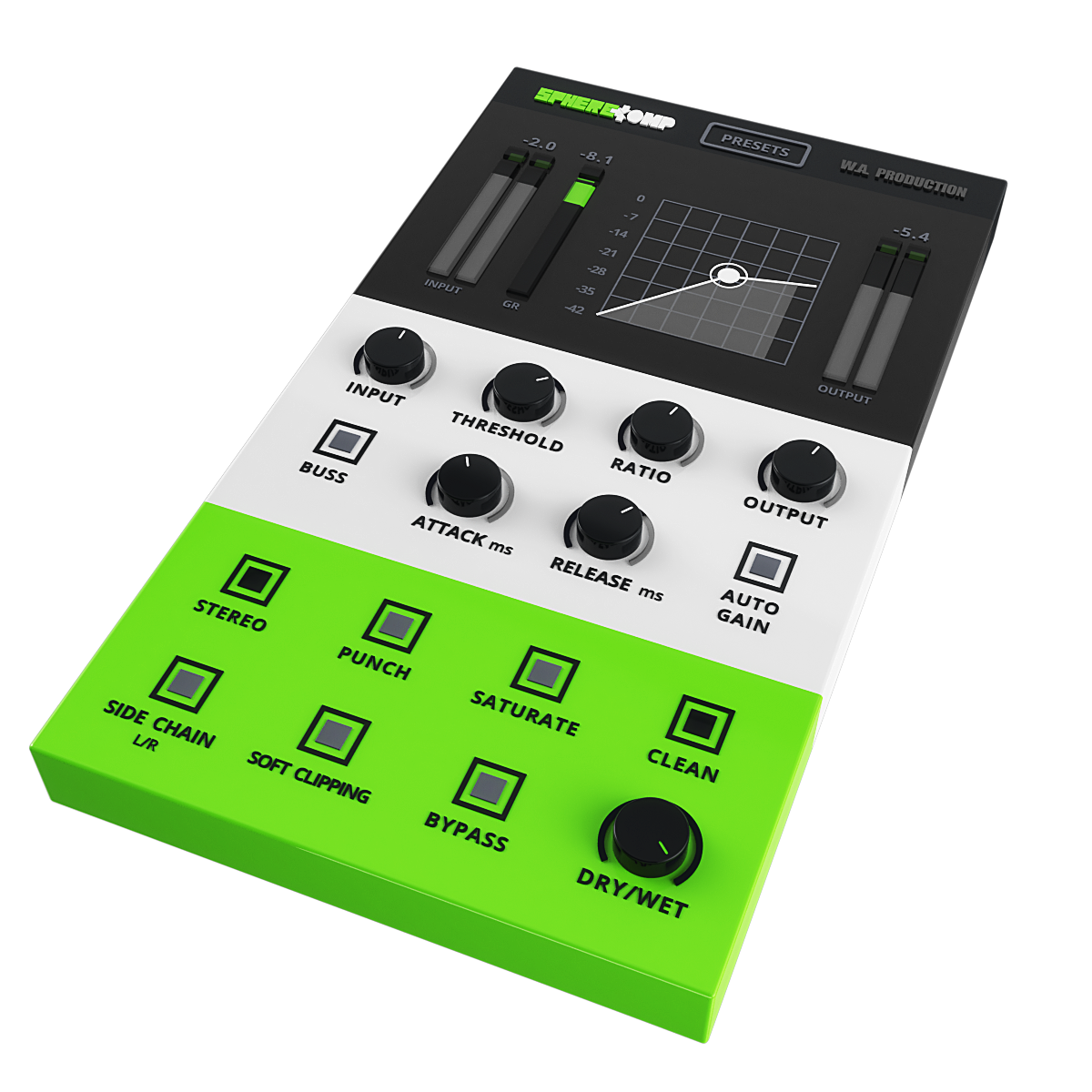 W.A. Production has created the perfect way to approach and achieve proper compression. All producers know compression can either be an award-winning tool if used properly, or it can totally destroy your mix. Audio students are introduced to compression and most are left confused or scared to death of it. SphereComp is capable of catering to the seasoned pro and the beginner. To get the same results you get with SphereComp you would have to spend thousands of dollars in high-end rack gear, invest time getting acquainted, making adjustments over and over until you get the result you want. Not to mention installation and routing your patch bay. Breathe a sigh of relief. Don't dread compression. Embrace it.
Features:
Input – Control the input gain by +/- 15dB.
Threshold – Threshold (dB), when the signal level exceeds the threshold the compressor goes into action.
Ratio – (ratio/1) As an example, a 3:1 ratio means that for every 3dB the input signal exceeds the threshold, only 1dB will be allowed to pass by the compressor.
Output – Control the output gain by +/- 15dB.
Buss – Switch between Regular mode (peak compression) and Buss mode (RMS compression).
Attack – Time in milliseconds that it will take for the compressor to reach its destination gain reduction after the signal has crossed the threshold.
Release – Time in milliseconds that it will take for the compressor to reach 0 gain reduction after the signal returned below the threshold.
Auto Gain – Auto Gain matches the output volume to input volume automatically.
Stereo – Switch between stereo and mono modes.
Punch – Parallel processing to add punch to the signal before the compression stage.
Saturate – Add tube style saturation to the compressed signal.
Clean – Make the compressor sound as clean as possible. If Punch or Saturate is on, it will reduce their effect giving you different timbre options.
Side Chain – Signal from the right channel input goes to the detector and the signal from the left channel input goes to the compressor.
Soft Clipping – Use to round the signal when it approaches 0.0dB and ensures it does not exceed it.
Bypass – Allows you to engage and disengage the compressor.
Dry/Wet – Mixes between the processed signal and the input signal creating a parallel compression effect, which leaves the peaks untouched while boosting the lower part of the signal.
Learn more about SphereComp.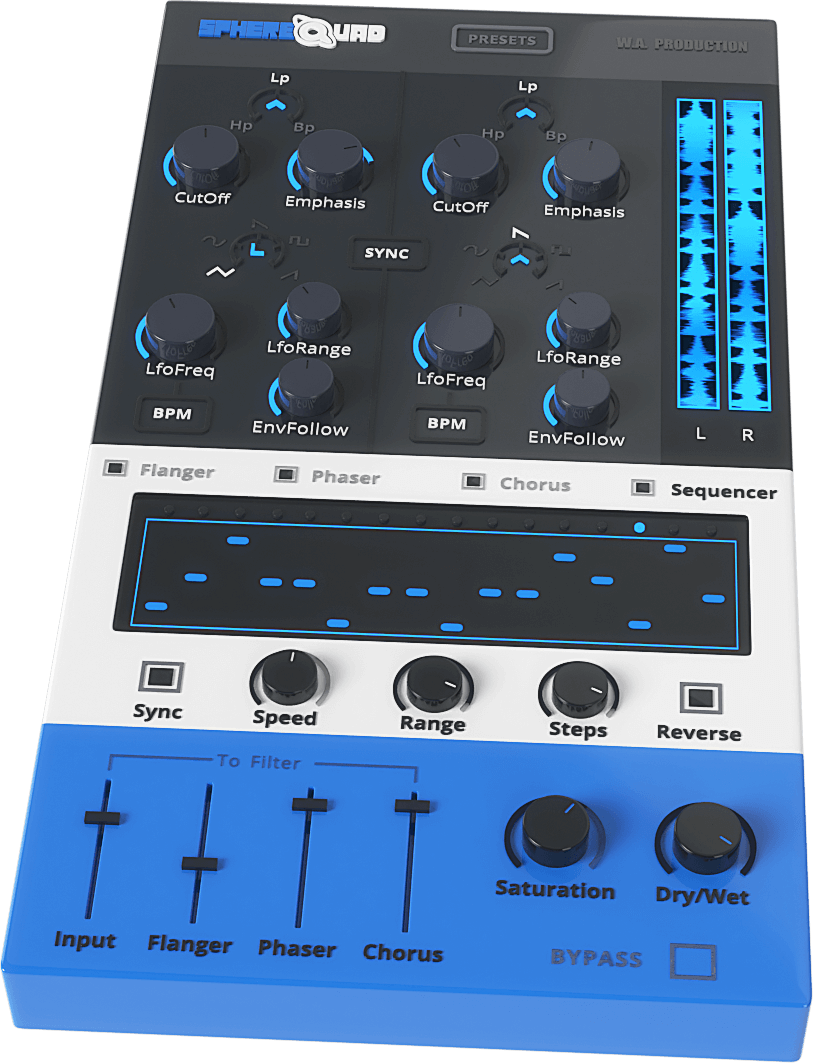 The concept behind SphereQuad is a combination of stereo flanger, phaser and chorus effects fed into a stereo filter, combined with an onboard step sequencer that controls the filter. However, the execution of these effects is far more interesting as you can control the left and right filters independently to push sound around the stereo field. The flexible routing between the different modules can be quickly dialed in to create a huge variety of special effects.
Each of the Flanger, Phaser and Chorus modules has multiple parameters for adjusting the main characteristics. The modules can be activated individually, or mixed and routed in various combinations to create a wall of unusual effects.
We've been using SphereQuad for a while now and find it incredibly useful for everything from spacey synth leads to making bass lines wobble. We've even dialed it in on full mixes to create DJ-style breakdowns with massive filter sweeps and extreme flanging. There's no instrument we haven't tried to transformed with SphereQuad and the effect is impressively huge every time. W. A. Production are real-life producers making creative plugins to help you achieve studio effects quickly and easily. Enjoy!
Features:
64 Creative Presets for one-click transformations
Stereo Flanger, Phaser & Chorus modules with multiple parameters
Mixer & Output controls with Saturation module
Flexible signal routing between all modules
16 Step Sequencer
Independent left and right filter modules for true stereo manipulation
Sync to BPM
Real-time waveform display corresponding to the filter cutoff
Full PDF Manual
Learn more about SphereQuad.

What is it?
Instascale is a newly invented, scale oriented instrument with only 16 keys to play with. But wait, is that enough? Turns out it's more than enough. Unlike the standard keyboard instruments where each key can only play a single note, Instascale has a set of smart keys, each one capable of playing different notes. The new note will be based on the given scale, last note's position and the action of the key assigned to it.
Instascale is available as a MIDI processor plugin that can be used in any DAW that supports VST instrument plugins (with MIDI routing) or AU MIDI effect plugins, given you the freedom to play any instrument you choose without any limitations regarding the sound and hardware.
What can I use it for?
Learning. With all the scales included in the plugin and various information displayed on the interface, Instascale can be a valuable source to study and learn different scales and modes very quickly.
Ear Training. Get familiar with the scales in different keys and modes without having to know how to play them. Train your ear to recognize intervals and distances quickly. Using the home feature you can stay on a certain note and see what feelings it creates compared to the other notes of that scale.
Serious playing. Instascale might seem like a strange and unfamiliar instrument at first but don't be fooled, like any other instrument with enough practice and dedication you can play a kind of mind blowing music that you could have never done with any other instrument out there.
Experimenting and getting inspired. Considering that you can never hit a wrong note with Instascale, just play random keys and get inspired by the unpredictable but musically pleasant results. Happy accidents always happen. You don't even have to use your MIDI keyboard, you can use your drum pad/kit, map the pads to the correct keys and start playing. You'd be surprised how cool it feels and sounds.
Breaking the rules. The foundation of the plugin is based on doing things differently, knowing the rules first and then breaking them. So let it inspire you to go even further and find new ways to create music without limiting your mind to the concept of black and white keys and minor and major scales. The plugin guards the rules but lets you change them, bend them or break them. It lets you change the scale, root and home notes on the fly, do crazy runs, it even allows you to create your own experimental scales.
Learn more about InstaScale.