PUMPER 2 + HELPER Series Bundle
Introducing the best plugin bundle that you'll ever find on the Internet – Pumper + Helper Series Bundle. We aim to provide you with the best audio processing plug-ins with easy-to-use user interfaces so that we don't complicate things up. With a versatile plugin like PUMPER and cutting edge plugins like HELPER Series, this bundle is all you'll ever need to sound huge and energetic like the big producers.
We've done it again… after the release of "Pumper" we wanted to step up our game and give you even more control over the punch and power of your sounds. The sequel, Pumper 2, has been long in development as our team toiled away to retain the stellar performance parameters of the original plugin whilst adding new features. The end result is a multi-effect powerhouse that achieves the level of immediacy, body and depth that our fans expect and their tracks deserve.
Features:
50 Creative Presets for drums, vocals, synth, bass, acoustic, keys and mastering
4 Compression types with adjustable RMS
One-click parallel compression
Hard & soft clip saturation with transient and character controls
Stereo Imager with frequency focus
Per-module and master gain controls
Real-time waveform display
Full PDF Manual & Tutorial video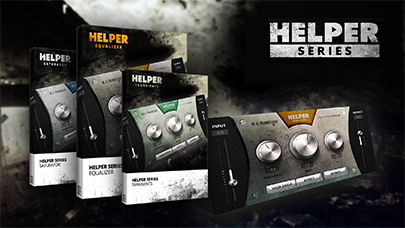 Designed to be a superb mixing tool, it is guaranteed to bring your music mixing game to the next level. It doesn't matter that you use it on individual channels or groups or the master channel, it guarantees to bring good results to your music!
Features:
Get crispy high end with the Equalizer
Saturator with 2 types of saturation modules (Tape & Tube)
Shape your sounds with the Transient