PUMPER + HELPER Series Bundle
Introducing the best plugin bundle that you'll ever find on the Internet – Pumper + Helper Series Bundle. We aim to provide you with the best audio processing plug-ins with easy-to-use user interfaces so that we don't complicate things up. With a versatile plugin like PUMPER and cutting edge plugins like HELPER Series, this bundle is all you'll ever need to sound huge and energetic like the big producers.
Pumper is a superb all in one audio tool. It provides killer options to send your productions over the top. You can use this amazing plugin on individual channels or on the master bus. It is so versatile for any style of music!
Features:
Compressor with amazing 4 different types of compression (Punchy, Fat, Clean & Soft)
Instant power to your sounds with the Saturator
Add beautiful depth and width with the Stereo Imager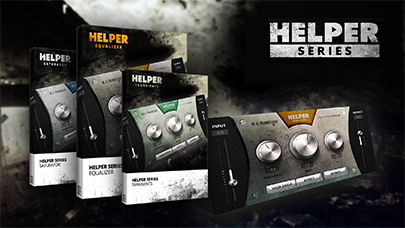 Designed to be a superb mixing tool, it is guaranteed to bring your music mixing game to the next level. It doesn't matter that you use it on individual channels or groups or the master channel, it guarantees to bring good results to your music!
Features:
Get crispy high end with the Equalizer
Saturator with 2 types of saturation modules (Tape & Tube)
Shape your sounds with the Transient