Prodigious Orchestral Engine + Royal Family MIDI Collection
Included in this bundle:
Prodigious Orchestral Engine
Your Complete Orchestral Engine Awaits...
Prodigious is a serious and in-depth Orchestral Rompler that gives you the freedom to be creative. 32 Total Sampled Instruments give you goosebumps as you steam through Chilling Strings, Brash Brass, Eerie Woodwinds & Tainted Vocals. Choose from 1 of 75 stock presets or cast as spell and create your very own dark orchestra, YOU'RE THE CONDUCTOR NOW!
Prodigious has 4 main sound sections
Strings - Violin, Viola, Cello, Double Bass
Brass - Trumpet, French Horn, Trombone, Tuba
Woodwind  - Flute, Clarinet, Oboe, Bassoon
Vocals - Female 1, Female 2, Male 1, Male 2
Each of these sections hosts the ability to edit instruments individually as well as a group. Manipulate the section & instruments Dimension, Envelope, Gain, Filter & more. This is the basis of any sound sculpting & alone gives you incredible power over your Orchestra. But thats not all...
You also have the ability to change each section from "Solo Instruments" to "Ensemble Instruments" giving you and even wider dinamic range and more powerful sound. Each instrument ensemble has 4 total instruments. For Example, the Violin Ensemble has 4 Total Violins playing at the same time. This means you could have a total of 64 Instrument Voices in your Orchestra!
Be your own Conductor. Be your own Creator. Be your own Prodigy.
Prodigious - Orchestral Engine, the Complete Orchestral Rompler.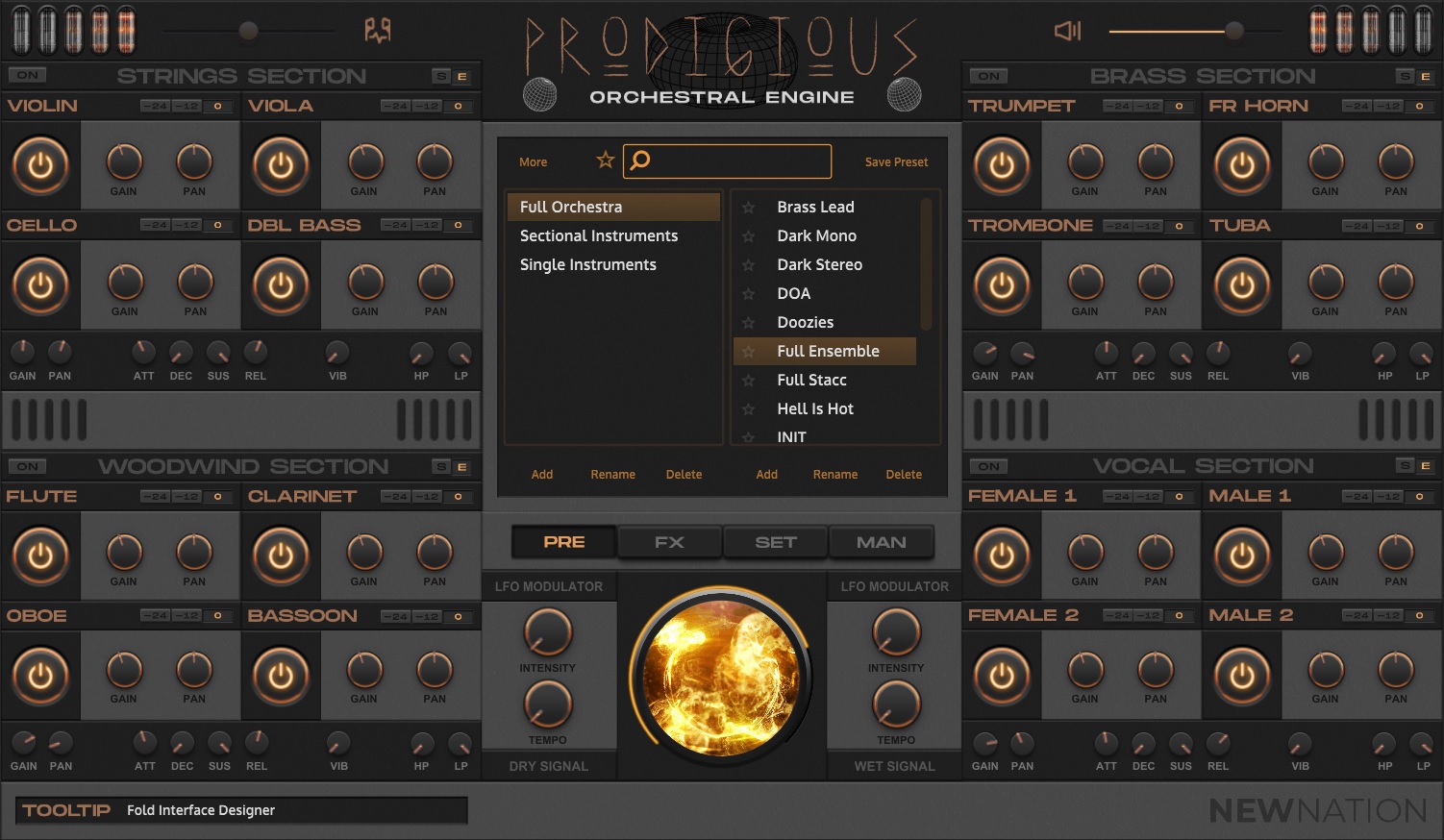 Download Includes
Prodigious - Orchestral Engine Plugin
Windows - VST3
Mac - VST3 & AU
Features

75 Stock Presets (Full Orchestra, Section Instruments, Solo Instruments)
32 Total Sampled Instruments (16 Solo Instruments, 16 Ensemble Instruments)
Compatible with all DAWS (excluding Pro-Tools)
Easy Install & Manual
Royal Family MIDI Collection - Complete Series
Become MIDI Royalty when you grab the ROYAL FAMILY MIDI BUNDLE!
How is your MIDI Collection stacking up? It can always improve & I have the perfect MIDI Bundle for the job! The ROYAL FAMILY MIDI BUNDLE is hardly your average MIDI Bundle. I've jammed over 400 MIDI + WAV Files including Smooth Piano Chord Progressions, Knocking Brass Melodies & Tear-Jerking String Sections. I wanted you to be able create realistic instruments in a minimal amount of time.
The result?
DRAG-AND-DROP MIDI FILES THAT SOUNDS LIKE REAL INSTRUMENTS!
By hyper-focusing on 1 emotion and 1 instrument, I'm able to capture the real and raw feel of Horns, Strings, Pianos & more! This Real & Raw feeling then transfers to your music whenever you use one of my MIDI Loops. This does not mean these loops will only work for one instrument. I've found if you Mix & Match your MIDI to different instruments, the possibilities for creativeness never end!
How does it work? It's Easy:
Download the ROYAL FAMILY MIDI BUNDLE
Select an instrument in your DAW
Drag & Drop any MIDI Loop on your instrument track
PRESS PLAY
watch the speakers and house burn down around you from the FIRE you just created...
That was a bit exaggerated, but you get the point!
Grab the ROYAL FAMILY MIDI BUNDLE today and you'll Save Major Money & Gain Major Production Value!
Packs Included
Royal Family MIDI - Horns 1
Royal Family MIDI - Horns 2
Royal Family MIDI - Keys 1
Royal Family MIDI - Keys 2
Royal Family MIDI - Keys 3
Royal Family MIDI - Keys 4
Royal Family MIDI - Strings 1
Royal Family MIDI - Strings 2
Plus 3 Exclusive Bonuses
Drum Pack
808 Bass Pack
$25 New Nation Gift Card