Absolute Vocal Bundle
Whether your vocal take is a little rough around the edges, thinner in comparison to the rest of the song, sounding a little dry or you just want to step up that mono sound to stereo. The Absolute Vocal Bundle is your absolute solution. W.A Production have included everything you need to shape, widen, and take control over the processing of your vocals. Don't let the lag of applying time-delay effects throw off your rhythm, all of the included effects offer a tempo sync option and allow you to visualize every modification in real-time.
W.A Production have also included presets for fast and easy results when you need them the most. All of these plugins are CPU and user-friendly. Made by audio engineers and producers just like yourself, who know the limitations of stock plugins and the hassle of trying to figure out an overly complicated plugin with flashy graphics eating away your CPU.
So make your vocals shine bright with warmth and crystal clear quality with these brilliantly designed processing tools from W. A. Production. These plugins are hassle-free and offer real results that you can hear and a bundle you can afford.
This bundle includes:
Mutant Delay
Mutant Reverb
Outlaw
Screamo
Vocal Splitter

'Mutant Delay' is a host-synced delay plugin with a built-in ducker, perfect for vocal processing and many other applications. In the studio, we've lost count of the number of times we've had to set up convoluted sidechain and compression routing, just to achieve a ducked delay for our vocal lines. With Mutant Delay all that complexity is a thing of the past. Now you can easily replicate this popular mixing technique with just one plugin and a couple of clicks, allowing you to dial in extreme delay effects whilst maintaining clarity of the original signal. If you want to keep things simple, just load up Mutant Delay on your vocal track, choose a preset and voila! Need to get deeper? Adjust the delay and ducking parameters to your own taste, with clear visual feedback provided in real time, showing exactly how the ducked delay is being performed.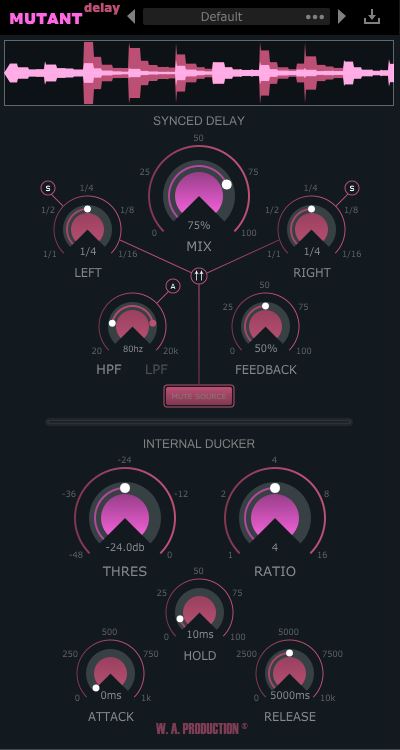 Features:
Host-synced delay
Built-in internal ducker with compressor-style controls
Many presets for a wide range of delay parameters
Click free bypass control
2 filtering modes (straight dampening & increasing over time)
Straight and ping-pong delay with multiple note divisions
Real-time waveform display
Full PDF Manual & Tutorial video
Learn more about Mutant Delay
'Mutant Reverb' is a mono-to-stereo reverb plugin with a built-in ducker; perfect for vocals, percussion, synths and many other applications where you need precise control of reverb tails. Adding reverb to sounds gives warmth, character and places the sound in a real-world space. However, big problems arise when a reverb tail masks the clarity of the original signal, resulting in a muddy and undefined sound. Mutant Reverb is the solution, in just a couple of clicks you can duck the reverb processing out of the way of the original audio without any complicated side-chain or compression routing. Just plug and play.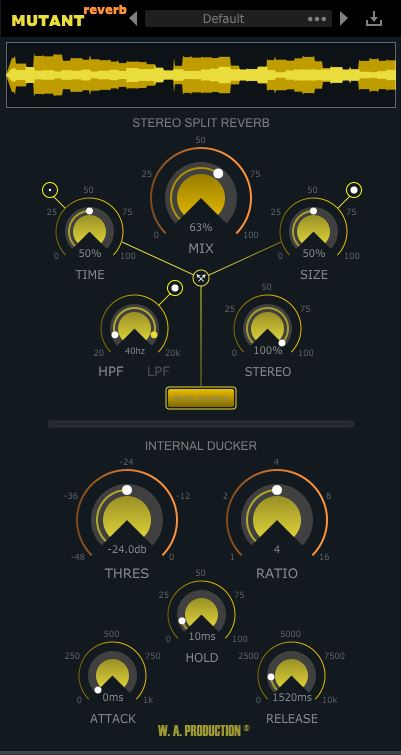 Features:
Clean sounding algorithmic reverb
Built-in internal ducker with compressor-style controls
Many presets for a wide range of reverb parameters
Click free bypass control
Time, Size and Frequency filter dials
Advanced controls for Pre-Delay, Diffusion & Dampening
Real-time waveform display
Full PDF Manual & Tutorial video
Learn more about Mutant Reverb
Whether you're mixing live sound, smoothing vocals or balancing solo instruments, Outlaw is the gain-riding plugin you've been looking for. Outlaw listens to the incoming audio and compensates for volume changes, mimicking the mixing desk fader movement of a real-life audio engineer. Forget about drawing complex volume automation and let Outlaw do the hard work for you, with smooth gain levelling and a wealth of features.MIX, TARGET, GATE & GAIN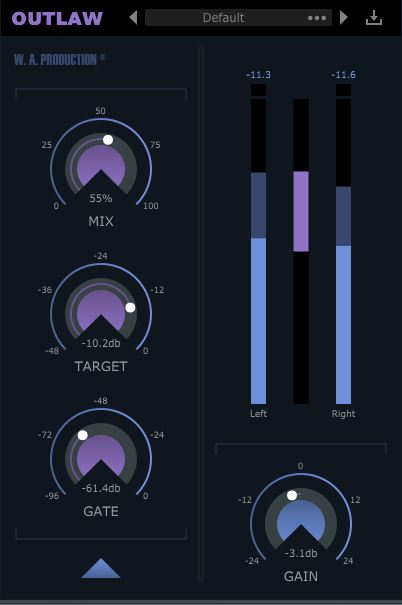 Features:
MIX: mixes is the gain riding.
TARGET: sets the rms target of the gain-rider.
GATE: allows user to set a gate level that is relative to the TARGET level, to have the gain-rider ignore softer sounds.
HPF/LPF/SLOPE: Let you filter away the highs and lows in the detection signal with variable slopes so you can for example ignore the low rumble in a speech or vocal recording, or ignore the high attack and finger noises of a bass recording.
ATTACK/RELEASE/DIRECTION: Let you apply additional attack and release to the gain-riding so you can let through the signals peaks or smooth out the signals tails. With the DIRECTION control you can set the direction of the ATTACK and RELEASE which is helpful depending on if the general gain produced is upwards, downwards or goes in two directions.
MAX UP/MAX DOWN/INSTANT/ZERO/RMS: The MAX UP and MAX DOWN let you set the maximum gain that is applied up and down, which gives you more control over how extreme the gain-riding is allowed to be. Low values sound subtile. High values sound erratic. The RMS control lets you pick between slow, medium or fast rms-detection, which determines how quickly the plugin reacts to the incoming signal. INSTANT option is very fast and ZERO has 0ms RMS time.
Learn more about Outlaw

Sometimes the wildest ideas are the best and Screamo is proof... a crazy concept that just works! We've taken distortion to the next level by wrapping up several familiar ideas within one plugin, resulting in a talk-box / screamer hybrid that can groove along with your track. Forget about complex audio routing and syncing up multiple LFOs. With Screamo that's handled for you as half of the plugin interface features a dedicated waveform shaper which can modulate resonant filters, distortion and gain to add life to any audio. Bring your bass lines out from the shadows with some subtle movement or make a synth line scream with in-your-face rhythmic overdrive - the choice is yours.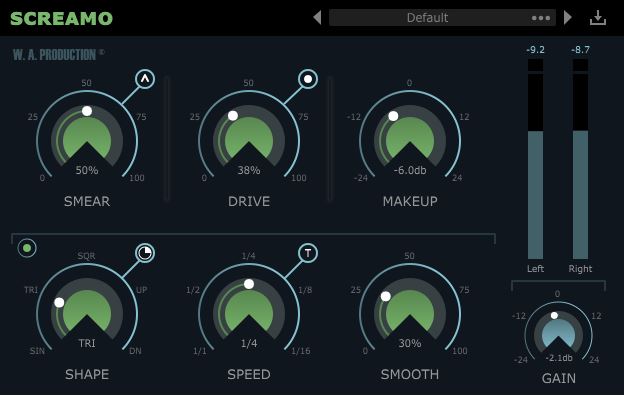 FEATURES:
25 Creative Presets for one-click transformations
3 Smear modes
3 Distortion types
5 Sync modulation wave shapes with adjustable start points
Sync speed control with straight, triplet and dotted rhythms
Real-time output level display and gain
Full PDF Manual & Tutorial video
Learn more about Screamo
For decades, audio engineers have used a certain processing trick on vocals to help lacklustre mono vocals leap from stereo speakers. Now you can replicate that secret technique with one simple plugin. Vocal Splitter is a handy one-stop unit for turning mono vocals into thick, modern-sounding stereo. When we developed this plugin we went one stage further, including frequency and drive parameters to help your vocal performances stand out from the crowd. Of course, you can also this plugin on audio other than vocals... download the demo and give it a try.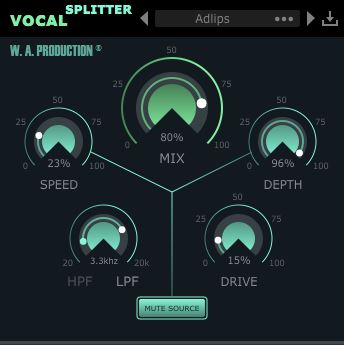 Features:
Create wide and modern vocals from a mono source
Presets for one-click transformations
Speed & Depth set the power of effect
Drive dial to add grit and increase definition
Mute Source button for using effect as a send
Click-free bypass
Minimal phasing
Full PDF Manual & Tutorial video
Learn more about Vocal Splitter
System Requirements
VST Windows 7 or higher (32 / 64 bit)
VST / AU Mac OSX 10.7 or higher (32 / 64 bit)
AAX - ProTools 11 or higher