2019 Mysterious Halloween Bundle
Dress up your audio this Halloween with plugins that are sure to make your audience scream. Come trick or treat with W. A. Production and hold out your bag to receive the 2019 Mysterious Halloween Bundle. This bundle contains 300 presets for Serum and 2 amazing plugins that will give you the advantage of depth and distortion. Experience the real difference between stock plugins and W.A Production's revolutionary audio tools.
This bundle includes:
Mutant Delay
Screamo
300 Serum Presets
'Mutant Delay' is a host-synced delay plugin with a built-in ducker, perfect for vocal processing and many other applications. In the studio, we've lost count of the number of times we've had to set up convoluted sidechain and compression routing, just to achieve a ducked delay for our vocal lines. With Mutant Delay all that complexity is a thing of the past. Now you can easily replicate this popular mixing technique with just one plugin and a couple of clicks, allowing you to dial in extreme delay effects whilst maintaining clarity of the original signal. If you want to keep things simple, just load up Mutant Delay on your vocal track, choose a preset and voila! Need to get deeper? Adjust the delay and ducking parameters to your own taste, with clear visual feedback provided in real time, showing exactly how the ducked delay is being performed.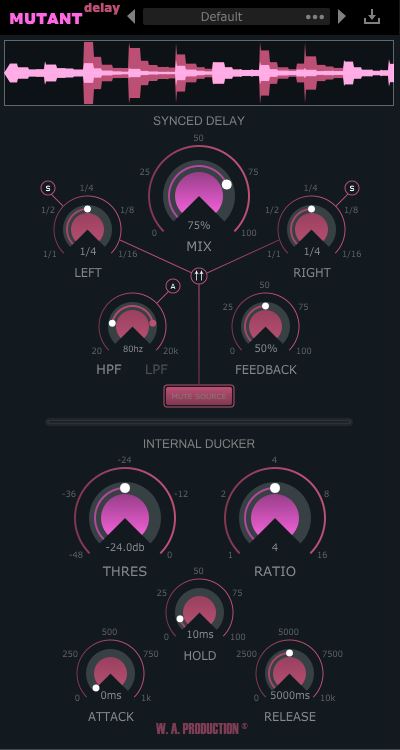 Features:
Host-synced delay
Built-in internal ducker with compressor-style controls
Many presets for a wide range of delay parameters
Click free bypass control
2 filtering modes (straight dampening & increasing over time)
Straight and ping-pong delay with multiple note divisions
Real-time waveform display
Full PDF Manual & Tutorial video
Learn more about Mutant Delay
Sometimes the wildest ideas are the best and Screamo is proof... a crazy concept that just works! We've taken distortion to the next level by wrapping up several familiar ideas within one plugin, resulting in a talk-box / screamer hybrid that can groove along with your track. Forget about complex audio routing and syncing up multiple LFOs. With Screamo that's handled for you as half of the plugin interface features a dedicated waveform shaper which can modulate resonant filters, distortion and gain to add life to any audio. Bring your bass lines out from the shadows with some subtle movement or make a synth line scream with in-your-face rhythmic overdrive - the choice is yours.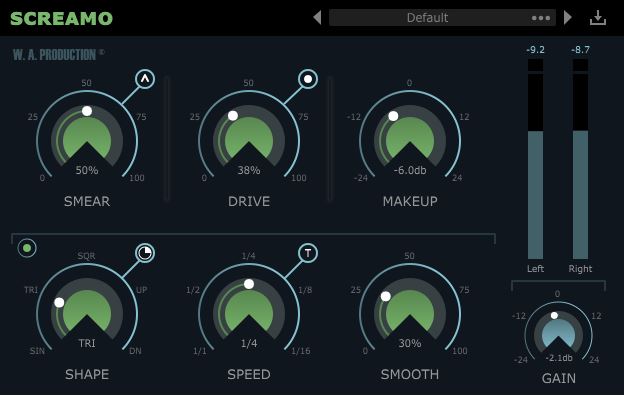 FEATURES:
25 Creative Presets for one-click transformations
3 Smear modes
3 Distortion types
5 Sync modulation wave shapes with adjustable start points
Sync speed control with straight, triplet and dotted rhythms
Real-time output level display and gain
Full PDF Manual & Tutorial video
Learn more about Screamo
300 Serum Presets
Also, this bundle includes 300 presets for Serum and includes gritty basses, epic leads, atmospheric pads and playful bells and plucks. This huge selection of presets gives you everything you need to create EDM, Future Bass, Future Pop, Hybrid Trap, Melodic Dubstep and Riddim Dubstep using one of the most versatile synthesizers ever
System Requirements
Windows 7 or higher (32 / 64 bit)
Mac OSX 10.7 or higher (32 / 64 bit)
AAX - ProTools 11 or higher
Important Note: 300 Serum Presets require Xfer Serum Version 1.016 or higher.